Despite its best efforts early on, a revival of Europe's impasse on Friday was nasty enough to drag the market back into the red when it was all said and done last week. Or, was it something more? Would stocks have managed to make their way into the hole anyway last week - with or without more problems from Greece - simply because the market's overextended here, and starting to feel the weight of the 11.3% gain since December 19th?
We're actually leaning towards the latter here, and will explore the reasons why below. First though, let's take a step back and take a top-down look at things, beginning with the economy.
Economic Calendar
There wasn't a whole lot in the lineup for last week, economically speaking. But, we did get a couple of biggies…like consumer credit, for instance.
For the second month in a row, the rise in total consumer credit levels swelled way beyond expectations. This time, rather than growing by the anticipated $8.5 billion, it grew by $19.3 billion (versus November's $20.4 billion). Like November, a huge chunk of it stemmed from more student loans, but last month also saw a big pop in the amount of auto loans. For better or worse, revolving (credit card) credit wasn't a big piece of the increase - it only grew by $2.8 billion, which brings it up to a total of $801 billion.
The other biggie came on the unemployment claims front; initial claims fell from 373K to 358K, but ongoing claims rose from 3.451 million to 3.515 million. Still, both are 'trending' lower, and point to modest progress.
The only other item of interest last week wasn't actually that interesting… the Michigan Sentiment Index. It fell from 75 to 72.5 (preliminary reading). It's not a great economic indicator though - particularly when viewed one month at a time - so we're not sweating it.
Economic Calendar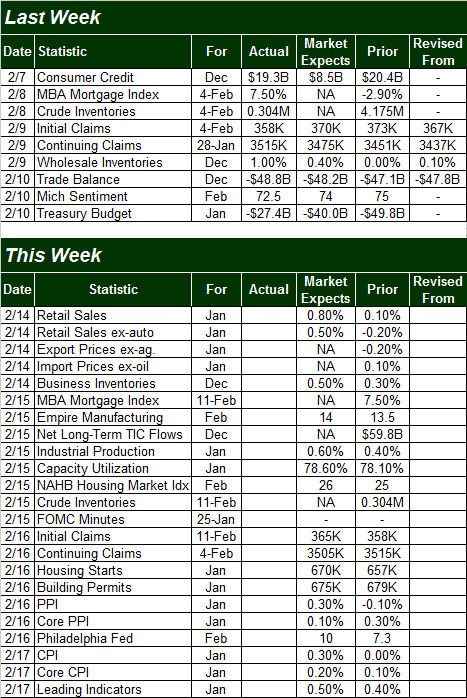 This week is another big one for economy-watchers. Here are the key items to watch for:
* Tuesday: Did January's retail sales (with or without autos) really grow firmly?
* Wednesday: The underestimated/underwatched capacity utilization and industrial productivity indices are both expected to show modest increases. Though most investors don't know or care, the direction these two data sets are moving shows tremendous correlation with the market's overall trend; if they both rise again, that's a huge win for the long-term bulls.
* Thursday: Initial and ongoing claims, as always. Look for levels comparable to last week's.
* Thursday: A wave of real estate/construction data starts with Thursday's housing starts and building permit numbers for January, though no dramatic changes are expected.
* Thursday: Producer inflation is expected to be 0.3% for January (or 0.1% on a core basis).
* Friday: Consumer inflation is also expected to be 0.3% for last month (or 0.2% on a core basis). The 'inflation rate' is 2.96%, and trending lower.
S&P 500
Our apologies in advance for the heavy mark-ups on this week's chart. It's a necessary evil, as there's a lot going on right now, and all of it matters.
First and foremost, note that the S&P 500 (SPX) (NYSEARCA:SPY) is still in a bullish trend. The primary floor of that trend is the rising 10-day moving average line (red), though the 20-day moving average line (blue) has acted as a floor as well. Until the 20-day average, currently at 1323, is snapped, then any discussion of a pullback is purely a hypothetical one. That being said…
While we've been talking at length about the technical resistance that upper Bollinger bands tend to offer, so far, neither the upper 50-day Bollinger band (green) nor the upper 20-day Bollinger band (gray) have actually prompted a pullback. Yes, both have contained the rally, but neither have actually stopped the rally. The SPX has simply been pushing each of them upward since early in the year, with no end in sight.
On the flipside, as was noted above, the S&P 500 has advanced 11.3% since mid-December. More than that, the index is up 15.7% since November 25th, and has only suffered one significant dip (of 4.4%, in early December) during that time.
In other words, we're likely to be due a correction. What better time for it to materialize than now, right when there's so much pent-up profit-taking potential? Take a look.
S&P 500 & VIX Daily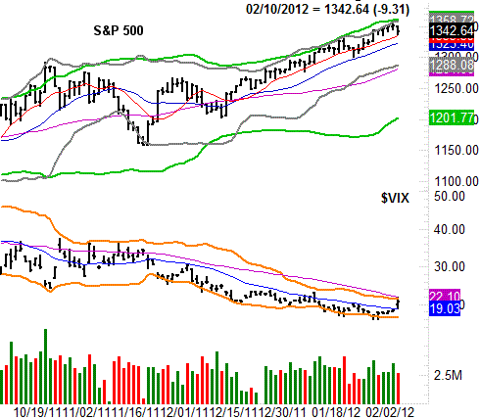 The pullback we're talking about doesn't have to be a bull-market killer. All it has to do is cool off the buying frenzy and inject some healthy pessimism into the increasingly-complacent minds of traders. A 4.0% dip from last week's close of 1342.64 would likely do the trick, or maybe something like December's 4.4% dip on a close-to-close basis would be sufficient.
Here's the cool part about that projection - it's largely setting up that way anyway.
See the convergence of the lower 20-day Bollinger band (gray) and the 50-day moving average line (purple) around 1285. Both are natural technical floors for the market. Now, compared to last week's peak close of 1351.95 (Thursday), a dip from that high close to the 1285 area would be a 4.7% pullback… roughly the same size as the December pullback.
Point being, there's already a natural floor in place to halt a selloff before it gets out of control; the bulls don't have a lot to fear. In fact, a pullback would be a healthy event at this point, serving as a virtual 'reset; of waning bullishness.
The wrench in the works is the VIX; does Friday's encounter with its upper 20-day Bollinger band and 50-day moving average line at 22 mean it's moved as high as it's going to for a while (and by extension mean the S&P 500 has moved as lows as it's going to for a while)?
So far, we have to conclude yes, that's the case. However, we also definitely want to keep an eye on the CBOE Volatility Index (VIX) (NYSEARCA:VXX) (NYSEARCA:VXZ) this week just because it's within striking distance of a major cross above both of those technical ceilings. If the VIX moves above 22.0, whether or not the S&P 500 moves under the 20-day line at 1323 becomes a little irrelevant - it will be a major, and bearish, change of character for the overall market.
Sit tight in the meantime though, as it could take a couple of days for the market to gets its bearings after Friday's unexpected disruption.
Just for a little extra perspective, here's the weekly chart of the S&P 500 (NYSEARCA:DIA) (NASDAQ:QQQ) (NYSEARCA:IWM). It was the second doji week (an open and a close at roughly the same level) in the last three, and continues to hint of indecision. Notice on the weekly chart, however, that the upper Bollinger band (a 20-week band, in this case) hasn't actually been brushed yet. There's still some room to inch upward here.
S&P 500 & VIX Weekly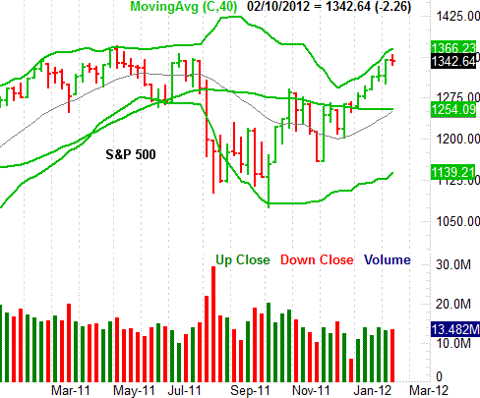 Disclosure: I have no positions in any stocks mentioned, and no plans to initiate any positions within the next 72 hours.