Granite Construction, Inc. (NYSE:GVA) is a Watsonville, CA-based heavy civil contractor that conducts business throughout the lower U.S. 48, Alaska, and Guam. GVA has been in business since breaking off from Granite Rock - a northern California construction materials supplier and builder - in 1922 and began trading publicly in 1990. Granite had built its business by interspersing smaller satellite branch offices and materials plants/quarries throughout California before expanding to take on larger projects throughout the nation. With a solid balance sheet, substantial backlog, and a timely acquisition, Granite Construction is primed for the next up-cycle in U.S. infrastructure construction.
Business Structure
Granite reports financial results in three segments: Construction, Large-Projects Construction, and Materials.
Granite's Large Projects division does work throughout the country. Past projects have spanned all disciplines of construction from the Las Vegas monorail to repairs on bridges along the Gulf of Mexico damaged by hurricane Katrina, to rebuilding lower Manhattan at Ground Zero after the terrorist attacks of September 11, 2001. This division does headline-capturing, high-profile work. The Large Projects division pulled in 37.7% of the company's first-half 2015 revenue, but lagged behind the other two divisions in a number of metrics. Profit margin was only 8.1% for the second quarter on 25.1% less revenue than the same quarter a year before when a 20.8% margin was achieved. The same-quarter last year was a difficult comparison to match for the Large Projects division, as it had included a large claim resolution settlement that went straight to the top and bottom line. The company anticipates $20 billion of upcoming bids from this division over the next couple of years, with $6 billion of that coming by the end of the year. Here are some of the projects noted on the 2Q 2015 earnings presentation: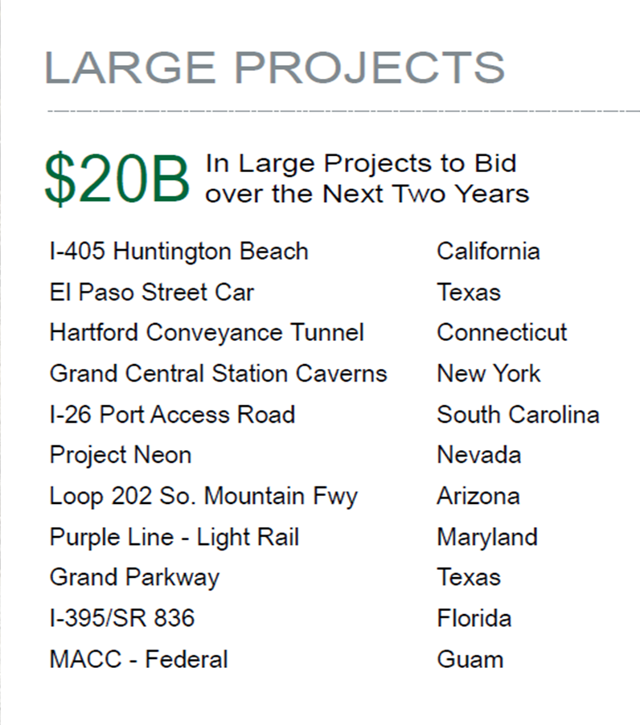 Granite's Construction division, which does smaller projects throughout the western United States, brought in 50% of the $989,491 first-half 2015 revenue. In the second quarter, the division boasted a 13.5% revenue growth and 13.1% gross profit, which was 390 basis points over the 9.2% posted by the division for the same quarter last year. The Construction division doesn't receive the attention of the Large Projects group, as projects are typically smaller, low profile, and, quite frankly, unexciting. They are your typical run-of-the-mill highway overlays and site grading projects for local and state agencies - not the complex bridges, tunnels, and locks that make the headlines. This division is Granite's bread and butter - the tortoise that wins out solely on consistency. Company CEO Jim Roberts stated in the quarterly conference call Q&A session that this division bids on $250 million to $450 million each month.
Granite's Materials business consists of 25 sand & gravel quarries and 5 hard rock quarries in addition to leasing 24 sand & gravel pits and 14 hard rock quarries. Granite also owns 33 aggregate crushing plants, 52 asphalt concrete plants, 9 cement concrete batch plants, 5 asphalt rubber plants, and 9 lime slurry plants. The majority of these properties are located in the western United States (California, Arizona, Nevada, Oregon, and Washington, with one hard rock quarry in Alaska). The material segment has begun to emerge from the cycle bottom it has been stuck in over the last half decade and is now contributing nicely to the bottom line. For the first six months of 2015, the material division brought in approximately 12.3% of the company's revenue. The division posted a 13.5% gross margin in the second quarter - a 410 basis point improvement over the same quarter last year and the best performance by the division since 2009.
Granite closed a deal on December 31, 2012, to finalize the purchase of Chicago-based Kenny Construction, a well-known tunneling and power contractor in the Midwest. Granite had conducted business over the perimeter of the country - mostly on the west coast - but also in New York, North Carolina, Florida, Mississippi, and Texas. Projects had been completed and offices set up as far inland as Utah, but the Midwest remained a void in Granite's footprint besides a brief stint on a project in Kentucky. The Kenny deal allows Granite to fill this geographic void and venture more easily into eastern Canada. Kenny's financial results are typically split between the Large Projects division and the Construction division.
Financial Statements
Income Statement: Thus far in 2015, Granite reported its best 1Q and 1H since 2009. While 1H earnings only translate to $0.03/share, profit is typically made in the second half of the year in the construction industry. The company made $0.64/share in 2014 and $0.83/share over the previous twelve months. Current backlog sits at a record $3 billion - nearly twice that of 2009 levels. Over $2 billion of that backlog is with the large projects division. Revenue has increased steadily every year since 2010 to the $2.3 billion level reported over the trailing twelve months. The company also has a good handle on its overhead spending, as this graphic from the 2Q earnings presentation depicts: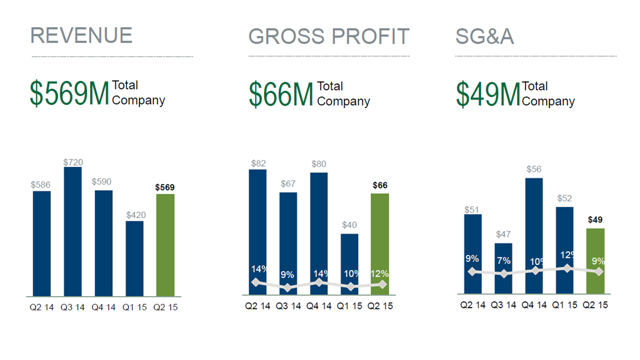 Balance Sheet: The company's balance sheet is strong with $276 million of cash and marketable securities at end of 2Q. Roberts notes in his conference call that GVA typically burns cash in the first half of year and builds its cash reserves in the second half. It has $270 million of long-term debt, consisting of $200 million in 2019 senior notes that bear interest of 4.15% + six month LIBOR, and $70 million outstanding on a revolving loan under a credit agreement used to finance the Kenny purchase.
Metrics: While a price-to-book ratio of 1.62 is not necessarily attractive to a value investor, it is only 86% of Granite's average price-to-book of the last decade. I prefer analyzing price-to-book ratios of specific companies in conjunction with their historical price-to-book values, as the historical average provides a benchmark of how public sentiment typically values the company under "normal" operating circumstances. The company has a high 39.2 P/E while, according to Morningstar, the industry has an average P/E of 31. The value metrics are unremarkable, but the income statement trend and the balance sheet strength are impressive.
Analysis And Commentary
The turnaround in Granite has been a long time coming. Throughout the cyclical downturn from 2009 to present, management appears to have succeeded in positioning the company to take advantage of the next leg up as economic growth continues to strengthen and government agencies move to fund much overdue infrastructure and transportation improvement projects. With the record $3 billion in backlog, CEO Roberts stated in the last conference call that the company is more selective on who it chooses to team with and what projects it chooses to bid on - not necessarily by choice, but because of the overwhelming amount of work currently coming out to bid.
While the performance in the Large Projects division for the last quarter was disappointing, I don't feel that it is a cause for concern, namely because of the enormous backlog. In the construction industry, revenue recognition is often finicky - especially on large projects where, depending on contract terms, milestone achievement can trigger the release of a large payment. These types of milestones can occur once a quarter, once a year, or once every couple of years, obviously dependent upon the size of the contract and the complexity of the work. Cash flow planning is essential to constructing successful large projects.
As with many transportation contractors, Granite is anxiously awaiting a long-term federal highway bill to pass in Washington, but state and local agencies are beginning to take matters into their own hands and get a head start on funding. A $16.1 billion transportation bill passed in Washington state, of which over $8.8 billion is pegged for new roadway projects over the coming years. Competing party plans in California would authorize between $2 billion to $6 billion to road and infrastructure improvements if passed. Infrastructure and transportation projects are not going to go away; it is only a matter of time before road and bridge construction/maintenance becomes a priority once again.
Granite's stock price peaked briefly in 2007 at around $74/share. before tanking and bottoming out in 2011 at around $17/share. The company's struggles can be chalked up to underperforming projects in the Large Projects division, overall competitive markets, constant company reorganizations, and the lack of funding for transportation projects nationwide. The company performed nearly $3 billion of work in 2006, but less than $1.8 billion in 2010. GVA's management appears to have righted the ship as revenue has steadily increased to $2.3 billion for the trailing twelve months while earning a net profit for the company. Even in the down years, management has been able to keep the company mostly profitable, even considering the low margins prevalent throughout the industry. The company has had only two unprofitable years over the last decade: 2010 and 2013.
With a low float of around 40 million shares, small interest in the company by a large investor could potentially push the stock significantly higher. While I do not anticipate the stock reaching the $70/share level of its heyday, I do see potential for it to hit the upper $40s to lower $50s. If the market valued Granite at its average price-to-book of the last decade, the stock price would return to the $37 range from $32 that it is currently trading at, a worst-case scenario of simply regressing to its mean. Assuming Granite can post its average $2.36/share earnings of 2005-2009 and using the average book value of that same period of 2.28, the stock has potential to appreciate to at least $45. While admittedly cherry picking data ranges, the company is in a cyclical industry and the cycle appears to be turning up.
GVA also pays a $0.52/share dividend, which is small, but a nice added bonus for investors and impressive for a company in such a capital intensive industry.
Conclusion
Granite is a solid company with significant potential to excel if only a few stars properly align. The downside risk is minimal unless the country falls into a deep recession. Even in that scenario, governments will not sit by idly as infrastructure crumbles around the country. Whether through Fed or state funding or the ever-more-popular P3 (Public-Private Partnerships) arrangements, Granite is well positioned to take quick action when an opportunity presents itself.
Management is conservative and doesn't stick its neck out on low probability gambles, as is apparent from the slow and steady climb of the company's share price. From a long-term investor's perspective, the constant earnings non-surprise and low stock price volatility are appealing and comforting. As one of the World's Most Ethical Companies six straight years and running, you can bank on its management to have the best interest of the company and its investors in mind.