Apple is now the smart phone market leader
The end of 2011 saw the global smart phone industry grow by 63% year-on-year, with vendor shipments reaching a whopping 489 million units, according to the research done by Strategy Analytics. With a 24% market share, for the first time, Apple (NASDAQ:AAPL) overtook Samsung as the global smart phone leader in the last quarter of 2011. Combined, the top three manufacturers -- Apple, Samsung (OTC:SSNLF) and Nokia (NYSE:NOK) -- accounted for 60% of smart phone sales this quarter, with Nokia losing its market share by more than half from the same period last year due to a lack of innovative products. Apple gained market share with the launch of iPhone 4S in October 2011.

Source: Strategy Analytics


Source: Strategy Analytics
Growth led by Apple and Samsung
The main shift in trends last year was led by two smart phones: the iPhone 4S, with its revolutionary interface "Suri"; and the Samsung Galaxy series from which Samsung Galaxy SII was named the best smart phone of 2011. Overall, market sales were 155 million units in the last quarter of 2011, which is a 29% growth over the previous quarter. Over 80% of this growth was on account of Apple and Samsung.
Android continues to win the race
Mobile operating systems data, though, show a longer term trend favoring the Android operating systems over iOS, the operating system used by Apple's iPhone. As of December 2011, 48% of all smart phone buyers went for an Android-based phone. Combining this with the fact that 57% of the first time smart phone buyers, during the same period, opted for an Android-based phone (34% opted for iOS), we can expect to see an increase in the users of Android-based phones. Android's market share has rapidly increased in the past two years from less than 10% at the start of 2010 to 53.5% at the end of 2011's third quarter, while only 15% of smart phone users are currently using iOS.
Apple saw its stock price increase over 38.2% in the past 52 weeks, clearly outperforming the S&P500, which rose by only 1.7% in the same period. The company has given an impressive 46% return on equity to its investors in the past twelve months. Its last reported quarter ending December 2011, saw an increase in revenues of 73.3% year-on-year, mostly driven by iPhone 4S sales. Overall iPhone sales were up by 128% in this quarter, reaching 37 million units. Due to better margins, the company managed to increase its reported quarterly net income by 118% year-on-year.
The stock is currently trading near its yearly high of around $497. However, even at current prices, it is estimated to be trading at a forward price to earnings ratio of only 10.5 times compared to a trailing price to earnings ratio of 14 times. While its trailing price to earnings ratio is at par with the industry's ratio of 12.9 times, it is even below Apple's own historical lows of 14.6 times. With a strong management headed by its new CEO, Tim Cook, the company looks set to continue capturing market share with new and innovative products. We have a neutral stance at the current price level, though any dip may signal a buy.
While investors have been eyeing Apple in the last year, Nokia has been feeling the hit with its stock price down by 46% in the last twelve months. There are justifiable reasons behind the price decrease. In the last reported quarter ending December 2011, the company's revenues were down by 21% mainly on account of a 31% decline in its smart phone sales volume. And for the first time in recent history, the company reported a loss of $1.5 billion compared to a profit of $2.5 billion in 2010.
After the price decline, Nokia's stock is offering a forward annual dividend yield of 10.5%, and is trading at a forward price to earnings ratio of 12.4 times (assuming a profit in 2013). However, the company's recovery is being linked to the success of the launch of its flagship smart phone, Lumia 900. Despite attractive valuations, we caution investors looking to take exposure to Nokia due to its losing market share, rapidly declining sales trend and the negative sentiment surrounding its products. We are not totally writing off the company as it has a stable balance sheet which should sustain the company through some tough times. However, we wait to see whether the company can bring itself back, and the response to Lumia 900 is expected to crystallize the company's future outlook.
Research in Motion (RIMM), the company behind BlackBerry, had a rocky last year. The company's BlackBerry services were temporarily discontinued in some countries, at varying times, due to security concerns, which created an uncertainty regarding its services going forward. This negativity is reflected the company's stock price which is down by 76% in the last twelve months.
Research in Motion has lost 5% of its market share in 2011, and its quarterly revenue was down by 6% for the quarter ended November 26, 2011. However, its earnings were down by over 70% in the same period. While we have an underperform stance on the stock currently, there is some news which investors should follow. With the change of management recently, Research in Motion is focusing on the recent launch of BlackBerry 7 with enhanced security features. This is expected to redeem some of its lost market share. At the current price, the stock is trading very cheap at a forward price to earnings ratio of 5.4 times, but we maintain a cautious stance.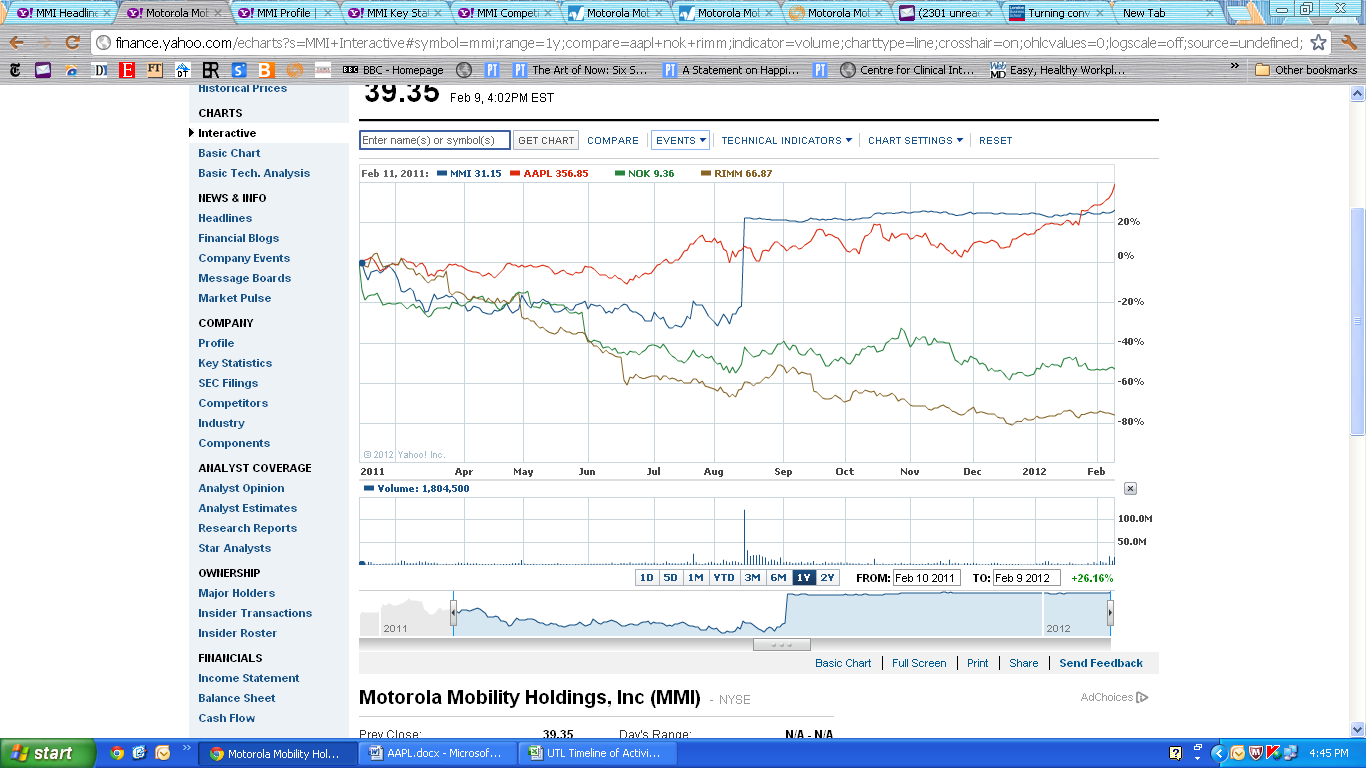 Source: Yahoo Finance
As the chart shows, of the four stocks under review, Motorola Mobility Holdings (NYSE:MMI) is the only stock, other than Apple, which has a positive return yield over the past year with its stock price up by 26%. However, the price increase mostly occurred in August (as can be seen above) mainly on account of an announcement by Google (NASDAQ:GOOG) expressing their interest in acquiring Motorola for $12.5 billion. According to sources, the deal is expected to be approved soon by the Justice Department. This deal will give Google access to a smart phone manufacturing business along with valuable patents to protect its android software business.
As of its latest annual accounts, the company's revenues were up by 14% year-on-year, however, the company's losses deepened with a reported loss of $249 million in 2011, compared to a loss of $86 million in 2010. Motorola Mobility has a strong balance sheet and equity of over $5 billion. However, at a current stock price of almost $40, the company is valued at the same price Google is offering. We have a neutral stance on the stock till the acquisition by Google is completed.
Disclosure: I have no positions in any stocks mentioned, and no plans to initiate any positions within the next 72 hours.