Twitter's (NYSE:TWTR) third-quarter results left a bitter taste in the mouth of investors.
The social network isn't growing as quickly as it should be based on its medium-term financing needs, and its stock plunged over 10% in after-hours trading on Tuesday.
Pressure
The shares are likely to open at about $27 on Wednesday, which is the lowest level since early August. A 10% drop today would not surprise me at all.
A sluggish growth rate in the number of users would be responsible for that fall, but here I'll focus on Twitter's cost base and cash profile in order to try and determine whether its losses are manageable, and what kind of impact, if any, its new CFO, ex-Goldman Sachs banker Anthony Noto, has had so far.
There's good news and bad news.
P&L
The good news is that Twitter has improved operationally, and its revenue growth has outpaced the growth rate of its cost base.
| | | | |
| --- | --- | --- | --- |
|   | 9M15 | 9M14 | Var. YoY |
| Revenue | 1,507 | 923 | +63% |
| COGS | 511 | 309 | 65% |
| R&D | 596 | 509 | 17% |
| S&M | 594 | 410 | 45% |
| GA | 188 | 134 | 40% |
| Total | 1,889 | 1362 | +39% |
| EBIT | -382 | -439 |   |
(All figures in millions, $. Source: Twitter's financials)
As a result, Twitter is better off to the tune of $57m at operating level, although its EBIT is still -$382m.
Unfortunately, following the placing of debt-like capital at the end of 2014, it now has to pay $25m of interest costs quarterly, which means that pre-tax losses haven't changed much year on year, and are still close to $450m.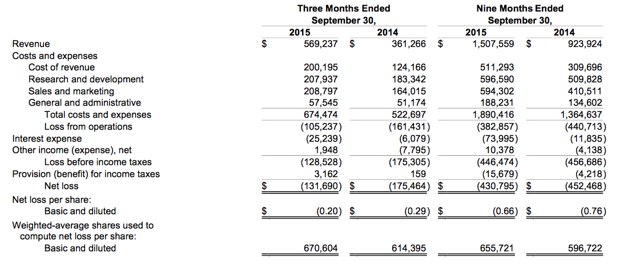 (Source: Twitter's Financials)
Moreover, net losses per share would have been very similar to those that Twitter reported in 2014 had it not increased its share count over the period.
Cash Flow
Higher depreciation and amortization, stock-based compensation and amortization of convertible notes contributed to a cash inflow of $197m, which is mostly responsible for the 544% rise in operating cash flow to $283m over the nine months ended September 30.
As far as working capital management is concerned, receivables have risen and payables have fallen, but they do not pose any problem, really. Based on these adjustments and on capex of $266m, Twitter generates only a tiny free cash flow.
Users aren't growing fast enough, so its top-line is disappointing, and unless it grows at a much faster clip, Twitter will continue to be in the red, which has become more of a problem in recent months because at some point it will have to repay $1.8bn of convertible notes, which were issued a year ago.
Debt repayments are not a big issue right now, given that these notes mature in 2019 and in 2021, but there's reason to be concerned about cash flows.
And if its user growth continues to slow, its $3.5bn gross cash pile will diminish.
Adjusted EBITDA
A much-debated non-GAAP metric, adjusted EBITDA, is only mildly rising, even though Twitter recently revised up its forecast for the year.
Here's is the guidance for Q4: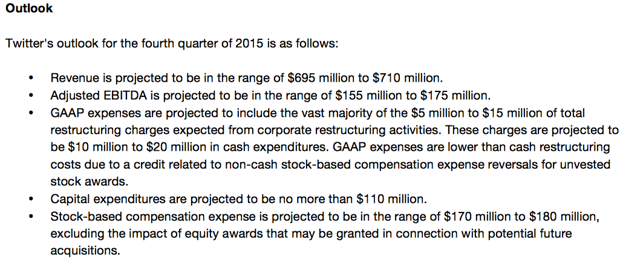 (Source: Twitter's financials)
Well, I'd continue to keep an eye on the composition of its adjusted Ebitda, which currently is defined as:
the "net loss adjusted to exclude stock-based compensation expense, depreciation and amortization expense, interest and other expenses, net and provision (benefit) for income taxes."
Finance
It's still too early to say whether Noto is the right CFO for Twitter, but certainly his work has started to show.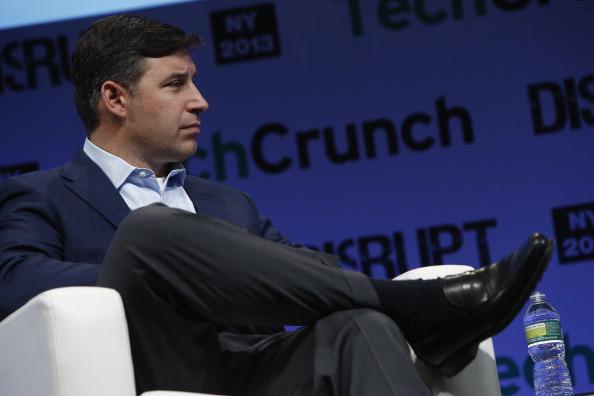 (Source: Blogs.ft.com)
Twitter's gross cash pile is virtually unchanged at $3.5bn year on year, yet the split between cash and short-term investment has changed from $1.6bn/$1.9bn in Q1 to $880m/$2.6bn in Q2 and Q3.
Noto is putting money to work, which also shows in the cash flow from investing section -- "purchases of marketable securities" have almost doubled to $3bn this year.
Twitter doesn't need financial engineering, but Noto could be the right man in the right place. Of course, I remain bearish on the stock, unless Twitter drops to $22 a share.
Then, I'll likely add it to my wish list.
Disclosure: I/we have no positions in any stocks mentioned, and no plans to initiate any positions within the next 72 hours.
I wrote this article myself, and it expresses my own opinions. I am not receiving compensation for it (other than from Seeking Alpha). I have no business relationship with any company whose stock is mentioned in this article.