Although they were first incorporated way back in 1996 and still consider themselves a development stage company, things appear to be heating up for Vringo, Inc. (VRNG). Volume and interest is rising for the firm which provides a range of software products for mobile video entertainment, personalization and mobile social applications.
As the mobile content and service market continues to grow, the company believes that their services represent the next stage in the evolution of the mobile applications market. Armed with content and mobile social applications, their social networking capabilities are really what may end up setting them apart. Their video ringtone are also part of a suite of mobile and PC-based tools which enable users to create, download and share video and other social content with ease.
Through the close of the third quarter 2011, they had only generated $787K in revenues (including $497K from revenue-share subscription services, $109K from one-time setup fees, $98K from Facetones™, $45K from Fan Loyalty application formats, and $30K from their Video ReMix platform, so news of more revenue opportunities could really help the stock.
Our Prospect Probe, which screens for 35 technical indicators, pulled up the stock after finding that the stock's Bullish indicators outnumber the Bearish indicators by almost 8-to-1. Seven of the remaining indicators are neutral for a 70% bullish consensus.
From a technical analysis standpoint, the stock's bullish Accumulation Swing Index, Triangular Moving Average, Time Series Moving Average, Price Volume Trend, and Weighted Moving Average also call our attention. We also see a very nice continuation pattern set up here: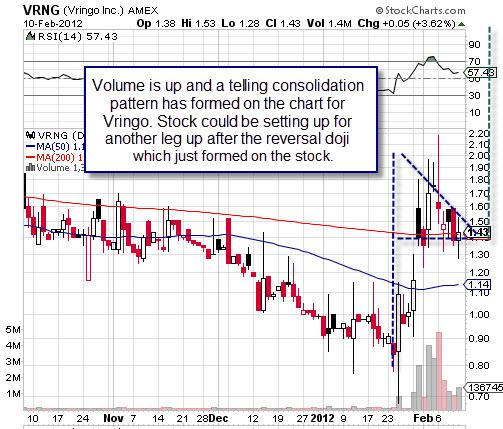 Last week the firm announced they had retained a high profile group-- The Hodges Partnership-- as its public relations counsel. Since the agency will lead national public relations for Vringo and its mobile application product, Facetones™-- an app which has been downloaded close to 1 million times in the six months since it was introduced. This move will only add to the visibility mix for the company.
Already, they were featured earlier this month in an article published in the Silicone Valley area by the San Jose Mercury News on February 2, 2012. Written by Peter Delevett and titled "Facebook IPO Will Mean Big Business for Thousands of Smaller Companies," the article discusses the benefits of Facebook's IPO on the local economy and the sizable growth it may bring to various tech companies including Vringo itself.
The company is getting some cash injected through a recently filed sale of unregistered securities, in which Vringo entered into an agreement with holders of certain of its outstanding warrants to immediately exercise warrants to purchase 2,444,866 shares of the company's common stock. The aggregate proceeds to be received by the company upon the exercise of the foregoing warrants equal approximately $2.3 million. The Warrants have an exercise price of $1.76 per share and are redeemable by the company in the event its common stock exceeds $5.00 for twenty of thirty trading days.
We think this one is definitely worth watching.
Disclosure: I have no positions in any stocks mentioned, and no plans to initiate any positions within the next 72 hours.