The Northwest Biotherapeutics House Of Cards Is Ready To Collapse
Summary
NWBO has been developing its cancer vaccine, DCVax, for 20 years now, and has very little chance of succeeding in the ongoing phase 3 trial.
In the meantime, NWBO's CEO and Chairperson, Linda Powers, uses the company to financially support her investment in NWBO and other private companies.
Specifically, since 2004 NWBO transferred over $300 million to Powers and private companies controlled by her, through transfer of cash, shares, warrants and options.
Collected evidence indicates that a company incorporated by NWBO's independent director, Navid, received $5 million of NWBO securities after he released a bullish research report on the company.
We provide evidence suggesting that an Israeli medical center has been selling the unapproved DCVax treatment out with the company's clinical trials, and that this center may be owned by Powers.
Introduction
In 2016, Northwest Biotherapeutics (OTCQB:NWBO) will have been developing the DCVax dendritic vaccine for exactly 20 years. This bio-failure-in-the-making exhibits all the obvious signs of a looming disaster: clinical trials stretching over decades, half a dozen trial amendments and extensions, lack of reliable results and publications, an utter mess in reporting on them, and most recently, a sudden unexplained halt to patient enrollment in the Phase 3 trial of the company's lead candidate. NWBO has used probably every trick in the book to prevent the inevitable end and announcing the results of its clinical trials, and for a good reason: as long as failure is not announced, the dream can live on and fresh money can be raised by NWBO which then feeds it to NWBO CEO's private companies.
The lack of corporate governance has allowed NWBO's CEO, Chairperson and President, Linda Powers (former VP Global Finance at Enron), to unscrupulously use the company as her personal checking account to financially support her investment in NWBO and other private companies, mostly Cognate Bioservices Inc, by transferring massive amounts of cash, shares and warrants to herself and companies she owns and controls. In addition, we believe NWBO has been involved in various undisclosed transactions with (1) Powers and her companies, (2) at least one major shareholder and with (3) its "independent director" Dr. Navid Malik.
We have studied NWBO inside out, and below is a brief summary of our findings:
- Clinical development fiascos and forthcoming clinical failure. NWBO has been developing DCVax for 20 years now. We present data that shows why DCVax has very little chance of succeeding in its ongoing phase 3 glioblastoma trial;
- Diluting minority shareholders. Powers and her companies (the "Toucan Group") invested in NWBO approximately $16 million of cash since she first invested in NWBO in 2004 (loans repaid by NWBO have been deducted from the calculation) and her current holdings are estimated at $150 million. The public shareholders have been less fortunate and have mostly been losing money on NWBO as dilution followed dilution.
- Diverting cash and shares to the CEO's private company. According to the evidence we collected, Powers and her companies were cash-strapped and had debt outstanding that prevented them even from paying due taxes, let alone have funds to continue to invest in NWBO. In this article, we will depict the method that was used to prevent dilution to Powers' companies and provide funds to Cognate.
- Five million dollars' worth of securities transferred to a company incorporated by an analyst covering the share, turned director. Our research has uncovered that Dr. Navid Malik, NWBO's 2012 nominated independent director, released in 2010 a very bullish research report on NWBO. Shortly after, a company he had just incorporated in Delaware received approximately $5 million worth of shares and warrants of NWBO from Powers' Toucan Fund II vehicle, shares that were subsequently sold by the company. Malik's involvement with the company prior to his nomination as director has been concealed from investors and we question the legitimacy of this transaction and his independence as director.
- Ghost writers promote the company and its treatment on both financial and cancer-related websites. We present evidence that suggest that ghost writers work their way on forums aimed at cancer patients, promoting the company's unapproved treatment.
- Evidence suggest Powers controls a clinic providing paid "compassionate" treatments of NWBO's unapproved DCVax. There is strong evidence suggesting that an Israeli medical center (the International Center for Cell Therapy & Cancer Immunotherapy, or CTCI) that has been selling NWBO's unapproved DCVax treatment to terminally ill patients for hundreds of thousands of dollars may be indirectly owned by Powers and her companies.
- Additional issues are presented in the complete report.
The report is divided into two parts. The first part discusses the forensic findings and the second part discusses the clinical data, or better phrased, the lack of clinical data. The Figure below provides a condensed overview of the major parties involved with NWBO (the complete map can be seen in appendix 1 at the end of this article):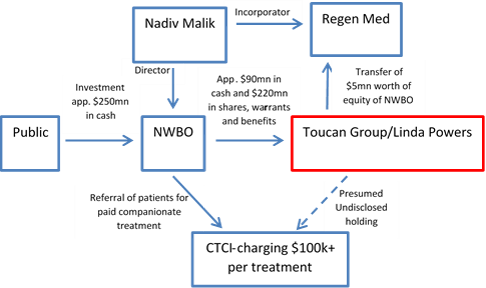 Source: created by author using company filing and collected evidence
Background
Northwest Biotherapeutics, Inc. (OTCQB:NWBO) was incorporated in 1998 and is engaged in developing and commercializing immunotherapy products to treat cancers. The company's main technology platform is the DCVax (short for Dendritic Cells Vaccine) which uses activated dendritic cells to mobilize patients' own immune system to attack their cancer cells.
In 2007, Powers became Chairperson of the NWBO board and in 2011 also President and CEO. Since Powers took control of the company it focused mainly on two products: DCVax-L for GBM brain cancer and DCVax-Direct for all types of inoperable solid tumors. During this time, NWBO did two reverse splits (15:1 in 2007 and 16:1 in 2012) and raised a total of approximately $250 million in cash and recorded losses of more than $570 million. Management team and the company's clinical data have been highly controversial and no analyst is following the company. Yet, its share price has fluctuated significantly over the last few years as the result of extensive PR work.
According to NWBO's latest filings (2014 10-k), Powers and her companies own 29% of the issued and outstanding shares and 48% on a fully-diluted basis (including warrants and options). As NWBO's current market cap is approximately $388 million, the holdings of the shares, options and warrants are worth about $150 million. While NWBO continuously diluted shareholders over the years, Powers was able to maintain a significant holding in the company mostly through related-party transactions and by issuing shares and warrants to her companies with a significant discount to market prices.
1. NWBO is continuously diluting minority shareholders
In order to elucidate the modus operandi of Powers for massively diluting minority shareholders, some additional background information is required:
The Toucan Capital Fund II was established in 2001 by Linda Powers and her husband, Robert Hemphill Jr., Toucan Fund II was a $40 million venture fund focused on investments in life sciences and information technology companies. In 2010, Toucan Fund II holding in NWBO was transferred to a new fund - Toucan Capital Fund III.
Cognate BioServices (formerly - "Cognate Therapeutics") was founded by Toucan in 2002. In July 2004, following Toucan's first investment in NWBO, Cognate was chosen by NWBO to manufacture NWBO's product candidates.
Cognate has a major role in this story as its gives perceived legitimacy (at least on the surface of it) for the transfer of cash and shares from NWBO to the Power's-owned Toucan Group. On May 17, 2007, Powers was appointed as chairperson of NWBO's Board of Directors and on the very same day a new manufacturing agreement between NWBO and Cognate was signed. Such coincidence also occurred in the second quarter of 2011 - during that quarter Powers was appointed as the CEO and President of NWBO (on top of her Chairperson position), and towards the end of that quarter a new manufacturing agreement was signed with Cognate.
This agreement is at the heart of this funds and shares diversion from NWBO to the Toucan Group. Based on this agreement, a total of $254 million of costs were recorded by NWBO in the form of cash, shares, warrants and other benefits.
As shown in the following figure, since Powers was appointed as CEO in 2011, the billings of Cognate to NWBO have shot to the moon, and rising:

Source: created by author, based on company annual reports
On top of the ever-growing billing for Cognate's services, Cognate (i.e. Powers) and NWBO agreed that some of the amounts owed to Cognate would be convertible into shares of NWBO (this agreement is subject to a class-action lawsuit filed and is discussed in the full report). That conversion was the starting point for further beneficial conversion agreement to Powers or as commonly known: shareholder dilution. The table below summarizes the Cognate invoice conversions made from 2011 through 2014: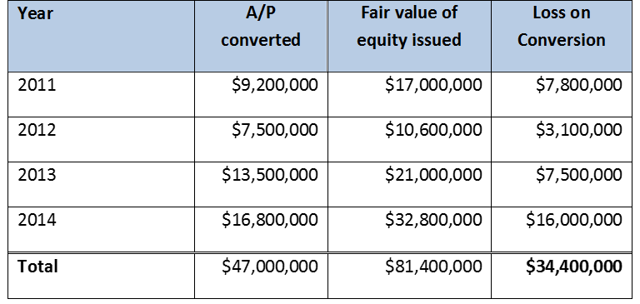 A/P - accounts payables
Source: created by author, based on company annual reports
As part of the new agreements, NWBO also made equity-based initiation fee to Cognate in the form of restricted shares and warrants in a value of $21.3 million. In the consolidate statement of cash flows for 2014, this amount is defined as: "Stock and warrants issued to Cognate BioServices as compensation under Cognate Agreements".
Over the years, NWBO provided Cognate with inducements that were not related either to its services or to the debt owed to it. The table below demonstrates the impact of NWBO's relationship with Cognate, Fund II and III, Toucan Partners, Toucan Corporation and Powers since the inception of that relationship in mid-2004: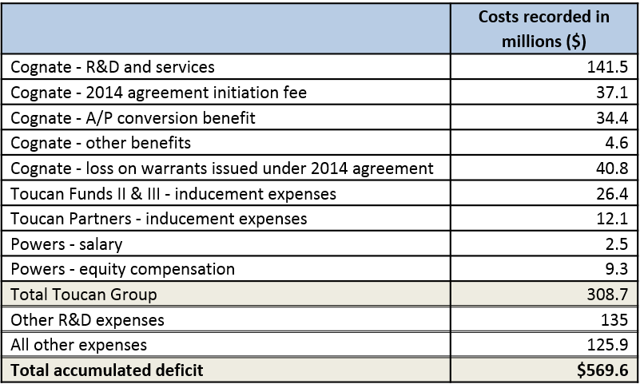 * Accumulated deficit for the period 2004-H1 2015 was calculated by subtracting the accumulated deficit as of December 31, 2003, from the accumulated deficit as of June 30, 2015.
Source: created by author, based on company annual reports
This table illustrates how Toucan is responsible for most of NWBO's expenses since 2004 through 2014. Most troubling, even more than the absurd R&D expenses, is the outrageous amount of $100 million of wealth transferred, the result of various kinds of benefits and inducements that were given to the Toucan Group on account of common stockholders and the source for most of Powers current estimated $150 million holdings in NWBO.
In addition to this massive wealth transfer, NWBO's financials disclose that NWBO managed to spend another $115 million on R&D, which was not paid to Powers' companies (Calculated based on NWBO's disclosures of related party transactions). Since 2011, when NWBO started its Phase III trial, it recorded a total of $220 million of R&D costs. As a rule of thumb, a Phase III clinical trial of such magnitude costs between $30 and $60 million. In light of these finding, we believe Cognate has significantly over-charged NWBO for R&D services, in addition to other unjustified transfer of wealth from the company to the Toucan Group.
2. NWBO's Independent Director Malik dealings with NWBO and Powers
We have found evidence of undisclosed transactions between Dr. Navid Malik, NWBO's "independent" director and member of its Audit, Compensation and Nomination committees, and NWBO and the Toucan Group. Soon after, Navid released an extremely bullish report on NWBO, Regen Med Acquisition Corp. ("Regen Med"), a company he has just incorporated in Delaware, received $5 million worth of shares and warrants of NWBO from Toucan Fund II. This and additional findings we present, cast serious doubt on Navid's ability to serve as a director of the company and over the legitimacy of the transactions that occurred between the Toucan Group, NWBO and Navid and his undisclosed partner Alia Minhas.
On April 17, 2012, NWBO announced that Dr. Navid Malik has joined the Board of Directors of the company.
According to NWBO's 2010 10-K, on July 14, 2010, only one month after Malik released his bullish piece, NWBO entered into an unsecured convertible loan with Regen Med, the same company he has just incorporated. According to NWBO's disclosure, Regen Med provided a 60-day $1.75 million bridge loan carrying 6% interest. According to the same filing, the Regen Med loan was repaid by a Toucan entity (Toucan Partners) and other third parties. In later filings, NWBO disclosed that Regen Med also received 2,333,333 (145,833 post reverse split) warrants as part of the bridge loan. We don't believe Regen Med had actually taken any risk in providing this loan to NWBO and basically was gifted warrants of NWBO.
Furthermore, in NWBO's 2010 10-K, NWBO stated that Powers is actually the majority owner of Regen Med:
"…Ms. Powers is a managing member of Toucan Management, LLC, which is the manager of Toucan Capital, and is a managing member of Toucan Partners and is majority owner of Regen Med Acquisition Corp"
But, on the next page of the same 10-K, NWBO disclosed that on December 30, 2010, Toucan Fund II transferred 6,433,162 shares and 7,345,030 warrants to Regen Med, "a non-affiliated third party". This means that approximately $5 million of shares and warrants were transferred to the company Navid has recently incorporated in Delaware, where it's pretty difficult to get information about ownership.
Are you getting confused? How can Regen Med be incorporated by Navid, majority owned by Powers and be a non-affiliated third party?
In NWBO's 2011 10-K, Regen Med is not disclosed anymore as majority owned by Powers and referred to only as "a non-affiliate third party".
Surprisingly, on June 30, 2012, NWBO filed an S-1 identifying a certain Alia Minhas as the person who is holding the voting and dispositive power over the shares held by Regen Med. NWBO continued providing this statement in later filings in 2012 until Regen Med dropped below the 5% holding threshold which requires disclosure. No relationship between Alia Minhas and Powers or Malik was disclosed by NWBO.
Our research has uncovered information regarding Alia Minhas and NWBO's director Malik, which show without a doubt that Navid and Minhas are related:
- Minhas and Malik incorporated a UK partnership named RSC Capital LLP on December 4, 2008, with the registered address: Hawthorne House, 1 Cholmeley Park, Highgate London N6 5NT (See appendix 1);
- Minhas and Malik were disclosed by Galena Bioparma Inc. as shareholders. Galena is currently under SEC investigation for using stock promoters to pump its share price while insiders sold shares. Richard Pearson published in July 2014 an article in which he claimed that a PR firm linked to the Galena case was behind many of the bullish articles published on NWBO (we highly encourage readers to have a read).
In addition, Powers is currently identified as the sole director of Regen Med. In the lawsuit that was filed against Cognate by its prior CEO, Cognate's lawyers disclosed that Theraigm Inc., a Toucan Capital portfolio company, is owned by Regen Med.
We believe Powers and Malik should come clean and disclose the real transactions that happened:
- What compensation was provided to Malik for publishing the 2010 report? Was the transaction that netted Regen Med 2.3 million warrants a compensation for his report? Who really provided the funds for Regen Med to loan to NWBO? Why where $5 million of securities transferred from Powers to a company Navid incorporated?
- Why did NWBO disclose that Regen Med was majority owned by Powers and still claim it was an unrelated party? We urge Powers to reveal the ownership history of Regen Med.
- How come Minhas came to have voting and dispositive power over the shares held by Regen Med? Were Regen Med's shares really transferred to Minhas and Malik, or did they just serve as a proxy to hide Powers' sale of the shares held by Toucan Fund II without disclosing that she is actually selling shares since investors seeing her selling shares would start to doubt the story?
The timeline in the figure below illustrates the events surrounding Regen Med and Navid's transactions.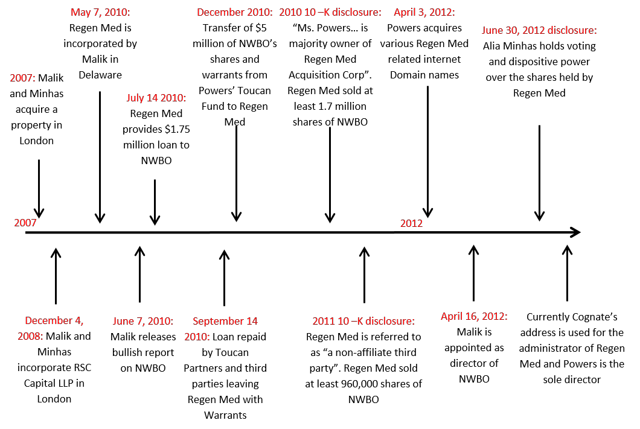 Source: created by author using company filing and collected evidence
3. How to draw attention of patients to an unapproved treatment that oncologists don't recommend?
According to The Street columnist, Adam Feuerstein, NWBO is reliant on (A) oncologists to inform patients about the availability of DCVax or (B) patients need to inquire about it:
"Northwest Bio cannot market DCVax in Germany. The company cannot advertise for patients or talk about the benefits and risks of DCVax because it remains an unapproved therapy. The only way DCVax gets used in Germany is if brain tumor patients ask their doctors about it, or if doctors recommend the experimental therapy to their patients"
We believe the clinical data of the company has been of low quality and therefore oncologists have not rushed patients to enroll in the clinical trials of NWBO. This is evidenced by the very long time it took the company to enroll patients for their clinical trials and we believe that this is due to the scientific background of DCVax. So how do you get patients to ask about the treatment if oncologists are not impressed with DCVax?
As previously mentioned, Richard Pearson provided ample evidence linking NWBO to the PR firm MDM Worldwide and to stock promotion campaigns. We believe this does not stop here. We believe that ghost writers have not only promoted the company on investor oriented platforms, but also on platforms aimed at Gliobastoma Multiforme (GBM) patients, in order to promote DCVax, its "superiority" to other alternatives and to persuade terminally ill patients to cuff up the north of $100,000 needed for private-pay treatment.
We have found examples of "posters" and "pumpers" that continuously mention NWBO and DCVax on websites such as inspire.com, a site created for people to discuss and share opinions on health issues, Twitter, cancercompass.com and InvestorsHub.com.
Usually such posts are in the form of a link to a press release or providing "information" and "updates" on NWBO's progress and even suggesting patients to contact NWBO. After reading such posts, it seems that these posters trying to build credibility for NWBO's treatment within a group of patients and not only promote the company on financial investor's boards, which is an issue for the SEC.
A good example of such promotion of DCVax can be seen in this link. Note johnlane 45 and SimonAl in this thread. Due to article length issues, additional examples are presented at the complete report.
4. How to turn patient despair into $$$?
GBM patients not enrolled to NWBO's clinical trials have been referred by the company to hospitals in Germany, the UK and probably mostly to an Israeli center to receive a paid "compassionate" treatment, a treatment for which NWBO is not allowed to charge money in the US. Desperate families are referred by NWBO to the controversial Professor Shimon Slavin and the International Center for Cell Therapy & Cancer Immunotherapy Ltd. (CTCI). The CTCI center is an Israel-based medical center, which provides treatments with NWBO's unapproved DCVAX vaccine outside of the clinical trials conducted in the U.S. and Europe.
We believe that ample evidence suggests that Powers also controls CTCI. Our research findings that suggest Powers controls CTCI include:
- In July 2008, Cognate incorporated a subsidiary in Israel - Cognate Bioservices Israel Ltd. ("Cognate IL"), who's address is 14 Weizman St. Tel Aviv, Israel. The sole director at incorporation of Cognate IL was Linda Powers.
- In November 2008, the CTCI was incorporated. The address of CTCI was disclosed as "c/o Cognate Israel at Weizman Street 14, Tel Aviv". This address was later changed to the address of Engel-Bakshi CPA, an accounting office that was used to incorporate both Cognate IL and CTCI.
- The following domains were purchased in September 2008, two months before CTCI was incorporated, and are held on the name of Powers. The address and contact details are those of Powers and Toucan Capital: ctcicenter.com; ctcicenter.net; ctcicenter.org;
- Cognate IL and CTCI share the same directors and contact details;
- CTCI's privacy policy states: "This policy applies only to the website, services and operations of CTCI, and the CTCI-related operations of other parties included in the content of CTCI's website, such as Northwest Biotherapeutics, Cognate BioServices and others";
- A trustee holds the shares of CTCI to prevent exposing the real identity of the shareholder;
- According to Professor Slavin's (head of the CTCI) CV, he is, or was, a member of the scientific board of NWBO.
In the cancer forum post mentioned in the previous chapter, the Egyptian user posted an email that he received from an NWBO employee named Carol Powers (who we believe is Linda Powers' immediate family according to certain ownership filings with the SEC) after he contacted NWBO regarding treatment for his mother. In the email reply, although she is aware to the fact that his mother does not meet the requirements to participate in the clinical trials, Carol Powers refers the user to CTCI for "compassionate/private pay" treatment at a cost of more than $100,000. The following are selected quotes from the email reply that the user posted on July 2013:
"Dear Mohamed:
I apologize for the delay in getting this note out to you, but I am writing on behalf of Northwest Biotherapeutics in response to your inquiry about the DCVax cancer vaccine... Unfortunately, the clinical trial that Northwest is conducting in the US and UK is only for those patients who are newly diagnosed with GBM, who meet certain protocol requirements, and who had their surgery at the clinical trial site…
… Again it is unfortunate, but there are currently no medical clinics in Egypt or Europe where access to DCVax can be provided as part of a special treatment option provided in concert with your mother's regular cancer treatment protocol. We do have a collaborative arrangement with a clinic in Israel and we are able to manufacture and administer DCVax on a very limited, compassionate/private pay basis there.
I look forward to connecting with you soon.
With warm regards,
Carol L. Powers, Patient Liaison
for Northwest Biotherapeutics
978.697.2526 cell US EDT"
5. The anticipated clinical failure of DCVax
Much like our previous call Vital Therapies' ELAD therapy, NWBO's DCVax works wonderfully in theory. Yet, much like VTL's ELAD, since NWBO's inception in 1996, there has actually never been any solid indication that DCVax has a chance of succeeding in an FDA-approved, adequately-controlled pivotal study. Actually, there has never been any solid scientific proof that any tumor-lysate-pulsed dendritic cell therapy is effective. The following chapters will demonstrate that the "efficacy data" of DCVax-L for Glioblastoma multiforme, which has been propping this stock on a cloud of hopes since its second Nasdaq IPO in 2012, is actually based on 2 hardly-relevant, largely cherry-picked, Phase 1 trials.
About Glioblastoma multiforme
Glioblastoma multiforme is a fast-growing brain cancer that develops from star-shaped glial cells (astrocytes and oligodendrocytes). GBM has an incidence of two to three per 100,000 adults per year, and accounts for 52 percent of all primary brain tumors. Overall, GBM accounts for about 17 percent of all tumors of the brain (primary and metastatic). These tumors tend to occur in adults between the ages of 45 and 70.
GMB has a widely reported median survival of around 12-18 months after diagnosis. However, despite what NWBO likes to tell investors, long-term survival has been on the rise, particularly since the approval of temozolomide in 2005.
In the current clinical setting, up to 28% of patients survive for 2 years, and up to 16% of patients have been found to survive for more than 3 years. The clinical and molecular factors that contribute to long-term survival are still unknown, but broad retrospective studies identified young age and high Karnofsky score to be strong predictors of survival of over 5 years for GBM patients, even for those patients whose cancer has recurred up to four times after surgery, radiation and chemotherapy.
Interestingly, the median age of all the newly diagnosed glioblastoma patients in NWBO's early-stage trials to-date was 45, and Karnofsky score - 90. According to the aforementioned statistics, at least 15% of these patients would have been expected to survive over 5 years with standard therapy, not 2-3%, as NWBO commonly advertises alongside their own "findings" in their presentations.
The history of DCVax-L development in GBM is as treacherous as it is long
The 20-year development history of DCVax is presented in the figure below:
Source: author, based on company filings
As shown in the table below, NWBO changed the primary endpoint for the DCVax Phase 3 trial; inclusion and exclusion criteria amendments have tended towards healthier, fitter patients with near-total tumor resection and healthier blood parameters between Phase 1, phase 1/2 and Phase 3 studies.

Source: author, based on links in text above
Perhaps the most awful thing about NWBO is the way the company has reported DCVax results, and particularly the Houdini tricks the data from various trials have been pulling in NWBO reports and investor presentations. Fights have broken out in the comment section of Seeking Alpha articles between confused investors as to which reported data belonged to which published study, and particularly how some 5 patients vanished in one investor presentation data set and some more appeared somewhere else. The lack of mathematical sense is not due to NWBO having reinvented calculus as well as cancer, but rather because they have no faith in the mathematical prowess of their investors.
Simply put, there have been only three completed clinical trials related to DCVax and which NWBO references with much entanglement (see table below): a Phase 1 study on 14 patients conducted by Yu, Wheeler et al at Cedars-Sinai, a Phase 1 study on 12 patients conducted by NWBO's favorite Linda Liau at UCLA which used tumor-associated peptides, and a Phase 1 28-patient study which became a Phase 1/2 and sometimes Phase 2 study conducted by Linda Liau using a TLR agonist.
Clinical studies run by NWBO to date

Source: author, based on links in text above
There are also several publications related to these studies, which seem to have been the source of the confusion. Interestingly, in the publication section of their website, NWBO forgot to add references to two of Linda Liau's main articles which tested a combination of a DC vaccination and a TLR agonist (likely not what NWBO is currently testing). However, even though these studies included different protocols (that differ altogether from the ongoing phase 3), NWBO added the best of the findings from these irrelevant studies to their investor presentations.
Between 2006 and 2013, NWBO insisted the second Phase 1 study run by Liau and colleagues recruited only 17 patients. This could be because only 17 patients were recruited to the trial by that time, but this number keeps getting tossed around to further the confusion. As of 2014, the total patient number from both of Liau's trials is, according to NWBO, 39:
"We and our collaborator, Dr. Linda Liau, conducted two prior Phase I/II clinical trials at UCLA with DCVax-L for GBM brain cancer. These trials consisted of 39 patients with newly diagnosed GBM and recurrent GBM, and a couple of other gliomas"
Where an extra patient from the two trials disappeared off to remains a mystery.
Now onto a typical NWBO investor presentation: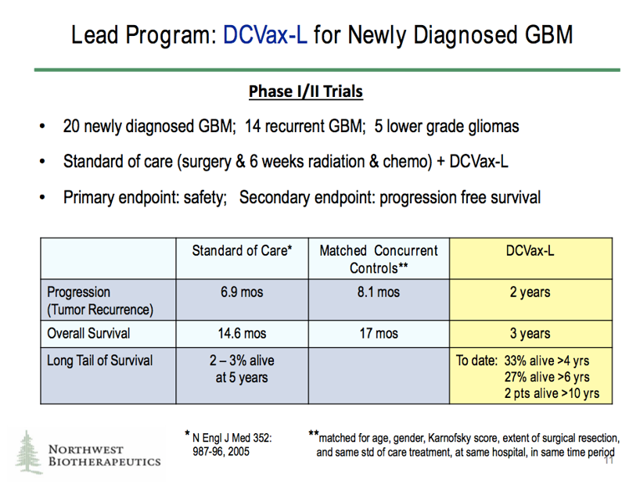 Source: company presentation
Third-grade math would be sufficient to ensure bewilderment at these mathematical concoctions. No matter how many additions and subtractions we did, we failed to arrive at the number of 20 newly diagnosed GBM patients from the Phase 1 and 2 trials, even when you take into account the fatal error in the number of newly diagnosed and recurrent GBM patients in one of Linda Liau's articles (see previous Table). Another patient just went missing, and along with him, the identity of the data NWBO seemed to have cherry picked for their "nicely rounded up" PFS and OS values.
Even if we ignore the fact that the median age of newly diagnosed GBM patients the two Phase 1 studies NWBO references turned out to be a youthful long-term-GBM-surviving 45 and median Karnofsky score was a near-perfect 90 (patient characteristics of study number 1 and 2 are available), the PFS and OS numbers NWBO brags about are still not relevant.
The simple reason for this is that NWBO nonchalantly pooled data from two studies which utilized different DC vaccines with different adjuvants. The first Phase 1 study by Liau didn't even use DCs incubated with tumor lysate, but rather specifically isolated tumor-associated proteins. The second study utilized a TLR adjuvant, which is likely not what the company is currently testing. In other words, NWBO's prior clinical data is as relevant as their publications section.
Immunocellular therapeutics reported better phase 1 survival numbers than NWBO before failing phase 2
In what has now become the industry's rule of thumb, therapies sensationalized by small-scale, open label single Phase 1 studies don't live up to expectations in Phase 3. This is likely to be happening to NWBO soon and has already happened to NWBO's cousin technology ICT-107, developed by Immunocellular Therapeutics for GBM. Instead of using blended tumor to incubate DCs, IMUC chose 6 specific tumor antigens.
ICT-107 actually yielded better OS readings, and very similar PFS readings to those of DcVax in Phase 1 trials, but failed to significantly prolong overall survival in a follow-up 124-patient phase II trial with temozolamide vs temozolamide. The following table shows a comparison of DcVax phase 1 and ICT-107 phase 1 and phase 2 trials outcomes in newly diagnosed GBM patients.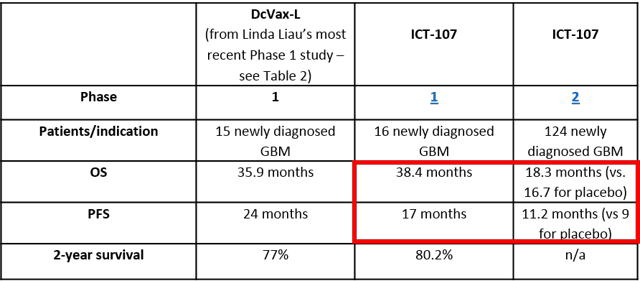 Source: author, based on links in text above
NWBO's survival figures don't look so sensational now.
Ongoing DCVax GBM Phase 3
NWBO has been running a global Phase 3 study, which currently is not working out for them due to a halt on patient enrollment which was announced in August of 2015.
This is the first time NWBO is running a placebo-controlled trial, which is a type of trial which kills technologies that do not work. It looks like DCVax already had a pre-death experience in August of 2014 when they suddenly announced an amendment to the number of patients and the number of statistical events, particularly a lowering of the success threshold for their primary endpoint.
The trial would now recruit 348 total patients, up from a previous 312, and the number of "events" counted in the statistical analysis will increase from 110 to 248. The company also accounted that the threshold for satisfying the primary endpoint of the Phase III trial (which is PFS) will be lowered from requiring a 6-month difference to requiring only a 4-month difference between the PFS of the patients treated with DCVax-L and the PFS of patients in the control arm of the trial - in other words, the threshold for success is now inexplicably lower.
Those who are familiar with the industry will have seen many such tricks in the past, usually from companies who are making a last-minute desperate bid for efficacy. Usually, these bids end in tears.
NWBO is wrong to use a PFS primary endpoint
This is perhaps the most frightening point of all for NWBO, especially in the extremely unlikely event that DCVax manages to show some sort of efficacy in Phase 3. In yet another amendment to their trial protocol, NWBO decided that their Phase 3 study will have a primary endpoint which is progression-free survival instead of overall survival, probably because it seems to them that DCVax has had a better effect on PFS than OS.
It is important to note than not only has PFS never been used as a primary endpoint for GBM before, but also that several companies have actually asked the FDA for this endpoint, and were not granted their wishes. Straight from a scientist's mouth, the reason for FDA disliking PFS is that:
"Survival represents the most objective standard for evaluating GBM therapy, in part because surgical tumor mass reduction does not necessarily correlate with prolonged survival."
In other words, because PFS does not mean anything.
Caught in another lie, NWBO was recently busted for claiming that they were in agreement with the FDA about amendment of their Phase 3 protocol, which would have included the endpoint changes, when their recent SEC filings attested to just the opposite:
"The primary endpoint of our Phase III trial is progression free survival. Sometimes regulators have accepted this endpoint, and sometimes not. There can be no assurance that the regulatory authorities will find this to be an approvable endpoint for Glioblastoma multiforme cancer"
If the trial does succeed with PFS as primary endpoint, there is a truly near-impossible chance that the FDA will accept a New Drug Application (NDA) from NWBO based on this, and the company will have to start all over again.
The clinical halt
The hold-on patient enrollment in the Phase 3 DCVax GBM trial was announced in August 2015, pending the submission of "additional regulatory information" by NWBO. As NWBO investors may know all too well, transparency is not a forte of NWBO's CEO Linda Powers, and the crucial reason for the halt has not yet been disclosed. However, we fear that stern NWBO supporters may be in denial about the halt's reasons.
While speculation is rife that the halt is due to "outstanding efficacy", in actuality this event bears absolutely no resemblance to efficacy halts which are put in place when it becomes clear that depriving the control patient arm of the efficacious treatment would be unethical. This is particularly evident through the fact that, according to the company's press release on the issue, the trial has been proceeding for at least two months with the recruited control- and active-arm patients (meaning, the placebo arm continued to receive placebo), while selection for new patients seems to be undergoing additional scrutiny. Certainly, placebo-arm patients haven't been rushed to receive the phenomenal DCVax at least since August 2015[1]. Based on this, it could be speculated that certain patients who meet the trial's selection criteria may have been found to be unsuitable, or perhaps at a safety risk, for receiving D.
Epilog
Powers has used various methods to keep the DCVax story alive, including delaying the release of clinical results, results which we believe would kill the DCVax story and prevent Powers from transferring funds and shares to the Toucan Group. We believe that the DCVax phase 3 study will fail to show statistically significant benefit over placebo and doubt the FDA will accept the company's Phase 3 end-point of progression-free survival. We have no doubt that the SEC will get involved and look into the transaction between NWBO, and the Toucan Group, CTCI, Navid, Minhas and others. And when the truth will emerge, we doubt that any of the current management of NWBO will be involved in a public company in the future.
The complete 60-page long report can be found on the Phase V research website.
Appendix 1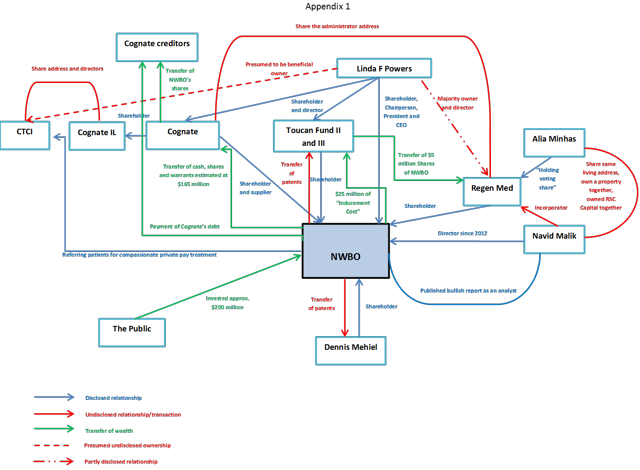 This article was written by
PhaseFive initiates research-intensive analysis of Healthcare and Biotechnology companies using groundbreaking scientific intelligence tools. We focus on long/short event-driven opportunities centered on clinical, regulatory and early commercial development. Our research approach relies on synergizing diverse talents. PhaseFive's team is built on the knowledge and vast experience of Neurobiochemistry PhDs, Big Data experts and seasoned Life Science investors. Our track record reflects our ability to assess a company's true fair value at critical stages, looking beyond hype and misunderstood perceptions. PhaseFive focuses on catalyst events in small-to-medium cap Healthcare companies. These catalyst events include clinical trial outcomes, regulatory procedures and commercial developments.
Analyst's Disclosure: I am/we are short NWBO. I wrote this article myself, and it expresses my own opinions. I am not receiving compensation for it. I have no business relationship with any company whose stock is mentioned in this article.
Seeking Alpha's Disclosure: Past performance is no guarantee of future results. No recommendation or advice is being given as to whether any investment is suitable for a particular investor. Any views or opinions expressed above may not reflect those of Seeking Alpha as a whole. Seeking Alpha is not a licensed securities dealer, broker or US investment adviser or investment bank. Our analysts are third party authors that include both professional investors and individual investors who may not be licensed or certified by any institute or regulatory body.