According to Canalys, Huawei was the top selling smartphone brand in China in Q3, with 82% y/y shipment growth. According to IDC, Huawei was in third place on global smartphone shipments in Q3, behind Samsung (OTC:SSNLF) and Apple (NASDAQ:AAPL). Huawei has become Apple's most potent competitor in China. The ascendancy of Huawei may provide some much needed context for Apple's growth expectations for the December quarter.
Dueling Market Reports
Lately I've been seeing (or hearing) a lot of seemingly conflicting answers to the question of who was selling the most smartphones in China. The answer seems to vary depending on who's answering the question. Apple CEO Tim Cook stated at the fiscal Q4 conference call (on October 27) that iPhone 6 was the number one selling smartphone on Mainland China in the quarter.
Meanwhile, the Canalys report proclaiming Huawai the top smartphone vendor in China in calendar Q3 featured prominently in a Fortune article. Ever ready to leap to Apple's defense, Daniel Eran Dilger wrote in AppleInsider that Apple had the top market share in China, citing a report by Counterpoint Research.
It's enough to make this author long for the simpler days of yore when ardent Apple fans proclaimed that Apple didn't care about market share. This is what getting a taste of being No. 1 in global market share will do. According to IDC, Apple nearly tied with Samsung (OTCPK:SSNLF) for No. 1 in the December 2014 quarter.
Personally, I'm glad that Apple has developed a taste for market share. Being No. 1 in market share is where Apple belongs. But such a position will never come easily, nor can it be taken for granted.
Therefore, the rise of Huawei is not to be taken lightly. IDC's research indicates that even though Huawei's global share is small compared to Apple's, Huawei's shipment volume is growing y/y at a remarkable 60.9% rate, as the table below shows.
| | | | | | |
| --- | --- | --- | --- | --- | --- |
| Vendor | 3Q15 Shipment Volumes | 3Q15 Market Share | 3Q14 Shipment Volumes | 3Q14 Market Share | Year-Over-Year Change |
| Samsung | 84.5 | 23.8% | 79.6 | 23.9% | 6.1% |
| Apple | 48.0 | 13.5% | 39.3 | 11.8% | 22.2% |
| Huawei | 26.5 | 7.5% | 16.5 | 5.0% | 60.9% |
| Lenovo* | 18.8 | 5.3% | 16.9 | 5.1% | 11.1% |
| Xiaomi | 18.3 | 5.2% | 17.3 | 5.2% | 5.6% |
| Others | 159.1 | 44.8% | 163.0 | 49.0% | -2.4% |
| Total | 355.2 | 100.0% | 332.6 | 100.0% | 6.8% |
| | | | | | |
| Lenovo + Motorola | 18.8 | 5.3% | 25.7 | 7.7% | -26.8% |
In fairness, all three claims about China are probably equally valid, in their own ways. Cook was only claiming to have the top selling smartphone model, not the most market share in smartphones in the quarter. Canalys asserted that Huawei had the most market share in China for the entire quarter, whereas Counterpoint only claimed that Apple had the most market share in the month of September: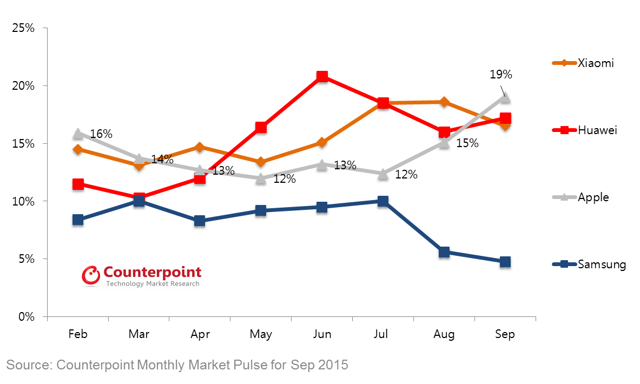 However one frames the question, it's clear that Huawei threatens Apple's market share in China and therefore Apple's growth in smartphones overall.
In the Apple Mold
There's a very important reason, beside market share and unit volume gains, that I see Huawei as a competitive threat. Huawei, like Apple and Samsung, designs its own systems on chip (SOCs) for its smartphones and tablets. Huawei does this through a wholly owned subsidiary, HiSilicon.
I don't think it's any accident that the top three global smartphone makers all design their own SOCs. This is a natural progression of the paradigm shift that I've described that started with the Apple A4 SOC in the first iPad. It was inevitable that more manufacturers would adopt the new paradigm, seeing that it offered a competitive advantage over the use of commodity processors from old-style semiconductor companies.
It also was inevitable that the new paradigm would enter into mainstream, mid-tier devices as the cost of adoption became less. Huawei is currently offering its custom SOCs in its most upscale devices, but I expect that eventually they'll spread to the entire product line.
Plans for the Future
Huawei's next upscale phones, the Ascend Mate 8 and Honor 7, are expected to use a new line of SOCs that will be competitive with Apple's A9 SOC in the iPhone 6s. The new HiSilicon SOCs will be fabricated on the identical TSMC (TSM) 16 nm FF+ process that Apple is using. They will feature 4 ARM Cortex-A72 CPU cores and 4 A53 cores.
Exactly how fast the ARM A72 is compared to the Apple A9 CPU core is unknown, but ARM's claims for speed improvements over the previous generation of ARM designs probably puts the A72 in the same league as the Apple A9.
These new smartphones are expected to arrive some time this quarter, in time for the Chinese Lunar New Year holiday in February 2016, which is the big holiday shopping season in China. Huawei has positioned itself as the affordable upscale alternative to iPhone.
December Quarter Guidance in Context
Apple knows that these new phones from Huawei are due to arrive in the December quarter, and Apple also gets all the market share surveys that everyone else does. Apple management knows that Huawei is easily the most important adversary that Apple faces in China. Under the circumstances, Apple's cautious guidance for the December quarter, and the implications for limited growth beyond December, makes a lot more sense now.
At this point, Apple simply doesn't know how good the new Huawei phones are going to be or how well they'll do in the marketplace. Apple might get surprised and find that iPhone 6 and 6s demand are higher than expected. As the December 2014 quarter demonstrated, Apple has some ability to accelerate production to meet demand. This can provide significant upside surprise above guidance. If the new Huawei phones don't prove to be strong competitors, Apple can probably take advantage, and we'll have a nice "surprise" in January.
If Huawei's new phones turn out to be strong competition, that's not the end of the world. Apple still has advantages in its mobile operating system and app ecosystem. I'm sure that Apple could produce a better phone, but that will probably have to wait until the next iPhone refresh in the Fall of 2016. For Apple investors, that wait could seem like an eternity.
At this point, I'm disinclined to change my Hold rating of Apple, despite the outcry of Apple fans. This is not the same as a Sell rating, and I'm not selling my Apple stock. It's simply a statement that I don't consider it a good time to buy. The time to buy was back in August, when the market was gripped with unreasonable fear about China, as I pointed out in Why Apple Investors Shouldn't Fear China.
Based on what happens with the new Huawei phones, I may revisit this position. Any number of things could cause this, including a delay in the launch of the phones, or negative reviews, or benchmarks that say that the new SOCs are non-competitive.
My Hold rating is just based on my reading of the market. In late 2012 and into the first half of 2013, the market punished Apple for not posting better y/y growth. This was despite the fact that Apple was still posting double-digit growth. Now that we have an expectation of low single-digit growth for the December quarter and beyond, I didn't feel I could recommend buying a stock that has a good chance of being ambushed by the market.
I still regard Apple as a good investment over the long term (3-10 years), but the near term could be a little painful. But if the market doesn't behave as it did in 2012-2013, so much the better.
Editor's Note: This article discusses one or more securities that do not trade on a major U.S. exchange. Please be aware of the risks associated with these stocks.