Tyco International (NYSE:TYC) is a $22.7 billion large-cap diversified conglomerate. It is a leading global manufacturer of flow control systems for the oil and gas, water, mining, power, process and construction industries. It is also a global leader in electronic security products and services, protecting about 9 million commercial, government and residential customers. ADT is one of its famous brands. Tyco also has a fire protection arm that provides fire detection and protection products and services to customers in more than 60 countries.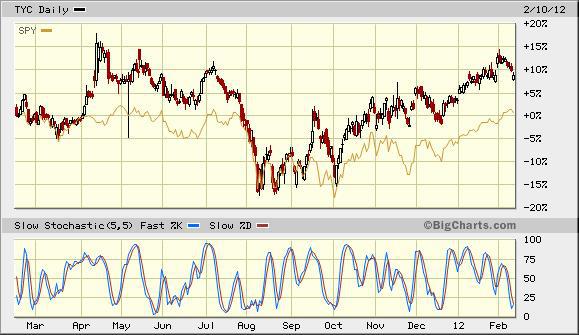 Tyco looks undervalued with a forward PE ratio of 11.92, a PEG ratio of 1.04, and a price-to-book ratio of only 1.61. Now looks like a great time to get in on this undervalued stock for long-term growth.
The company has a profit margin of 8.19%, an operating margin of 12.04%, and earnings per share of $2.97. Tyco brings in $2.53 billion in operating cash flow and $710.5 million in levered free cash flow. It has a solid balance sheet with total cash of $1.01 billion, total debt of $4.17 billion, and a current ratio of 1.54.
Tyco has exceeded earnings estimates in its last four quarters and has 12 upward earnings revisions for 2012 and six for 2013. It is expected to grow earnings annually at 13.05% for the next five years. This is solid growth that should give it an edge over the market's performance. The company also pays a 2% dividend, so investors can expect a total annual yield of about 15% when accounting for the earnings growth.
Eighty percent of Tyco's revenue comes from outside the United States. Thirty percent of its revenue is derived from emerging markets, which includes China, India, Latin America, and the Middle East.
Flow Control
The valves and controls portion of its business accounts for 60% of its revenue. Tyco differentiates itself from the thousands of other valve manufacturers by producing highly engineered valves, actuators and controls for use in the most demanding environments. These demanding environments include: high pressure, high temperature, and mission critical applications. In other words, Tyco's brands are considered market leaders with strong reputations in its various industries.
The company expects to receive orders in the $50 million to $100 million range through the remainder of fiscal 2012. It plans for these projects to be shipped in the second half of 2012 and throughout 2013.
Security Solutions & Fire Protection
North America residential and small business accounts for 90% of its security and fire segment revenue. Tyco's security segment protects 7 million homes, 50 of the top U.S. banks, 300 international airports, and 80% of the top 100 retailers throughout the world.
CFO Frank Sklarsky said that the company is continuing to focus on growing service revenue and to drive new product innovation in the fire portion of the business. Tyco is in the process of completing acquisitions that will expand its customer base in growth markets such as China, Korea, and the Middle East. These acquisitions are expected to account for $75 million of revenue in the second quarter.
Conclusion
With the Dennis Kozlowski scandal far in the past and the 2008 financial crisis behind us, it looks like Tyco is heading toward a new positive horizon. If new acquisitions are done strategically and intelligently, the company can grow earnings with an edge above the market.
It has been beating the performance of the S&P 500 (NYSEARCA:SPY) since about the middle of September 2011 and looks to be rising steadily. The recent sell-off in Tyco's stock since the beginning of February 2012 has placed it in oversold territory. I would consider this a good time to start a position in the stock for the long term.
Disclosure: I have no positions in any stocks mentioned, and no plans to initiate any positions within the next 72 hours.