Context
My expected returns for a 60/40 portfolio assume 10-year inflation of 2%. I believe that commodity inflation is cyclical, and will not drive core inflation during this period. Instead, I am closely watching wages for signs of inflation, and for their impact on corporate margins, as I discussed last week when Wal-Mart (NYSE:WMT) announced weak results due to rising labor costs.
Is this type of wage news anecdotal or widespread? Is it enough to affect corporate margins for the S&P 500? I turn to the ECI for an answer.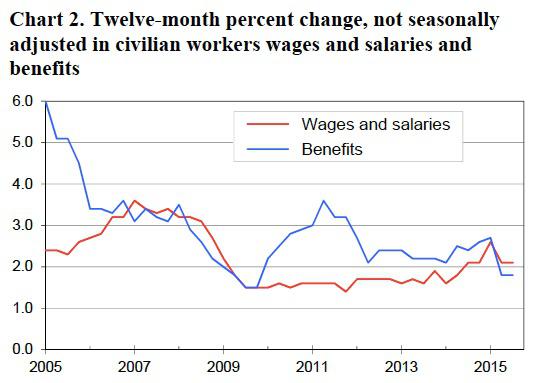 Source: Bureau of Labor Statistics, October 30, 2015
No Joy in Mudville
Unfortunately, wages and salaries rose only 2.1% for the 12 months ending 9/30/2015, and benefits rose even less at 1.8%. Wage growth of 2.1% is unchanged from one year ago. Benefit costs rose 1.8% during the 12 months ended 9/30/2015, down from 2.3% during the 12 months ended 9/30/2014. So benefit costs are actually falling.
If you dig a little deeper, employer costs for health care benefits rose 3.0%, up from a 2.6% pace one year ago. I discuss more about healthcare benefits below.
Obviously the aggregate economy is not being moved by the hikes in minimum wages or fast food chains. Workers are looking for relief, but there is no indication of broad-based wage growth in business or government.
News Flow vs. Reality
There are increases ahead for the minimum wage, but until these have not taken effect it is too early to tell if the trend will get traction. The issue of wages seems like a case where the "news has gotten ahead of the data," mainly because wages are a hot topic politically. Many people in the media like to write about the topic, and the news flow might make investors think that we are on the cusp of a payroll tsunami.
The aggregate data say no.
Likewise, rising benefit costs are also a hot political topic because of healthcare costs and the Affordable Care Act. There are many news stories about how small businesses are getting slammed by rising health care costs. But there is no evidence in the ECI that benefit costs are increasing sharply.
Implications
Low wage costs imply continued sluggish consumer demand and low inflationary pressures. This is also likely to fuel mediocre revenue gains in businesses that depend directly or indirectly on consumers. I am sticking with my 2% long-term inflation forecast, which is in line with most strategists. I project 6% expected returns for stocks, or 4% in real terms, as noted in my capital market assumptions. (Click here to download the slide deck, a PDF with links to the original sources. It's a handy reference tool.)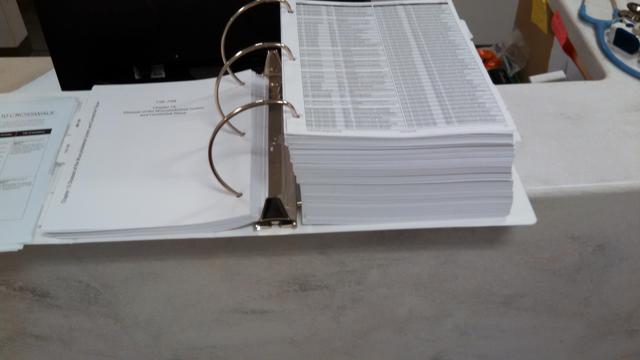 Hidden Costs of "ICD-10"
While we are talking about healthcare costs, the photo above shows a single chapter of the new government-mandated insurance codes that were issued on October 1, 2015. There are now 68,000 new insurance codes, up from 14,000. The photo shows a binder of codes used at my doctor's office for Chapter 13: Diseases of the Musculoskeletal System. (Click here for the PDF. I have no idea why you'd do that, but hey, it's your life.)
I took this photo at my doctor's office, where the staff was overwhelmed with implementing all of the new codes. And I'm talking about the professional medical staff, not the administrative staff. At one point I saw all five medical professionals dealing with paperwork, computers, and phone verifications. Not a single person was involved in delivering healthcare of any kind.
Later the same day I ran into a chiropractor who was dealing with the new codes. He said that no work was getting done in his office and no revenue was coming in. It was a nightmare. Unfortunately, consumers can expect the same experience over the next few months when they submit bills to their insurers.
These are the costs of regulation. I'm not sure where this shows up at the Bureau of Labor Statistics. I guess all this paperwork is part of how technology and automation are creating a burden on people to do all sorts of work that is not captured in economic statistics.
Disclosure: I/we have no positions in any stocks mentioned, and no plans to initiate any positions within the next 72 hours.
I wrote this article myself, and it expresses my own opinions. I am not receiving compensation for it (other than from Seeking Alpha). I have no business relationship with any company whose stock is mentioned in this article.
Additional disclosure: Right Blend Investing is registered as a financial advisor in the state of New Jersey. Additional information about Right Blend Investing is contained in its Form ADV, Part II, and at the Investment Adviser Public Disclosure ("IAPD") website at www.adviserinfo.sec.gov. Investors interested in using our services are encouraged to review additional information at the IAPD, and to consult with us about the specific risks of the investment strategies discussed herein. Disclaimer: All written content on this site is for information purposes only. Opinions expressed herein are solely those of Right Blend Investing and our editorial staff. Material presented is believed to be from reliable sources, however, we make no representations as to its accuracy or completeness. All information and ideas should be discussed in detail with your individual adviser prior to implementation. The presence of this web site shall in no way be construed or interpreted as a solicitation to sell or offer to sell investment advisory services to any residents of any State other than the State of New Jersey or where otherwise legally permitted. This website is not a complete discussion of the information needed to make a decision to open an account with Right Blend Investing, LLC. There are always risks in making investments, including the investment strategies described in this website. NO BANK GUARANTEE. MAY LOSE MONEY.