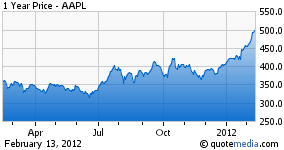 As Apple's (NASDAQ:AAPL) stock crossed $500 per share today and the investing world rejoiced, I thought about just how important this one company has become. Apple's number one weighting in the Nasdaq 100 (NASDAQ:QQQ) checks in at a whopping 16.40%. Microsoft (NASDAQ:MSFT) and Google (NASDAQ:GOOG), numbers two and three in the Nasdaq 100, have weightings of 9.17% and 5.54%, respectively. Apple's market capitalization, at $467.21 billion, is now greater than Microsoft's ($257.43 billion) and Google's ($199.30 billion) combined. Even when combining the market caps of Cisco (NASDAQ:CSCO) at $107.62 billion, Intel (NASDAQ:INTC) at $136.11 billion, and JPMorgan Chase (NYSE:JPM) at $145.36 billion, Apple still comes out way on top. Apple's stock is the most widely owned by hedge funds, and its products are the obsessions of millions of adoring fans.
To top it all off, we recently learned from FactSet Research Systems (NYSE:FDS) that most of the Q4 2011 earnings growth in the S&P 500 (NYSEARCA:SPY) came from only two companies: Apple and American International Group (NYSE:AIG). If these two companies were excluded from the S&P 500, the growth rate would drop from 5.8% to just 1.0%.
The dominance and widespread ownership of its stock is something that many would certainly cheer. However, while it is exciting for owners of Apple, it's a bit scary for the rest of the stock market. Given the widespread role that indexing and ETFs now play in investment portfolios and Apple's top weightings in both the Nasdaq 100 and the S&P 500, there comes a point at which it simply isn't healthy for the stock market to have one company's stock dominate the way Apple's is dominating. Perhaps we aren't quite at that point. Apple likely has many more quarters of breathtaking growth ahead of it. But, if the next few years will be a world of slower economic growth, Apple's dominance in the equity markets is likely to only grow over time, as its success appears to defy weak consumer confidence, high unemployment, and the slower growth of other industries and companies.
If you are a trader of the markets, whether on a day-to-day basis or as a swing trader looking for multi-day and multi-week moves, it is important to keep Apple on your watch list. Even if you are not trading the stock itself, its daily movements can have large direct and indirect consequences on broader market movements. The direct consequences result from its large influence in the Nasdaq 100 and the S&P 500. The indirect consequences can come from the knock-on effects of Apple pulling up or bringing down the Nasdaq 100 or the S&P 500, thereby causing buying or selling pressure in other equities in those indices.
If you are a long-term, buy-and-hold type investor of broad-market indices, it would behoove you to watch Apple's progress closely over the coming years. If the company ever reaches a point at which its stock tops out before the rest of the major players in the equity markets are able to pick up their growth rates fast enough to compensate, there will be trouble ahead for the overall stock market. Apple's impressive performance is masking mediocrity in the markets, and investors do not pay up (multiple expansion) for mediocrity. Certainly there are a couple other stocks also helping to mask market-wide mediocrity, such as IBM (NYSE:IBM) and its 11.34% weighting in the DJIA.
However, Apple is the big kahuna, the player crushing its competitors, yet offsetting the negative effects of its competitors' less-than-stellar performance by virtue of its stock going higher and higher. Apple is the player with the most positive effect on the markets and the player that could have the most destructive effect on broad-market indices if it can't continue its dominating ways and impressive growth long enough for the rest of the world to begin growing strongly again. Everyone, regardless of whether he or she owns the stock, should keep an eye on Apple's growth rates and the stock performance going forward.