After seeing the NEC Casio Medias LTE N-04D, something suddenly struck me. Everybody is making smart phones, even Casio.
NEC, ZTE, Apple (NASDAQ:AAPL), HTC, Samsung (OTC:SSNLF), Motorola (NYSE:MMI), Nokia (NYSE:NOK), Huawei, Research In Motion (RIMM), Sony (NYSE:SNE), Kyocera, Sharp, Panasonic, LG, Acer ... I am probably forgetting a few brands here.
The number of brands is not a coincidence. The smart phone segment is seen as the most attractive segment of the market, with growth in units hitting 61.3% in 2011, to a full 491.4 million devices, according to IDC. However, it is precisely this huge growth that will be the downfall of this market. The scenario is much like what happened with flat screen TVs: A very high growth segment of the market promises growth and riches to the market entrants, these all flow in at the same time, and in trying to get some market share they destroy the market for every participant.
So this is now one oversupplied market. And worse still, it's an oversupplied market where two of the players, Samsung and Apple, have almost all of the profit between them: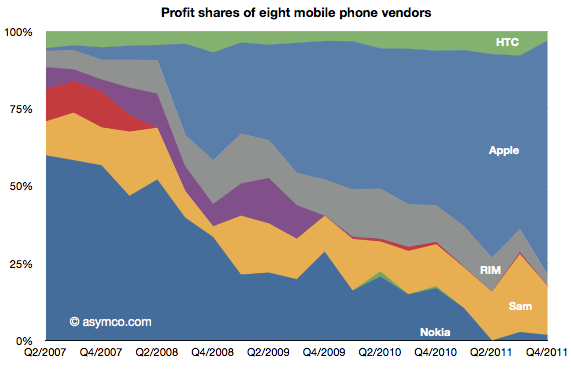 This cannot end well, as with any oversupplied market many of these entrants will have trouble surviving, much less have profits. And the prices charged for every player are bound to become un-economic unless the players are able to differentiate themselves. Here, Apple has a huge advantage - no one else can distribute an iOS product - but outside of Apple the market has no way of not turning ugly, probably even for Samsung. And if it turns ugly enough, it might even happen that Apple itself will be faced with mobile operators less willing to put up the massive subsidies presently being required.
There is also a lesson here for Google (NASDAQ:GOOG). Google will probably be sucking massive losses from Motorola Mobility in no time. Although Motorola's estimates don't imply losses yet, the picture above is pretty clear - the market is massively oversupplied, losses for most entrants are to be expected, and low margins will be the norm.
Worse still, this happens at a time Microsoft (NASDAQ:MSFT) will also be trying to re-enter the smart phone market with Windows Phone, and simultaneously several of the brands named, Nokia among them, will be trying to get back market share in the all-important U.S. market.
Conclusion
There is a clear, massive, oversupply of smart phones and smart phone brands. This kind of market structure is usually followed by losses for most entrants and low margins for the remaining until some of them decide to leave the market.
As such, this sector is now best avoided. Apple might be an exception, but it's hard to see how every other player won't have profits punished, and it's to be expected that most will see losses until this oversupply wanes. If shorting, the best way to take advantage of the glut will be to short second-tier makers (that is, all except Apple and Samsung).
Another possible way to play this glut could be through shorting the First Trust NASDAQ CEA Smartphone ETF (NASDAQ:FONE), however this is not as clear cut since the fund includes component suppliers and a glut in smart phones might not be bad for all of them, it depends on whether there's competition at the component level.
Disclosure: I have no positions in any stocks mentioned, and no plans to initiate any positions within the next 72 hours.