When it comes to dividend growth investing, it can pay to look beyond the traditional high-yielding income stocks.
This is especially true in the current environment, where there's constant talk of dividend cuts among the miners, oil companies and healthcare stocks.
I don't mind bypassing some of the highest yielding stocks in search of lower yielding companies that are actively growing their dividends.
The power of growing dividends along with capital growth can be immense over the long term.
Today I look at one such stock that I believe has the potential for both capital growth and dividend growth over the medium to long term. The company has an enviable track record -- revenues have increased every year for the last 10 years, and in that time the dividend has grown at a compounded annual growth rate of over 17%.
The stock I'm referring to is the multinational advertising giant WPP PLC.
As a UK investor, my discussion is largely based on the UK listed stock -- WPP LN, however WPP (NASDAQ:WPPGY) is also listed as an ADR on the NASDAQ.
Each ADR represents five ordinary UK shares. I have included a section on the ADR dividend.
Company Description
WPP is a UK-based multinational advertising and public relations company. It is the world's largest advertising company by revenues and employs around 190,000 people across 112 countries.
The company organizes its businesses into four main areas of activity:
· Advertising and Media Investment Management
· Information, Insight and Consultancy
· Public Relations and Public Affairs
· Branding and Identity, Healthcare, and Specialist Communications (including direct and digital promotion)
Its brands include companies such as Ogilvy & Mather, JWT and Cohn & Wolfe, and its client list is very impressive -- containing names such as Ford, HSBC and Procter & Gamble.
While 70% of WPP's revenues are generated in the UK, Europe and the USA, the company also has exposure to faster growing economies such as China and India. WPP currently ranks number one in advertising billings in both China and India, with market shares of 35% and 49% respectively.
37% of WPP's revenues are currently related to digital advertising, so the company is well placed to take advantage of this high growth area as the advertising landscape changes in the future.
One of the distinguishing features of WPP is their very active bolt-on acquisition strategy. Between 2009 and 2014 WPP acquired 177 companies -- many of these in the digital space. This acquisition strategy enables the company to increase revenues and boost margins even when organic growth is slow.
WPP's main competitors include Havas SA, Publicis Groupe, Interpublic Group and Omnicom Group. Advertising agencies are generally seen as proxies for global growth, and investor sentiment will fluctuate as investors adjust their expectations for global GDP.
However, with the USA, UK and Europe in relatively good economic shape, and certain key events on the horizon, I believe WPP is worth a look for the dividend growth investor.
Financials & Ratios

Starting with a basic analysis of the income statement, we can see that WPP has grown revenues every year since 2005, even throughout the global financial crisis. Revenue compounded annual growth rate -- CAGR -- was 8.85% over this time period. Furthermore, operating profit and adjusted basic earnings per share saw growth in every year except 2009.
While earnings growth was not as prolific last year, WPP still managed to achieve growth in a rather stagnant global economic environment. Profit margins decreased between 2008 and 2010, however they now appear to be trending in the right direction.
The dividend has increased every year except for 2009 (when it was flat) and has grown from 9p to 38p since 2005. That's an impressive CAGR of 17.36% over that time period.
A glance at the balance sheet reveals that WPP does have debt -- its debt to assets ratio is 18%, but with a free cash flow to debt ratio of 0.29, these debt levels look reasonable.
The table below shows a comparison to its advertising peers.

At the current share price of 1460p, WPP's current P/E ratio is approximately 14.8. With analysts penciling in approximate earnings per share of 93p next year, this equates to a forward P/E ratio of 15.7.
For a firm with a strong record of growing revenues and profits, these P/E ratios are certainly not high, and the company looks good value compared to its peers.
A free cash flow yield of 7.2% is very healthy and means that the company has plenty of options going forward, whether that's making further acquisitions or returning excess funds to shareholders.
WPP's dividend yield is 2.9% (it was over 3.0% during the recent correction) and the forecast yield is 3.2%. These yields are the best among its advertising peers. Furthermore, management have discussed potentially increasing the dividend payout ratio from the current 47% to 50% by 2017.
Is the dividend safe? With a dividend cover of 2.1 and a free cash flow yield of over 7%, it should be.
ADR Dividend
ADR holders are eligible for all stock dividends or other entitlements accruing on the underlying WPP plc shares and receive all cash dividends in US dollars. Checks will either be mailed directly to the ADR holder or to their broker.
Given that one ADR represents five ordinary shares, the ADR dividend is calculated as five times the ordinary UK dividend, multiplied by the average GBP/USD exchange rate for that financial year.
For example, in FY2014 the UK dividend was 38.2p. Multiply this by five and you get 191p. WPP then used an average GBP/USD exchange rate of 1.6475 resulting in a USD dividend of 314.67c.
At the current ADR share price of USD $112 at the time of writing, that's a yield of approximately 2.8%
But obviously, for US ADR investors there's an element of currency risk here and wild swings in the GBP/USD would result in different yield results for US investors and UK investors.
I've included a chart below of the ADR dividends since 2008. I've also plotted these against the GBP dividends. You can see that there's slightly more volatility in the USD dividends (the blue line) than the GBP dividends (red line). The blue line even decreased in 2009.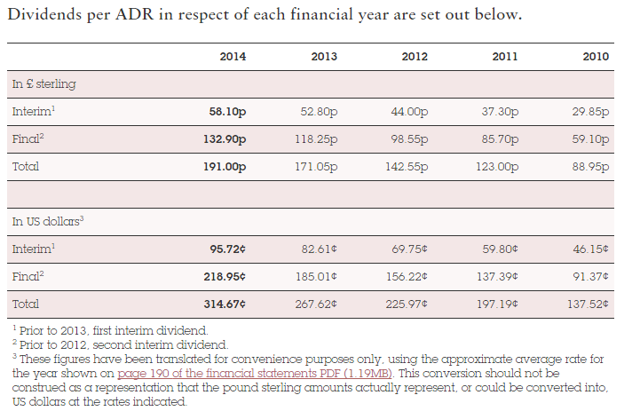 Source: wpp.com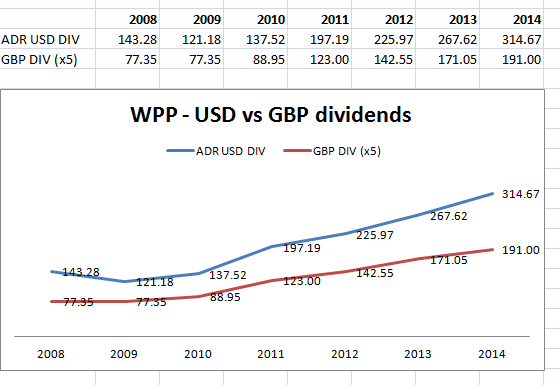 Recent Trading Statement
The recent trading statement on 26th October 2015 was broadly in line with consensus, showed steady progress and didn't include any surprises.
Third quarter organic net sales growth was 3.3% excluding the impact of acquisitions and fx -- slightly below consensus of 3.4%.
Western Europe and the USA were the strongest regions with growth of 4.6% and 3.7% respectively, while the UK was a little softer at 2.2%. Rest of world growth came in at 2.4%.
WPP reiterated its guidance of over 3% growth for FY15.
Bull Points
While the impressive track record of WPP is reassuring, it's important to take a big picture view and identify what the revenue drivers will be going forward.
While most analysts are not predicting strong growth for FY2015 (Bloomberg consensus sales growth for FY15 is 3.85%), there are three key events in 2016 that should boost advertising revenues.
These are:
· The US Presidential Election
· The Olympics in Brazil
· The Euro 2016 Football tournament
Over the longer term, I believe WPP's digital capabilities and exposure to growth markets should continue to propel revenues and earnings in the right direction. Advertising is rapidly changing with technology and WPP management have suggested that the increasing complexity of the advertising landscape will benefit the company as clients request help with their advertising needs. While emerging market growth has tapered off recently, I would expect growth to pick up over the medium to long term and WPP should be a beneficiary.
WPP is also keeping a close eye on costs to offset the recent slower levels of growth in certain regions.
Sell-side analysts are generally positive on WPP. While several analysts have trimmed their forecasts recently on the back of slowing emerging market growth, a quick look on Bloomberg showed that out of 35 analysts surveyed, 23 rated WPP as a BUY and 12 rated the stock as a HOLD.
A free cash flow yield of over 7%, a dividend yield of around 3% and a P/E ratio under 15 are all positives.
Bear points
As mentioned earlier, advertising agencies are seen as proxies for global GDP growth. If global GDP growth does take a turn for the worse, WPP is likely to suffer.
WPP also has a current beta of 1.02 so will track the FTSE 100 pretty closely and be susceptible to market fluctuations.
We have seen this come into play recently with general concerns over China's growth. WPP's share price experienced a correction of over 15% with the recent market volatility, as the FTSE 100 slid from around 7100 points to 5900 points over four months.
While sluggish growth in the emerging markets is a genuine concern for WPP, China revenues are only around 6%-9% of total revenues for the company. And with other geographical regions such as the USA and Europe performing well, these areas are offsetting the weaker emerging markets.
There has also been concerns over media reviews. In a cost-cutting global environment, companies are looking to slash costs in any way possible. However WPP management have not been too concerned at this factor and have stated that many reviews are less related to pricing and more related to digital capabilities.
Analysts have also had recent concerns over short-term margin growth and FX rates.
All of the points above are worth considering. However given that the share price has recently had a substantial correction of over 15%, I'm willing to look past the short-term noise and focus on the medium- to long-term story with WPP.
5-Year Chart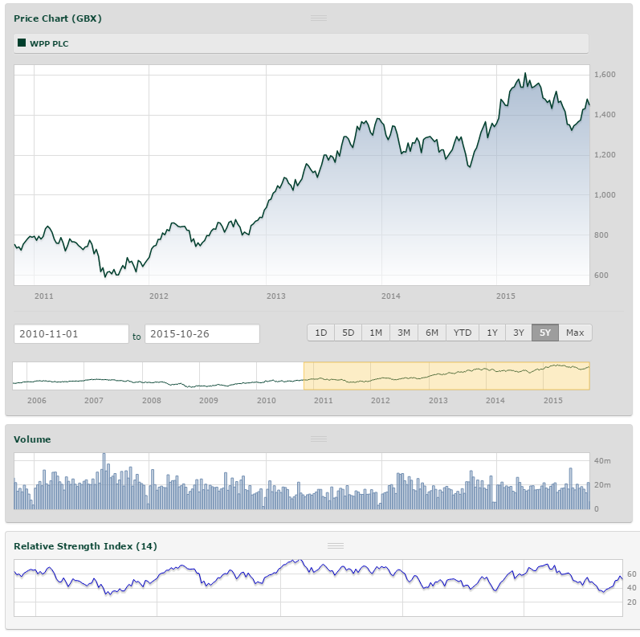 Source: TD Direct Investing
Looking at the chart, we can see that WPP had a good run from around 600p to just over 1600p between 2011 and early 2015.
The share price has had a correction in recent months, with the 1300p level offering a level of support.
It can pay to keep an eye on the RSI with WPP -- when the RSI falls below the oversold level of 30, the stock has tended to perform quite well from there.
Conclusion
WPP has consistently delivered double-digit EPS growth in the past, and with a high free cash flow yield and growing dividend, the stock looks like an attractive opportunity for dividend growth investors, assuming that global GDP doesn't suffer a severe contraction.
With key digital advertising assets and exposure to emerging markets, I like the medium- to long-term story for WPP.
Disclaimer: This article does not constitute investment advice. Please do your own research. I currently hold a small position in WPP as part of a diversified blue chip dividend paying portfolio. I plan to add to my holding in the future upon share price weakness.
Disclosure: I am/we are long WPPGY.
I wrote this article myself, and it expresses my own opinions. I am not receiving compensation for it (other than from Seeking Alpha). I have no business relationship with any company whose stock is mentioned in this article.
Additional disclosure: I currently hold a small position in WPP LN as part of a diversified UK blue chip dividend paying portfolio. I plan to add to my holding in the future upon share price weakness.