I apologize to those who enjoy my cunning and informative analysis on the investment environment. The demands of my internships and college work have kept me away from my much beloved SeekingAlpha and out of the trading game for awhile.
I am writing this to provide a recap on my article, 5 Stocks Due for Strategic Growth in 2012. Since I wrote that article the portfolio of stocks has performed quite well.
| | |
| --- | --- |
| Microsoft (NASDAQ:MSFT) | 18.13% |
| Electronic Arts (EA) | -15.9% |
| Field Point Petroleum (NYSEMKT:FPP) | 11.09% |
| Discover Financial Services (NYSE:DFS) | 17.66% |
| Apple (NASDAQ:AAPL) | 22.5% |
Generating a total return of 20.33%.
The market finally woke up to Microsoft's stock, as it had been floundering around $25 for quite sometime. Wall St. Cheat Sheet reports:
Additionally, five of the ten best-selling games in the U.S. in January - Elder Scrolls V: Skyrim, Call of Duty: Modern Warfare 3 (NASDAQ:ATVI), Battlefield 3 (NASDAQ:EA), NBA 2K12 (NASDAQ:TTWO), and Just Dance 3 - were for Xbox.
The company continues to improve its product line, with Windows 8 in the pipeline. Another not so well reported fact is the current military bot technology relies on XBox 360 controllers for control. I am assuming Microsoft has been profiting from the adoption.
I am going to address the glaring elephant in the room. Electronic Arts clearly has not met my expectations, though it beat its earning expectations. The stock is being weighed down by reports of the management shake ups and Zynga poaching two of their top executives. However, I still like Electronic Arts stock and believe its future vision and build out of the Origin platform has great promise.
However, DailyFinance.com reports that Electronic Arts' account receivables and days on sales are growing, and this may be an unhealthy signal. The author of the article, Seth Jayson, pointed out, "Sometimes, problems with AR or DSO simply indicate a change in the business (like an acquisition), or lax collections." This could be a reflection of Electronic Arts' recent acquisitions and new focus on the Origin online sales model. The model does not go far enough back to show past accounts receivable or DSO and demonstrate whether or not this is common in Electronic Arts, so I found one that does: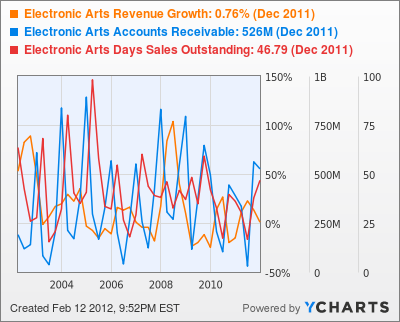 Based on this chart (not as pretty as the Seth's) Electronic Arts' DOS and AR spiked more severely in 2004 and 2005 as well. The company is still around and this leads me to believe it is a result of the evolving business. It is no secret that Electronic Arts has struggled with profitability, but based on recent acquisitions and titles it is taking steps to remedy the situation. The company still has more assets than liabilities and 1.24B in cash, but with lowered earnings guidance so expectations are low.
Fieldpoint Petroleoum's initial well is producing 600 barrels of oil per day and it is beginning to drill a second well. It recently rescinded the record date of the warrant dividend by request of NYSE Amex. I attribute this to an overreaction to the initial success of the well. Sort of like receiving a big bonus, going out and spending it, then finding out your boss is going to hold the check for a month.
Discover Financial Services stock price finally caught up with its earnings announcement. The stock is outperforming American Express (NYSE:AXP) and climbing rapidly.
Apple speaks for itself. Two of the other companies on this list are changing their business to be more like Apple. Steve Job's not only revolutionized computers, he revolutionized business.
Disclosure: I am long DFS.