Brightcove (NASDAQ:BCOV) provides a video content platform for organizing, publishing, monetizing and monitoring performance of video and rich media assets across all types ofdevices, networks, software environments and applications.
The company was launched in 2005, and thanks to raising capital of $90M from both venture and strategic investors, has been able to build itself into strong market position. Its customer base is largely at the high end and includes household names in media and entertainment, broadcasting, and large corporations.
Brightcove was founded and is managed very much as a technology company, with an on-demand and usage based business model. In the last two years it has added some new products that target smaller customers and provide for some level of self-service. Its latest efforts to address more technical elements of the multimedia applications that include video are a good example of how Brightcove tends to focus on technology innovation.
Historical revenue growth has been slower than we originally thought. Heavy spending on sales and marketing is needed to drive sales but has resulted in substantial operating losses. Our intrinsic value estimate of $13 is based on a long-term model of moderate growth with rapidly improving margins.
Management hasn't provided a target financial model in their IPO roadshow, so it's impossible to know if this is how the story will play out. It may instead opt to maximize growth and maintain high levels of spending.


We first published on Brightcove in March 2010, when it was still a private company. Since then the rise of the tablet has only accentuated the demand for rich content like video and enabled a broad range of new applications and services. Brightcove has continued to grow and now stands in an even better position than it did back in 2010. It turned out that the decision by Apple to stop supporting Adobe Flash was another positive impetus to its growth.
Video is very much the top emerging content type on the internet. Google (NASDAQ:GOOG) knew it way back in 2006, when it paid $1.6B for YouTube. Cisco realized this a few years ago and has made it a top priority and an M&A focus with their acquisition of Tandberg. The proliferation of video-capable devices on the network like smartphones and Internet-connected TV sets has been underway for over a year now.
Video is much harder to manage than the text, image and programmatic content. There are myriad formats, and it's hard to operate on digital video assets when compared to something like formatted text. Adobe made this clear when it spent $1.8M to purchase Omniture to bring online analytics capabilities to their own popular Flash technology, which was the de facto standard for video and animated content before Apple decided to not support it on their platform.
Although even casual users of video are already aware of the many incompatible formats and challenges in supporting wide variations in network bandwidth and device types, the real challenge is applying video to interactions, actions and commerce. Video content needs to be clickable, active and trackable the same way that other types of digital content are today.
Brightcove is a leading player in this space today after $90M in cumulative funding, a large roster of top-tier customers, and the earlier acquisition and bungling of its top competitor at the time, Maven Networks, by Yahoo in 2008 for $160M. Brightcove has faced down some serious competitive issues over the last few years (described in greater detail below) and from our perspective its position as a top video platform provider is its to lose.
This report follows our standard approach to company analysis, beginning with the market opportunity and continuing through company background, management, positioning, business model, competition, opportunities and threats and finally, valuation.
Market Opportunity
Although precise estimates for the current size and growth rate of the online video market may be hard to come by, the overall figures follow a path already worn by the shift from print to online media. A decade ago, the $140 billion/year print advertising business, including classified advertisements and the yellow pages, started moving content online in earnest. The same is happening today with video and this is becoming increasingly clear to the broadcast and cable TV industries.
Third party forecasts have been all over the map the past few years, as they have grappled with the timing of the shift to more digital video-based advertising. Most agree on the size of the US TV advertising market being near $70B per year. The online market is still nascent and highly fragmented but Google crossed the $1B annual gross revenue level in 2011 and will reach $2B in 2013. Google market share in the US is between 40% and 60% of online video content viewed. Google is still over 10 times the size of the next largest online video content provider (Hulu). So the current market is about $2B per year in the US and may be approximately twice that figure on a global basis.
Most of the market research firms we looked at estimated the size of the market in 2012 to be near $8B. This suggests 40% growth, which is consistent with the 50% level of growth we have seen from market data.
As an online video platform, Brightcove is not directly concerned with the business model that the content owner plans to use, so the size of the online video advertising market is only an approximate way of looking at the market opportunity for Brightcove.
Many Brightcove customers are more interested in using video as a tool for driving business directly or wanting to brand their video content. These are much different applications than putting advertisements in videos. In fact, the migration of content from analog and digital TV formats to Internet-based video will push adoption of online management platforms irrespective of how the content will be used.
In this way the video platform management space should develop similarly to others like data management, document management and more general content management tools. One aspect that is different is that with video there is a larger run-time component.
As a rule-of-thumb we allocate 10% of the market for technology services like those provided by a video platform provider. So using the figures above we'd put the market size today in the $400M range and expect it to grow for quite some time in the range of 40-50% per year. This means that sometime in 2012 the market will reach the $1B/year level and IP video will represent about 15% of video content.
Brightcove has submitted its own analysis of the market opportunity as part of its roadshow and by its own calculation its is going after a $2.3B opportunity today that will grow to $5.8B by 2015. This seems a bit silly for a company posting $64M in revenues in the last year.
In fact, most of the opportunity is in the lower sections of the market that are more likely to be served by competitors like Google. Even using its own figures the SMB and "long tail" market for video content represents over $1.8B or 65% of the existing market.
The $500M current market figure seems fairly accurate given the current number of players and its annual revenues. For example Kit Digital is just over a $200M annual run rate (not all of the revenue is video, but it's the lead offering). Brightcove is at a $75M run rate. The balance can be seen in other startups and internal efforts - in some cases using open source technologies like Kaltura.
Summary Company Information
Brightcove was founded in 2004 and has grown to around 312 employees across its offices in North America, Europe and Asia. Brightcove has raised approximately $90 million from both traditional venture-backed funds like Accel and General Catalyst and strategic partners like AOL, IAC/InterActiveCorp and Allen & Company LLC.
Brightcove has followed a partnering approach and integrates its services with those of adjacent technology product and service providers. It has built partnerships with popular website content management systems like Drupal, publishing tool builders like Adobe, online analytics tool providers like Google AdSense, advertising serving networks and online branding and advertising agencies.
From a product standpoint the company has been viewed as a quality provider throughout its history, but there were many complaints of too-high pricing. In late 2009 the company addressed these loud criticisms with a lower end "Express" offering that does indeed meet the needs of most smaller organizations with a much friendlier $99/month pricing level.
So far the company has not been very acquisitive and has grown organically. It did make one acquisition back in 2006 of a company called MetaStories, which was a small 10-employee firm with some publishing technologies for combining video with other elements to create a full content experience. The acquisition was early in the evolution of online content, but was done on favorable terms, from what we can tell. It's unclear how acquisitive Brightcove might be as the market growth accelerates.
Brightcove continues to explore newer markets. It has been pushing "TV anywhere," something that the industry has been moving towards with smartphones and Internet-connected TV sets.
History: There's some interesting history behind the founding of the company. Jeremy Allaire had built a major success from the ground up with his brother with Allaire Corporation, which developed a leading web-based development tool called ColdFusion and was acquired by Macromedia (now part of Adobe) back in 2001. Allaire joined venture capital firm General Catalyst and appears to have formed his ideas for starting Brightcove while working with and serving on the board of Maven Networks, another video-technology-focused start-up in the Boston area. Allaire left to form Brightcove in 2004.
Brightcove received its first funding of around $5.5 million through Accel Partners and General Catalyst Partners. Subsequent rounds of funding have yielded a net of approximately $90 million, the last round of funding occurring in mid-2008. The company has used some of that capital to develop the product, but also to expand globally and build the sort of technology and company platform that important corporate players require when signing six-figure contracts.
Brightcove certainly has had a major advantage due to the role some of its strategic investors played in adding to its marketing and sales reach.
Product: Brightcove is known for its high-end solution which is targeted toward professional media organizations and enterprises. These companies spend millons on their production capabilities and have extremely demanding requirements. Customers of this caliber typically spend low to mid-six figures for an online video platform solution like Brightcove. The feature set of a high-end online video platform is fairly daunting and covers all aspects of the video lifecycle from uploading to encoding, adding player templates, handling different types of streaming, providing analytics, integrating with different advertising technologies and platforms, supporting delivery networks and special devices like the iPhone, allowing secure management, scheduling, and very granular control based on many factors - all this with 24/7 support.
As we alluded to earlier, this positioning made Brightcove a very expensive vendor and precluded smaller companies and most startups from adopting its technology. The situation persisted for some time and we know that it cost Brightcove some customers (although perhaps not a great deal of revenue.) Late in 2009 the company introduced its "Express" line that is targeted to small companies with 50 to 500 videos and a few solo users with budgets in the $99 to $499/month range.
Brightcove is a Software-as-a-Service company, and its pricing is usage-based. So it's possible that bandwidth usage could add materially to monthly costs, even when on the low-end plan. It will always be important to make sure that a video business model is consistent with costs that are incurred from popularity. Without a business model a video that "goes viral" can be costly without an embedded business model like "click-to-buy" in the video. For example, music companies can reap millions in high-profit back catalog sales if a song in a viral video (like "Forever" recently) can be purchased with a click from iTunes or Amazon.com.
The screen shot below provides a rough visual idea of the three main elements of solution coverage: uploading and organizing video content, publishing the content, and finally tracking and measuring video effectiveness after deployment.
The Brightcove product is positioned as the most functional and well-integrated solution and now is seen as a fairly cost effective and easy-to-adopt platform. There are some competitive solutions out there which are covered in the section on competitors below.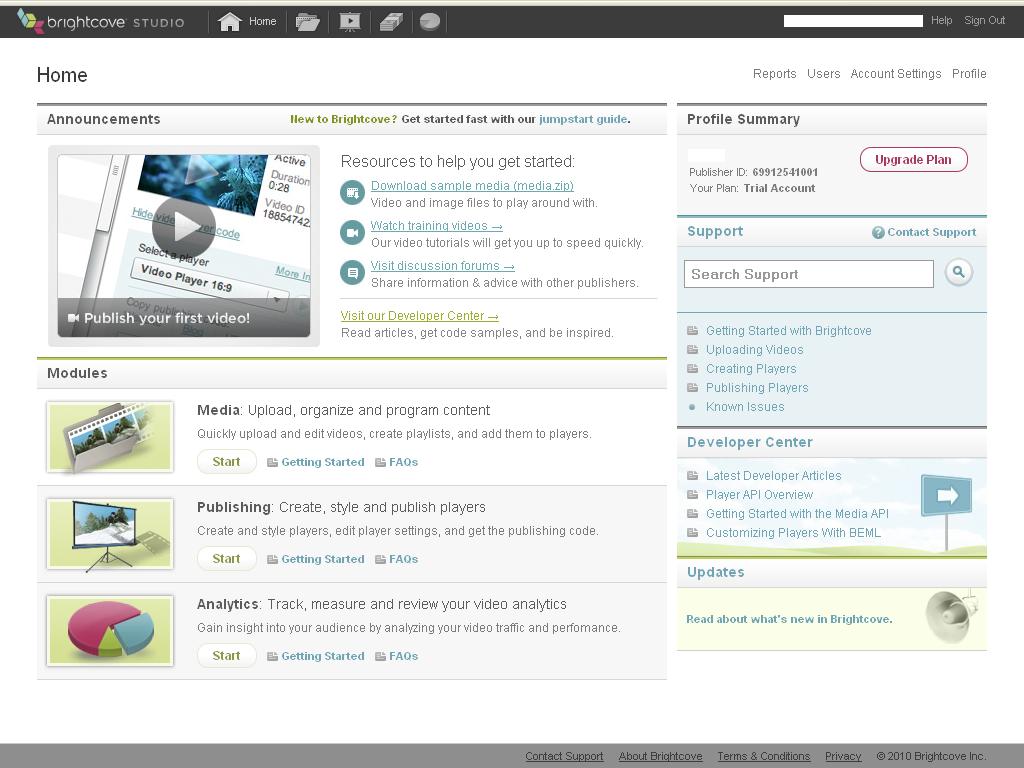 Fig 1: Brightcove Studio Screenshot after signing into trial account
Business Model and Margins: Brightcove can be thought of as an enterprise scale SaaS provider for modeling purposes. We'd describe its model as a combination of Salesforce.com plus Akamai since it does get paid by the user-month and also based on usage. Because of its customer set and relatively high-end solution, Brightcove needs to have a fairly high-touch model that demands investments in sales, support and marketing both locally and with physical offices around the world.
The Express offering, however, is likely to be a more efficient way to convert new customers due to low entry cost, simple signup procedure and the availability of a free trial. All of these aspects tend to lower the per-revenue-dollar costs of sales and marketing.
Management and Culture: Brightcove was founded by and is still largely run by software technology types. In addition to Jeremy Allaire, the senior management backgrounds are mostly from companies like Macromedia, Art Technology Group, Lycos and Adobe, although there are also some from major media firms.
A scan of current employment opportunities makes it clear that the company is moving aggressively to build deep technology that works across many platforms and has as a foundation very strongly architected and implemented technology. Brightcove is in the media technology space but it is at the extreme technology rather than the media end from a management and culture standpoint.
Partners, Suppliers and Alliances: In line with its mission to be publisher of choice for online video content providers, Brightcove has continuously strengthened its offering through partnerships and alliances. As a company that helps video content providers publish, manage, brand, monetize and measure content effectiveness, Brightcove has put in place partnerships with both established players as well as startups with newer technologies. It has built partnerships with popular website content management systems like Drupal, publishing tool builders like Adobe, online analytics tool providers like Google AdSense and Omniture, advertising serving networks and online branding and advertising agencies such as Ogilvy Interactive. Brightcove also supports almost any platform that can be used to deliver video, including devices like the iPhone and social networking services like Facebook. Brightcove continues to invest in strengthening its partnerships both on the technology and solution side of its business. It encourages developers and solution providers to exploit its platform and invests energy and resources in helping them be successful.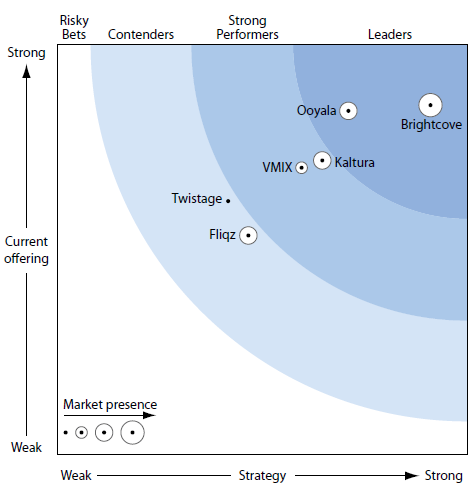 Source: Forrester Research, Inc.
Competition: Being in the broad-based online video content publishing business, Brightcove has competition from two fronts. The first is video hosting sites that provide everything in exchange for controlling the advertising revenue and paying out a portion of that. Google's (GOOG) YouTube is a perfect example of this model but there are many others including sites like Vimeo and Dailymotion. These sites are becoming more serious while still catering to casual user-created content. Several YouTube users are making $1M per year in advertising revenue and the company is going after more professional and high production content.
More direct competition exists in the form of other online video platform providers like Ooyala which has a positioning and a strategy very similar to that of Brightcove's. There are a half dozen credible technology players in this space including Kit Digital (NASDAQ: OTC:KITD - $12.56), Kaltura, VMIX, Fliqz, and Twistage just to pick out some names from the industry view by Forrester Research.
Currently, the pricing of Ooyala starts at $500/month, which is a higher bar to start with than Brightcove Express. Some vendors like Kaltura play the open source card and offer self-hosted solutions.
Since we wrote the original report (and Forrester published the diagram above) Kit Digital has been by far the most aggressive competitor. Kit has grown heavily via acquisition to become the largest player in the segment and is staffed by a charismatic and aggressive management that is still somewhat unproven in the eyes of most institutional investors.
From a revenue growth and margin perspective we believe that Brightcove is in the best position, but one or more of these competitors could be problematic if it decides to introduce powerful features and slash prices.
Opportunities and Threats
+ Online advertising will continue to expand and video, along with mobile, is the next major area of interest and growth. Video content owners are eagerly looking for ways to transition their content to generate online revenues as non-IP video viewing declines and jeopardizes $70B in advertising revenues alone.
+ Businesses are beginning to see video as an important element of their online content strategy and all require online platforms to achieve their objectives.
+ As business models and device types for video multiply, it puts complex demands on distribution which only a high end service like Brightcove can effectively deliver against.
+ As a market leader with substantial momentum and a strong balance sheet Brightcove is in a position to make acquisitions that can consolidate related technologies and services to add to its growth.
- Dominating Internet properties like Google (YouTube) have the reach and financial power to quickly disrupt lucrative markets in their favor.
- Text-based advertising is still perceived at the most effective means of advertising with new avenues being opened up by social media and location based services.
- Although Brightcove is a leader, many of its competitors have very solid offerings and could emerge with capabilities, pricing and/or partners that could alter Brightcove's revenue growth and/or margins.
- Even though Brightcove has introduced the Express line, it still has a "high cost" image that precludes some potential customers from looking at them again.
Valuation
When we came up with a valuation in March of 2010 we had to base it on financials that were not known. At the time we estimated that the intrinsic valuation (IV) for Brightcove was $644M. That's 2x the proposed valuation of $300M based on the mid-point of the filing range.
What's different? Here are the new factors in our updated IV estimate:
2009 revenues of $36M were at the very low end of our $35M to $75M range and lower than our point estimate of $50M.
Growth of 21% in 2010 was well below our forecast of 40-50%. It rebounded to 45% in 2011 and is now on track from starting from a lower level than we had originally estimated.
Without any visibility on expenses or shares we updated our model accordingly. Significant operating losses will take a few years to reach substantive positive levels and management isn't even providing a target financial model yet.
The company is still spending ½ of every revenue dollar on sales and marketing. In order to make the investment attractive at all we've had to make some fairly bold assumptions about reductions in operating expenses over the next four years that the company may or may not be able to deliver.
Our model supporting our IV of $13 is attached but it should be noted that this IV comes with a large degree of risk since most of the value accrues in 2016. This leaves the stock vulnerable to any "risk off" periods in the market which could easily put them into single digits even if it is achieving this plan.
Conclusion
Brightcove is well-placed to service the high-end professional and enterprise segment of the online video market rather than the small independent and amateur content producers. Its success in this market in the past 2-3 years has been noteworthy and its new Express product line is improving customer acquisition.
The launch of the Flash-less Apple iPad, the "tablet revolution," increasing penetration of video-capable phones, and the emergence of Internet TV makes the future bright for Brightcove. Investors will have to think long-term though since in the medium term the growth will be coming with high cost and continued operating losses.
We believe that investors should regard our $13 IV seriously and avoid the stock at the high end of the proposed $10 - $12 range or above. If the deal comes quietly at $10 it's more worthy of consideration.
Disclosure: I have no positions in any stocks mentioned, and no plans to initiate any positions within the next 72 hours.