The "margin of safety" investment strategy of buying stocks at below their calculated value came from Benjamin Graham, noted economist who is considered to be the Father of Value Investing. This philosophy has been further championed by Warren Buffett. Buying companies trading below intrinsic value leaves a cushion for error, thus giving you a margin of safety in case your analysis of the stock's value is too high. Because Warren Buffett advises holding stocks for the long-term, an investor with a cheap blue chip stock pick has the luxury of waiting it out until the price goes up again.
Many investors - though not all - will want to own blue chip REITs. Those seeking a well-established, financially sound, "safe" investment above all else certainly will. Therefore, it is vital for REIT investors to know how to identify a blue chip REIT, and what makes one different from the rest.
Kimco - A Legendary Blue Chip Brand
Kimco Realty (NYSE:KIM), one such blue chip REIT, reported fourth quarter and year end 2011 results last week. The New Hyde Park, N.Y.,-based shopping center REIT is considered "king of the jungle" in the retail sector, owning and operating 946 properties in the U.S., Canada, Mexico, Puerto Rico and Latin America. As explained in Ralph Block's book, "Investing in REITs":
"The blue chip REITs take you safely through the ups and downs in the sector's cycles and deliver consistent, rising, long-term growth in FFO (funds from operations) and dividends. Because they are financially strong and widely respected, they will always have access to the additional equity and debt capital that fuels the engine. They will not always provide the highest dividend yields or even, in many years, the best total returns, nor can you buy them at bargain prices - but they should provide years of double-digit returns with a high degree of safety. These are the REITs least likely to shock investors with major earnings disappointments, and will provide very satisfying returns."
Blue Chip Results
Last week, Kimco reported strong results, beating most analysts' estimates for FFO and revenue. A summary of key data from the earnings report is below. Kimco reported:
Fourth quarter 2011 FFO of $135.4 million or 33 cents per share compared with $125.3 million or 31 cents in the year-ago period. (Analysts were expecting 30 cents per share for the fourth quarter 2011.)
Full year 2011 FFO of $517.2 million or $1.27 per share compared with $493.2 million or $1.21 in 2010.
Fourth quarter 2011 rental revenues of $223.0 million compared with $210.6 million in the year-earlier quarter - an increase of 5.9%.
Full year 2011 total revenues of $873.7 million compared to $831.2 million in the previous year - an increase of 5.1%.
An overall increase in occupancy levels in the combined shopping center portfolio of 30 basis points from the fourth quarter 2010, up to 93.3% at end of year 2011. In the U.S. portfolio, the increase over the same time period was 50 basis points to 93.2% at year end 2011.
An increase in same-store net operating income in the combined portfolio of 1.6% year-over-year.
Execution of 2,474 new leases in 2011 encompassing more than 8 million square feet of leasable space, including 487 same-store new leases totaling 1.5 million square feet and 1,169 lease renewals and options for 4.5 million square feet.
Acquisition of 21 shopping centers in 2011 (17 wholly-owned and four via joint venture), spanning 3.6 million square feet of retail space.
Strategic divestiture of 31 non-core properties (25 wholly-owned and six unconsolidated joint ventures) totaling 2.6 million square feet.
Solidification of Kimco's ready access to capital by entering into a new $1.75 billion unsecured U.S. revolving credit facility that replaced $1.5 billion U.S. and $250 million Canadian-denominated revolving credit facilities. The new credit facility has a four-year term with a one-year extension option.
As you can see, Kimco finished the year with solid financial results. But beyond the numbers, what other quality attributes are hallmarks of a blue chip REIT? Here are my thoughts on seven standards by which other REITs should be measured:
1. Outstanding proven management
2. Balance sheet strength
3. Access to capital to fund growth
4. Sector and geographical focus
5. Substantial insider ownership
6. Low payout ratio
7. Absence of conflicts of interest
Kimco excels in each of these areas.
Management: Kimco is led by two undisputed heavyweights in the REIT industry:
David Henry is Kimco's president, CEO and vice chairman and a veteran of 23 years at GE Capital Real Estate. Henry is very influential in REIT leadership circles, serving as current chairman of the International Council of Shopping Centers (ICSC), and a member of the National Association of Real Estate Investment Trusts (NAREIT) board of governors and of the Real Estate Roundtable, a non-profit real estate policy think-tank. Henry was the featured CEO in the Feb. 9, 2011, Executive Decision segment of Mad Money with Jim Cramer. Henry had this to say on last week's earnings call about Kimco's recent performance:
"Overall, and step-by-step, our retail portfolio continues to strengthen as evidenced by the key metrics or, as we like to say, our vital signs. Seven straight quarters of positive same-store NOI growth, positive leasing spreads of 4.9% and a 30 basis point increase ... in our occupancy, altogether present a strong and improving picture."
Furthermore, Henry pointed out on Mad Money with Jim Cramer that there has been virtually no new shopping center building in the last three years, which has led to an industry-wide constrained supply in retail space. Given limited capacity, Henry feels that Kimco's below-average rents at $11 per square foot are advantageous in keeping current tenants and attracting new tenants at higher rents in the event of expected or unexpected vacancies.
Milton Cooper, industry icon and co-founder of Kimco back in 1958, currently serves as the company's executive chairman. Cooper is a recipient of the NAREIT Industry Leadership Award. He is widely credited as launching the modern REIT era when he took Kimco public back in 1991.
Cooper characterized the current retail market and Kimco's long-term results in the following way:
"We are in an environment of low interest rates. There is little inflation and there are signs of improvement in the job market and other economic indicators. Much more is needed but we are heading in the right direction. If the trend is confirmed and continues, all commercial real estate will benefit ... Now let's look back and note what we have achieved since the depth of the great recession. Since the S&P 500 Index reached its lows in March 2009, Kimco's total return of 182% compares very favorably to the S&P 500 total return of 74% over the same time period. We also outperformed the NAREIT Index. We've been through many cycles and we now have more than 20 years' experience of being a public company and celebrated our anniversary last year."
Indeed, the following chart demonstrates Kimco's long-term total return above the S&P and the NAREIT indexes to which Cooper referred.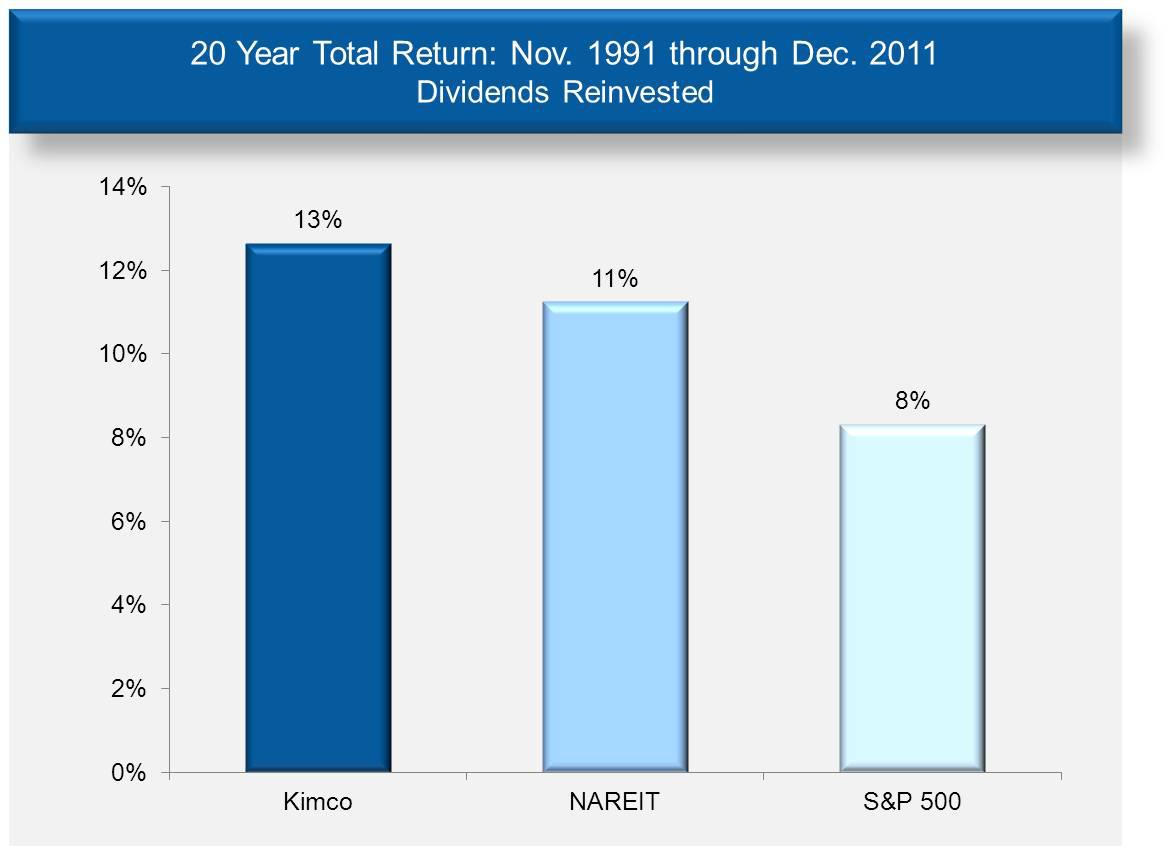 Balance Sheet Strength: A few weeks ago, I wrote an article in Forbes, 11 Investment Grade REITs For Income Oriented Investors, in which I detailed 11 REITs with a BBB+ S&P rating or higher. As one of 11 on that list, Kimco has an exceptionally sound balance sheet with an extraordinary history of managing risk. Kimco's consolidated debt maturities are well staggered, with only $350 million of maturing debt this year, mostly in the latter half of 2012. The company's debt-to-equity ratio of .88 is below the industry average and at prudent levels.
Access to Capital: Access to capital is a key factor in separating blue chip REITs from the rest. Kimco has an excess of $1.4 billion on its $1.75 billion unsecured line of immediate liquidity to its recently renewed revolving credit facility.
Sector and Geographical Focus: Kimco continues to sharpen its retail sector focus through acquisition and select redevelopment efforts in its core portfolio, and deliberate strategic divestitures of non-retail and underperforming retail assets.
To mitigate geographic risk, the company's 946 properties are located across 44 states the U.S. With respect to its international portfolio, Latin America is a particular focus given that region's relatively low level of retail offerings compared to population levels.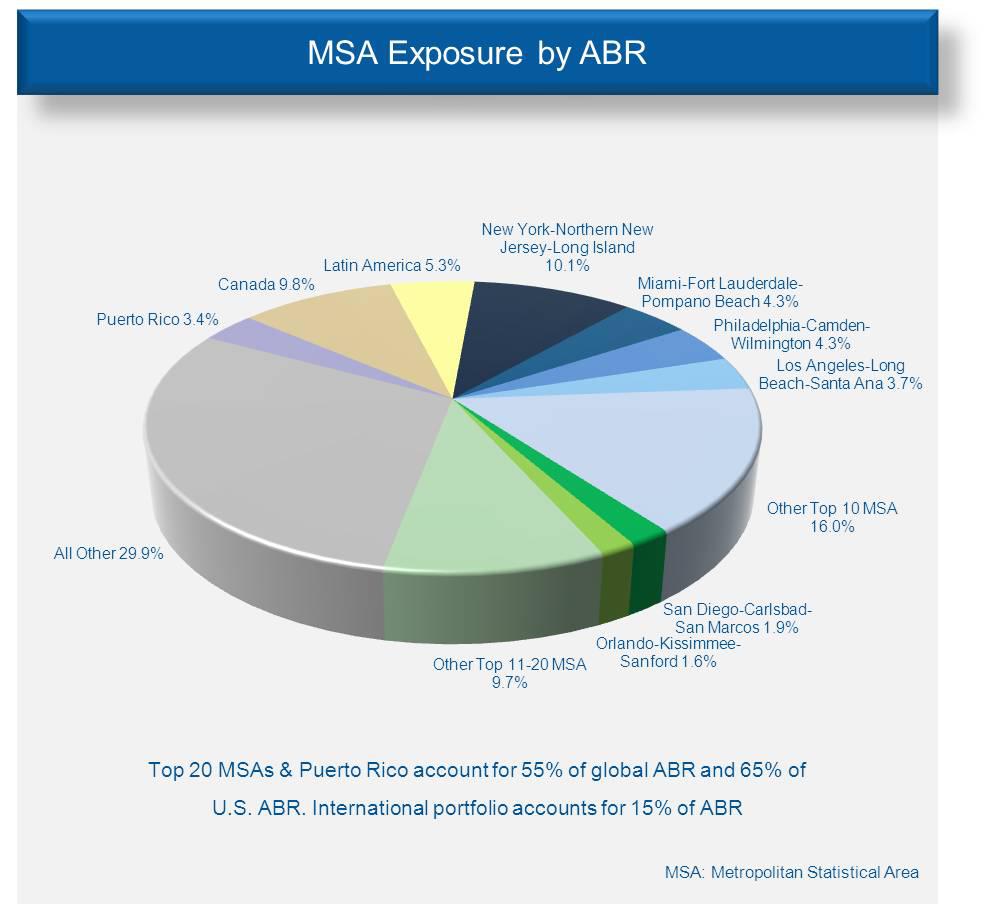 The company also controls tenant risk by ensuring that no one tenant is over weighted in the portfolio. Home Depot (NYSE:HD), Kimco's top tenant, accounts for 3% of annualized base rents (ABR).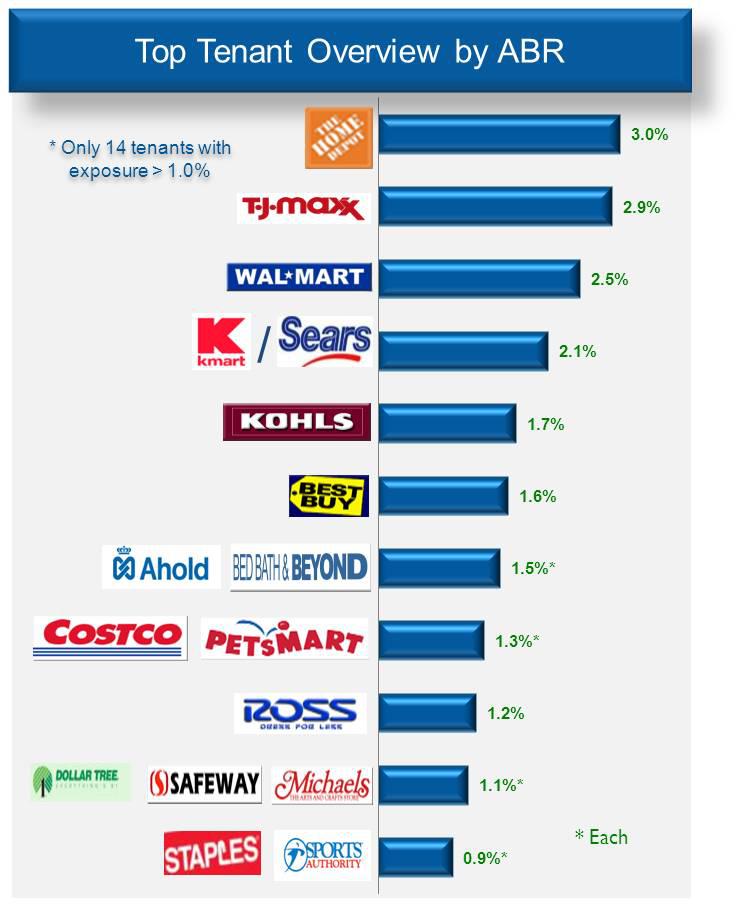 Insider Ownership: Kimco's co-founder and executive chairman has around 12,144,288 shares in Kimco stock (worth around $228 million today) and key senior level managers (including Cooper) own a combined 16,681,418 shares (worth around $314 million today). Kimco has considerable institutional ownership and it is important to remember that the percentage of Kimco's inside ownership has decreased over time (20 years since IPO) and the shares are dilutive by stock offerings and diversification by management. However, Kimco still has key management ownership and that equity stake in the REIT provides risk-alignment with public shareholders' interests.
Low Payout Ratio: Kimco's low payout ratio of 63.9% is well-below Morningstar's 85% recommended ratio cap, and demonstrates that the company is sufficiently funded from its operations to maintain or grow its distributions.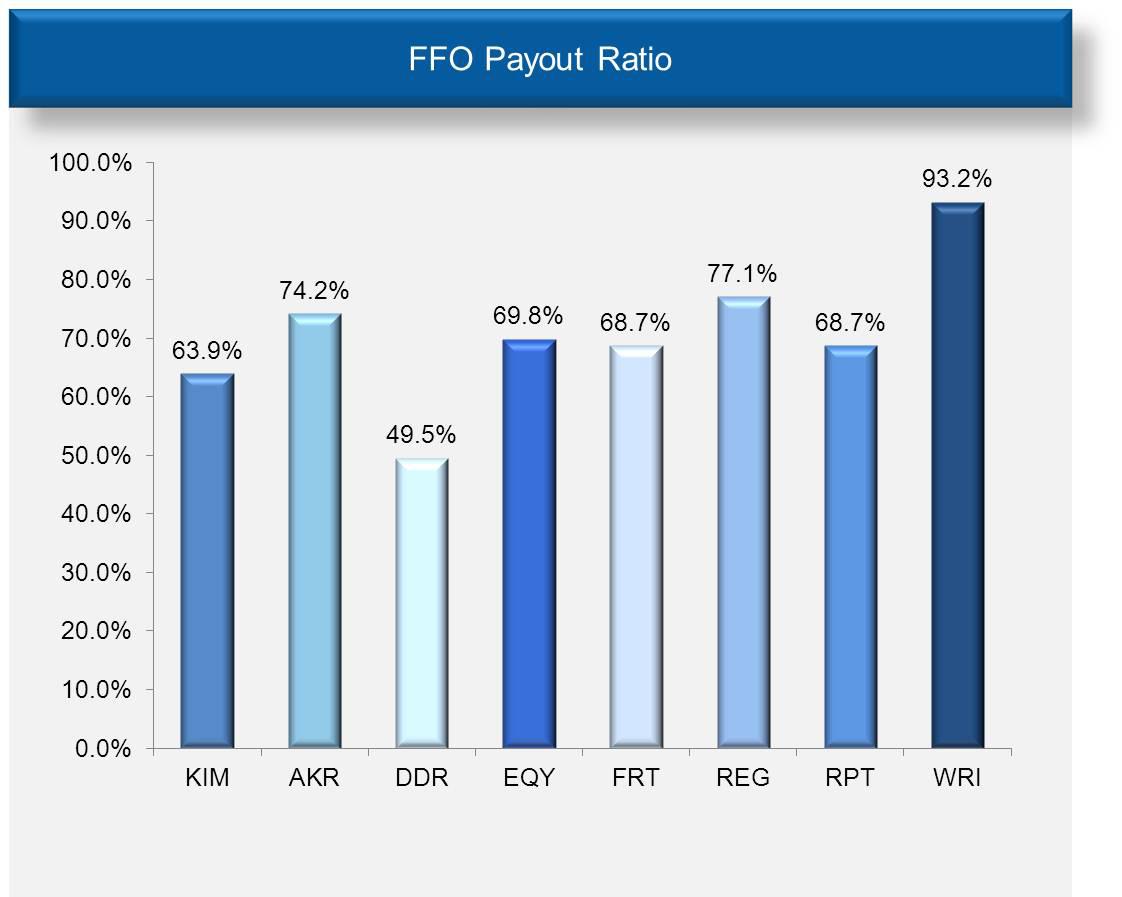 Absence of Conflicts of Interest: Unlike REITs in the "old days," Kimco is an internally managed and administered REIT, making management's interests closely aligned with shareholders. In addition, Kimco has an independent board of directors with a broad range of experience. Kimco conducted an annual review in Feb. 2011 of the independence of its board members against these standards, and all board members were found to meet the standards.That integrity-driven leadership has guided the REIT for more than 20 years and is an important ingredient for the blue chip brand.
It's Hard to Compete with a Blue Chip REIT
Recently Raymond James reiterated an Outperform rating on Kimco. Here is an excerpt from the February 10, 2011 Research Report:
"Kimco's 4Q11 results give us comfort that the stabilization/recovery in shopping center REIT fundamentals remains on track (slowly but surely). With assurances from the Fed that interest rates will remain low, an encouraging jobs report, and increased optimism regarding the recovery of the U.S. housing market, the strip center REITs have already posted a 11% gain YTD. We continue to take a bifurcated approach within our strip center coverage - recommending both attractive values (KRG and EXL) and high quality names that have visible earnings growth (NYSE:FRT) - we believe Kimco offers investors both."
Great investing requires both generating returns and controlling risk. With respect to returns, many analysts have looked favorably of late upon Kimco's slower rate of appreciation as compared to the company's fundamentals and the price appreciation of its competitors. A blue chip REIT is also distinguished by its ability to recognize and control risk, which is a hallmark of an experienced management team. Kimco is an established blue chip REIT that has a long track record of skillfully managing risk and generating profits. This differentiation is what separates Kimco as the best- from all the rest.
Kimco closed today at $18.82 and the current dividend is 4.87%. The Kimco earnings call is posted on Seeking Alpha at this link.
Disclosure: I have no positions in any stocks mentioned, and no plans to initiate any positions within the next 72 hours.