Del Frisco's (NASDAQ:DFRG) owns and operates three upscale diners: Del Frisco's Double Eagle Steak House (or just Del Frisco's), Sullivan's Steakhouse and Del Frisco's Grille. The chain targets various segments within the high-end full-service steak industry, which was a $6 billion market as of 2013.
The company owns and operates all of its restaurants, which is only natural considering the segment they are addressing. Unit growth is as good as it gets for a high-end diner, with the group having added 4 to 6 restaurants annually over the past five years.

Average unit volume for Del Frisco's Double Eagle Steakhouse is through the roof at $14.90 million. In fact, back in 2012 when the fine-dining segment started on its rebound path, Del Frisco's was cited as the restaurant chain with the most impressive average unit volumes. They boasted an AUV estimate of $13.8 million against Fogo De Chao's $8.35 million and Texas De Brazil Churrascaria's $7.85 million.

Top line grew in double digits over the past two years, while operating income swung mainly due to IPO-related expenses.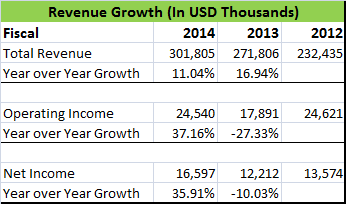 The company targets to open one Del Frisco's and five to seven Sullivan's or Grilles, so it's fair to expect Sullivan's and Grille restaurants to lead unit growth for the next several years, with Del Frisco's trailing behind. That's understandable considering it costs twice as much to start a new Del Frisco's versus a Sullivan's or a Grille.
The size of a Del Frisco's restaurant range between 12,000 and 16,000 sq ft, with an average cash investment cost of $7 million to $9 million, while a Sullivan's ranges between 8000 and 9000 sq ft and a new Grille restaurant is sized between 6500 and 8500 sq ft, with a cash investment of $3 million to $4.5 million each.

With a target of six to eight restaurants a year, the company can expect to invest $30 to $50 million in capital expenses.
Considering their operating income of $24 million in 2015, opening any more than six restaurants annually seems a bit of a stretch. Their current growth rate of four to six restaurants is sustainable for now, but any more than that and they'll need to dip into their credit bucket to cover the shortfall.
Del Frisco's didn't have any long term debt for a long time but, as you saw above, there was obviously a gap between the money generated by their operations and the money they needed to support their growth plans. Naturally, this has given rise to a certain level of debt that will grow bigger if they go ahead with their target of 6-8+ new restaurants a year.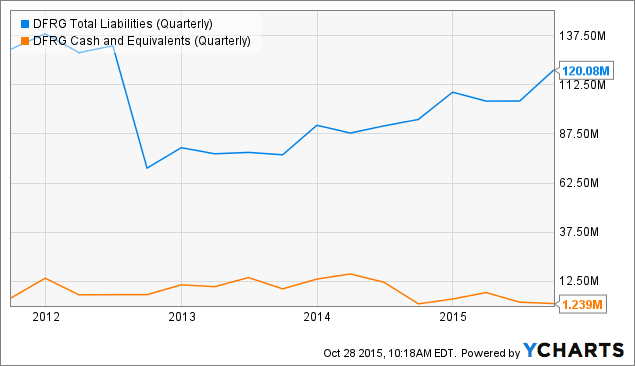 Per the Q3 2015 report, the company had a long-term debt of $15.1 million with interest expense touching $43,000 for the 36 weeks ended in September 2015.
The balance sheet still looks good, but with low cash and high growth targets, the company may end up accruing a sizeable debt load over the coming years.
Expansion
Several of the big multi-brand players had a hard time in the last few years. Ruth's Hospitality is a case in point, finally becoming a single-brand player after trying its hand at operating multiple brands. Even Darden had to fire-sell Red Lobster, while DineEquity went the near-100% franchisee route.
Operating a high-end diner is not at all an easy task, as those companies now know. Margins are thin and the model itself is capital-intensive, affording very little room for error.
However, there are still a few things that are working in favor of Del Frisco's. Their size of just 46 restaurants gives them the growth edge over bigger players. Besides, although they operate as three brands, they're still under the same industry roof. That means supply chains and procurement metrics will reach economies of scale that much faster. As opposed to that, running a steakhouse and a seafood specialty restaurant brings double the headaches and logistical nightmares.
As a premier steakhouse operator the company should not find it too hard to become a national player.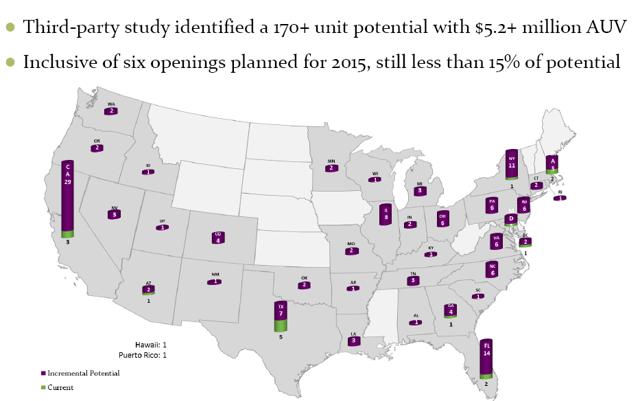 Del Frisco's business prospects are bright, but in the end their growth plans being successful comes down to financial management.
In all likelihood the company will be looking to use all of their cash flow towards expansion plans since their overall footprint is still less than 50.
The company's valuation at 23 times earnings looks reasonable, but if you are holding their stock, the one thing to watch is their balance sheet and how it grows on the liabilities side over the next few years.
At this point the only question in our minds is why they're not planning on growing the Double Eagle brand faster than - or even at the same pace as - the other two. After all, at an AUV of nearly three times either of the other brands and a restaurant level EBITDA of 28.4%, doesn't it make more sense to do that?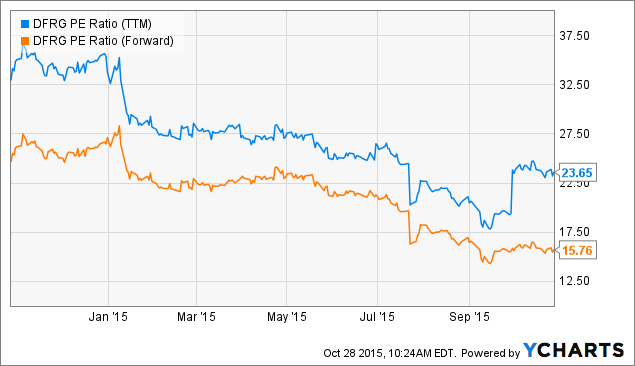 Data Sources: Company Annual Reports and Presentation
Disclosure: I/we have no positions in any stocks mentioned, and no plans to initiate any positions within the next 72 hours.
I wrote this article myself, and it expresses my own opinions. I am not receiving compensation for it (other than from Seeking Alpha). I have no business relationship with any company whose stock is mentioned in this article.