Renewable oils and algae-based food ingredients specialist, Solazyme (SZYM), announced its Q3 2015 earnings results today on October 30, 2015. In a rather surprising and significant move, the company announced that it was backing out of its arrangement with Archer Daniels Midland (NYSE:ADM) for the operation of a large-scale commercial facility based in Clinton, Iowa. The company terminated its existing contracts for Clinton and Galva (the location of additional downstream processing for Clinton) in order to focus on existing and improving operations concurrently being developed at the Moema plant located in Brazil.
In many ways, the pullback from Clinton marks the final separation from an anchor that had stabilized the ship in choppy waters when the company's motor (Moema) initially failed to operate according to plan. When Moema was delayed by a year due to an unexpected utility issue, the company turned to Clinton for continued technology and market development. Now weighed down by a facility that would operate with higher costs as Moema's lower cost structure begins to ramp production, further operation at Clinton would offer excess capacity in light of the longer commercialization timeframes needed as Solazyme switched to focus on a market for higher-margin products. The sharp downturn of commodity oil prices around the world had previously coerced the company to focus on these more profitable product lines that would not initially sell in large volumes.
In many ways, the announced decision to move away from Clinton serves as a harsh reminder that planning major infrastructure facilities years in advance is no easy task. Facing the undesired choice of retreat when commodity oil prices plummeted, management initially sought to push through with the operation of two large-scale facilities (one functioning) rather than sitting idle. Yet with consistent operations restored at Moema and a progressively deepening relationship now in play with joint venture partner, Bunge (NYSE:BG), Solazyme has once again turned to sacrifice in the name of cash preservation.
Further bolstering the company in its decision was the announced expansion of the joint venture between Solazyme and Bunge. According to the announced press release, the evolved joint venture would take on an additional focus for food and animal nutrition products. The immediate impact for Solazyme could be immense considering the weight of Bunge's worldwide distribution networks, marketing power, and application capabilities. As Solazyme continues to introduce new food ingredients found in its tailored oils, whole algal products, solid fats, and animal feed, the sheer presence of Bunge's committed backing appears capable of rapidly accelerating the adoption rate for these new products.
The expanded relationship relieves Solazyme of much of the burden of having to market its own food oils by leveraging Bunge's global food team. According to the Q3 2015 earnings results, Bunge's global food team will now take "a leadership role" in the sales, global distribution and logistics of these certain food oils. This can potentially limit the unwanted growth of Solazyme's future marketing expenses going forward.
Additionally, the expanded relationship also enables further co-funded research programs through the joint venture, which can potentially aid Solazyme itself in the near term. In the past, Solazyme has helped to finance the joint venture through a reduction in the company's receivables due from the joint venture. For example, in the first six months of 2015, Solazyme contributed $3.8 million through a reduction of receivables. It is likely that should the joint venture continue to fund research through Solazyme that this could further reduce the company's cash outflows by means of extinguishing further receivables.
A Look At Solazyme Now
The following are a few key notes to point out about the company's latest earnings results and conference call:
Expanded JDA with Unilever. This joint development agreement expansion further emphasizes ongoing support for Solazyme's products as the company continues to fill commercial orders for Unilever (NYSE:UL) out of its Moema facility. The JDA expansion also helps to solidify investor confidence in the company's output to date. Along with the Bunge JDA, the Unilever JDA also comes funded allowing for future research and development revenue.
Algenist Expansion. Algenist continues to expand its global footprint and can now be found in 22 countries under 39 SKUs. Additional SKUs are expected in 2016 as the brand introduces a new Power product and begins to transition from skincare to cosmetics via a new Color Correcting line. Algenist continues to grow and Q3 2015 served as the best revenue quarter in the history of the brand.
Encapso. Sales for Encapso continue to be weak in the current environment, as drilling rigs continue to get shut down. However, a new order from Flotek (NYSE:FTK) has helped to place the product in a new oilfield in the Middle East. Outside of the U.S., the Middle East is expected to be a region of rising importance for Solazyme, when it comes to Encapso and Flocapso.
Algal Butter. Although Solazyme's structuring fats platform is rarely talked about, the company continues to see a bright future for this capability. The expansion of the joint venture between Bunge and Solazyme particularly noted the availability of an algae butter in the U.S. for 2016. What is key about this product is the large range of application in which it can be incorporated. Additionally, the algae butter will be able to support key characteristics that give more valuable fats, such as shea stearin, their enhanced value. A look at shea sterin exports suggests that a comparable product would be able to fetch an average selling price between $3,500 per metric ton to a little over $4,500 per metric ton in the current market.
Reduced Variable Costs. While distinguished from fixed costs of production, Solazyme announced that its variable costs per MT of crude oil has fallen over 50% since March in part as a result to increased optimization. As the company continues to optimize and ramp production, improved efficiencies should be able to further reduce these costs. In a justification of the company's closure of the less-efficient Clinton/Galva operation, Moema's variable costs are now lower than those found in the combined Iowa operation.
No Consolidation for 2016. While 2016 was much anticipated to include the financial consolidation of the joint venture, the company now guides that this is not to take place. Consequentially, much of the company's progress at Moema is unlikely to be well understood by those looking directly at the company's financials, as JV revenue will not be reflected on Solazyme's income statement. Indeed, further investigation into the company's 10-Q filings with the SEC will be needed to determine how the joint venture is progressing.
Increased Food Applications Projects. In February 2015, Solazyme announced that it was involved in over 65 active applications projects with leading food and beverage manufacturers. In this latest earnings call, management updated that, of these original 65 projects, only 17 had dropped out of the company's pipeline. Despite this fallout, the number of active projects in which the company is now involved in has grown to over 120 projects with leading food and beverage companies. The rapid doubling of the company's pipeline in a little over half a year remains a testament to the strong interest in the company's food ingredients.
Final Thoughts
The market responded with a mixed view on the company's quarterly results. At the trading session's low of the day, shares of Solazyme fell nearly 10%. However, this was quickly erased and the company steadily gained throughout the day to settle up 8% by the time of the closing bell. While the loss of a significant production facility did little to bolster investor confidence, ongoing progress at Moema and with Bunge appears to have aided in the support of the share price. Additionally, a sizeable outstanding short interest continues to artificially suppress share prices in the present.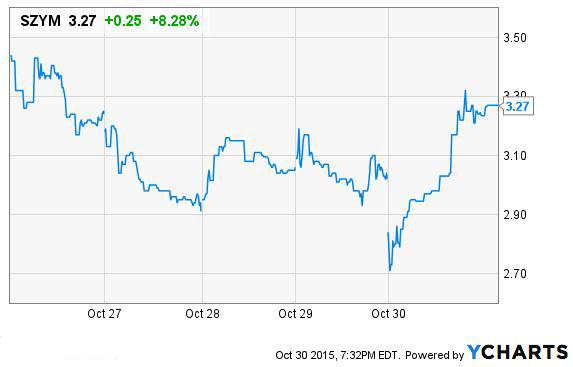 It remains noteworthy that the company expects operational expense savings of $12 million to $15 million in 2016 as a result of shutting down Clinton and Galva. This cut remains a reminder for investors that the company is attempting to realign operations rather than diluting investors to raise capital. The company has used approximately $56 million dollars over the last two quarters and will likely need additional cash barring significant improvement in the coming quarters at Moema. While this capital may come in the form of additional debt, investors in Solazyme should remain comfortable in the prospect of future dilution should the need arise.
Solazyme remains a company that continues to meet the challenges of the future economy when it comes to offering improved product replacements, addressing sustainability challenges, and improving the overall logistics of the manufacturing supply chain. However, the adoption rate of this disruptive technology will inevitably take time as will the ramping of production in a large-scale facility. Investors voted today with their shares that a dedicated focus on Moema was the most responsible use of their capital. Investors can likely expect strong price movements in either direction over the coming days in light of these new developments and due to the mixed sentiment surrounding the latest earnings.
Disclosure: I am/we are long SZYM.
I wrote this article myself, and it expresses my own opinions. I am not receiving compensation for it (other than from Seeking Alpha). I have no business relationship with any company whose stock is mentioned in this article.