This article was first published as part of my premium research on Seeking Alpha.
I am mostly interested in deep-value plays like net-nets. An important difference between these net-nets and Straight Path Communications is that net-nets have hard assets. So, I write this article as a warning of how important it is to focus on real assets. Many promoted stocks are structured around unproven assets such as spectrum with Straight Path Communications (NYSEMKT:STRP) and GlobalStar (NASDAQ:GSAT) or unproved reserves with oil companies such as InterOil (NYSE:IOC) or gold miners such as SearchLight Minerals (OTCPK:SRCH). Patent plays can usually better be avoided as well.
How to structure a worthless asset as a value investment
For a crook it is relatively easy to structure such a company as attractive for a value investor. Think of some assets that can be bought cheap but are difficult to value. Mobile spectrum is a great example, unproven gold reserves is another. Sell the idea to a somewhat larger investor for the first couple of millions of cash. For most of us this would be impossible. However, in practice this is relatively easy for an experienced imposter. After all there are enough idiots on this planet eager to give you their money.
Now you have an attractive balance sheet with plenty of cash, the promoted asset and no liabilities. With the combination of the asset and the strong balance sheet, you can start promoting the stock. Of course, first give yourself some share options. When everything goes fine, you can exercise the options and give yourself a pay rise. Continue to report "progress" every now and then. And don't announce progress in terms of any real income. Instead, report progress in terms of long-term goals moving to the less distant future. If you do it right, the stock will go up and the momentum will attract growth investors. Their purchases will pump up the stock even more.
Straight Path Communications
This year I had read a couple of articles on Straight Path Communications. This is a spectrum play with "assets" at 28 GHz and 39 GHz. To me, it was an obvious short. High-frequency spectrum isn't worth anything as Kerrisdale pointed out in its short thesis on GlobalStar. See here and here. See also my comments on 2 articles in May and September. What I didn't understand was why this stock kept going up. So I didn't short it.
After my last comment, in September, the stock kept going up. Recently the stock broke down. After an SA article from Kerrisdale, it fell from high in the $40s to about $30. When printed out Kerrisdale's short thesis covers 20 pages of A4. The short thesis is not as detailed as Kerrisdale's short thesis on GlobalStar (over 60 pages), and here are the main points:
In 2014, many parts of a key patent has been invalidated. Other patents have been challenged. Therefore, it is very unlikely that the company will have a good future as a patent troll.
Other assets are high-frequency bands that are very impractical to use. These signals don't penetrate from outside into houses and offices. Furthermore they propagate at most 100 meters distance but only when using special antennas, both in the receiver and in the sender. A small change in the position of one of them can already cause a disconnect. For example, changing your phone from portrait to landscape view.
Because of the limited propagation, a network based on these frequencies would need to have a prohibitively large number of access points. A network would need to have an access point every 50 meter or so. That would make such a network way too expensive.
In future, there will be plenty of bandwidth available for these high frequencies. Little of that has been officially reserved for mobile communications yet. This is because the technology around these frequencies is still in its infancy. So, there is no doubt more bandwidth will be auctioned if this technology gets more useful. So because the supply of high frequency bandwidth will be huge prices per MHz/pop will be even lower.
Please refer to Kerrisdale's original article for the details and other less-important arguments. I think this investor has done outstanding research.
So neither technically nor economically it is feasible to build a network with these frequencies. To see this more clearly suppose that a telecom provider still plans to build access points for such a network. One access point every 50 meter means that such a access point can only service a couple of houses: in practice about 20 houses. That is 5 houses on each side, see the diagram below.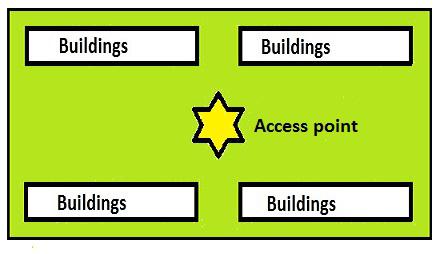 But wait a minute, the signal doesn't propagate through the houses. So that means that an access point can only service one side of the houses. O, and the signal doesn't go through the windows. So the access point will only service about 20 gardens. At least in the picture above, since in this picture I haven't drawn obstacles like a shed or a big tree.
Fast wireless internet is great. And I do see applications for such high frequencies. But that's not cellular internet. Instead it might be useful for fast indoor WiFi, communications between buildings next to each other or internal communications within electronic devices.
Finally Kerrisdale's point about the supply of high frequency is also interesting. At the moment frequencies below 3 GHz are the most valuable frequencies. These signals can propagate over relatively long distances. That's why most of these frequencies are already used for mobile communications or wifi. The higher the frequency the smaller distance the signal propagates. And also the more the signals are blocked by hills, buildings and cars. Frequencies in Straight Path Communication's spectrum can also be blocked by glass, trees, and even by the users themselves. So no wonder that at the moment these high frequencies are not used for mobile communications. Not only these frequencies are not used but most of this spectrum has not been reserved for mobile use. But in principle there is plenty of bandwidth from say 6 GHz until 60 GHz: ten times as much as below 6 GHz! If technology progresses and these frequencies become more useful we can expect that organizations like the FCC auction more frequencies in this range. So these frequencies are not scarce.
Comparison with GlobalStar
GlobalStar is another great short thesis from Kerrisdale. When I compare Straight Path Communications with GlobalStar, I think the first is an even better short for 2 reasons:
The ownership is not concentrated with just one insider.
The company doesn't have an operating business.
With GlobalStar, the CEO owns most of the company. So, hypothetically he could loan out his shares to short sellers and then demand them all back. Short sellers would be forced to cover buying back at high prices. Something similar happened with Volkswagen (OTCPK:VLKAY) in 2008. There Porsche (OTCPK:POAHY) has assembled many call options and announced that it was going to exercise them. But such schemes happen every year. For example, recently 6D Global Technologies (NASDAQ:SIXD) was halted. See also here. With Straight Path Communications, insiders own only 22% of the company, so this risk on a similar short squeeze seems low.
Furthermore, GlobalStar has an operating business, which is providing satellite communications. While I don't think the growth potential of this business justifies the current valuation, it is something to take into account. Straight Path Communications had potential from its patents, but now these patents seem to have run into trouble; it is very unlikely that they will generate substantial revenue.
How low can it go?
After Kerrisdale's article, the company reacted with a press release. Where Kerrisdale's short thesis is very detailed, the press release consists more or less of an unmotivated denial. So, this reaction won't increase confidence in the stock. They might do a better job in the conference call today.
At the moment, the P/B is still around 20, so there is still lot of room for the stock to go down. Of course, I don't know this but I guess we will see share prices below $15 within a year. With that share price, the market cap is still $185 million, which is not bad for a company with a book value of $18.5 million. So the P/B will be 10 then. So, the current share price of $30 is still a great entry point for initiating a short position.
Disclosure: I/we have no positions in any stocks mentioned, but may initiate a short position in STRP over the next 72 hours.
I wrote this article myself, and it expresses my own opinions. I am not receiving compensation for it (other than from Seeking Alpha). I have no business relationship with any company whose stock is mentioned in this article.
Editor's Note: This article covers one or more stocks trading at less than $1 per share and/or with less than a $100 million market cap. Please be aware of the risks associated with these stocks.