At the end of last month, delivery giant United Parcel Service (NYSE:UPS) reported strong fourth-quarter results. The company illustrated the size and efficiency of its operation with the following results:
Diluted earnings per share of $1.28, a 21% improvement over the prior-year period.
A revenue increase of 6% to $14.2 billion
Profit increase of 17% to more than $2 billion
For the year ending January 31st, 2012 the company achieved a new high in adjusted diluted earnings per share: $4.35.
These results speak to the company's ability to continually dominate the shipping industry around the world and deliver shareholders strong earnings quarter after quarter. Scott Davis, UPS CEO & Chairman, states, "In short, the quarter was a testament to the power of UPS's global model and the company's ability to operate efficiently in evolving markets." UPS has traded for some time at PE ratios that are higher than industry averages. This is in part due to the continued increase in the company's stock price and the blue-chip nature of the company. Though trading at a price/earnings multiple of 14.08 with an EV/EBIDA slightly above 10, the company is in a position to grow and thrive into the coming years and return investors a 2.7% dividend in the process.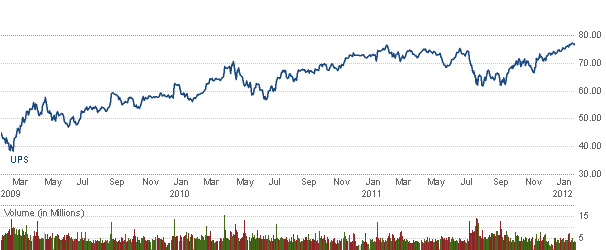 (NASDAQ:CNBC)
Why UPS is in a strong position to deliver for investors:
2012 Forecast and Beyond: With UPS delivering strong 2011 performance, investors need to ask how UPS will manage both short-term cost increases in commodity prices, etc. as well as long-term struggles that may arise. In the past, UPS has been able to manage its logistics to near perfection and deliver cost-savings that have allowed the company to reinvest capital. Kurt Kuehn, UPS CFO, offers us this:
UPS achieved record earnings per share in a volatile global operating environment where trends varied by region…This was made possible by our balanced world-wide presence, broad portfolio of solutions and the best people in the business. Looking to 2012, our expectations are for mixed economic growth around the world, with modest improvement in the U.S. However, UPS projects another strong year of earnings. We expect diluted earnings per share to be within a range of $4.75 to $5.00, an increase of 9% to 15% over adjusted 2011 results.
What is most important about what Kuehn states is that although the company will face mixed economic growth around the world, it will be able to deliver strong earnings. This speaks to the ability UPS has of utilizing its resources and being a master of its industry. For this, UPS is worth a premium.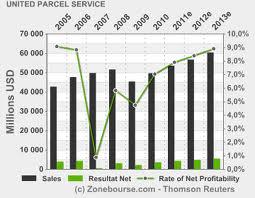 (4 Traders)
A Strong Dividend: After raising the dividend in 2011 by 11% to $.52 per share, the company reported again several weeks ago that it would increase the company's dividend to $.57. This marks another 9.6%, putting the dividend at 2.70%. This is a very strong dividend for a company of UPS's size and potential for growth. This increase marks a tripling of the dividend since its inception in 2000 and doubling since 2004. Kuehn states, "Cash flow will remain strong, providing a platform for significant distributions to shareowners… In line with this, UPS anticipates $2.7 billion in share repurchases for the year." The combination of the strong dividend and stock repurchase for FY12 illustrates the company's ability and willingness to reward stockholders directly for increases in profit/earnings. These are the types of results that have given long-term investors stability and the company shows little to no signs of slowing this trend.
Profiting on the weakness in the United States Postal Service: It is no secret that the USPS is in a lot of trouble. Over the past year, speculation has been stirring through Washington of how to best turn around the ailing government-run business. Proposals range from increasing costs to decreasing delivery dates. Nearly every option on the table bodes extremely well for UPS and FedEx (NYSE:FDX). Jefferey Kauffman of Sterne Agee speaks of the $20 billion business that USPC represents. He states:
I don't think the whole $20 billion is up for grabs, but it doesn't take but a small part of that to make a meaningful difference in terms of volume or profitability… "If the USPS were to start closing distribution centers and thus extend delivery times by another one to two days, market share gains by UPS would probably be more dramatic.
Though it is not wise to bank on a falter of USPS, it is only natural that UPS, the top dog in delivery, will gain some ground in the coming years domestically. This provides another tangible reason for the value within UPS and its strong business model.
The Financials:
Forward Price/Earnings Ratio: 14.08. This figure puts UPS in line with FDX and other large delivery companies. For the aforementioned reasons, UPS has delivered investors a strong return in their investment.
PEG: The company's PEG ratio is 1.2, which is relatively low considering the future prospects of the business.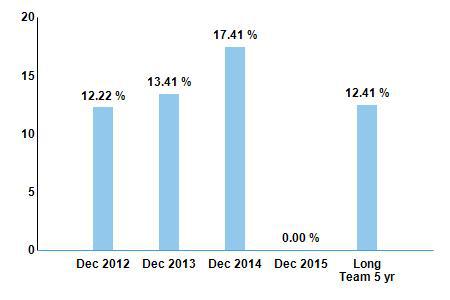 (Nasdaq)
Earnings Per Share: The graphic below illustrates the growth in earnings that is projected, speaking to the company's fair valuation.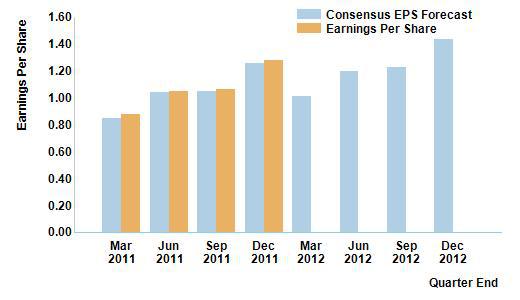 (Nasdaq)
Return on Equity: UPS provides investors with a ROE of 47.8%, marking an exceptional use of equity dollars and the ability the company has to be efficient and intelligent in its business model.
Conclusion: For the multifarious reasons stated above, UPS marks a company that has proven in its past that with a solid business model, the right people, and a strategy to directly reward investors, UPS can continue to thrive. Though UPS is not cheap from a stock perspective, the company is in a position to continue to grow and take advantage of the many opportunities that lie ahead. With long-term growth and stability in mind, UPS is in a strong position to perform into the coming decade.
Disclosure: I have no positions in any stocks mentioned, and no plans to initiate any positions within the next 72 hours.