Layne Christensen (NASDAQ:LAYN) is a mineral services, water resources, and heavy civil contractor based in the Woodlands, TX. Layne began conducting business as a water well drilling company in South Dakota in 1882. Over its 130+ year history and through numerous acquisitions - most notably over the last decade - Layne has made the transition from tiny water well drilling shop to a global drilling and exploration company. While Layne has had its share of success over the years, the Company's best days appear to be behind it as it struggles with low commodity prices, a competitive bidding environment, and numerous internal distractions over the last few years.
In its heyday, Layne was kicking out earnings of over $1.25/share - reaching $2.20/share in 2008 - on over a billion in revenue. Layne was also recognized by President Obama and the White House for having a significant role in the rescue of 33 miners in Chile who had been trapped for 69 days in a cave collapse in 2010. Layne and affiliates utilized their drilling expertise and global resources to safely bring the miners to the surface.
However, since then, Layne has not had much to celebrate, as revenue has been on a constant downslide since 2012 and the Company has not reported positive earnings over the last four years. The Company's book value peaked at over $25/share in 2011 before subsequently tanking to the $7.50/share today. The stock price, which peaked at around $58 in 2007, followed a similar trajectory, trading today at $6.51/share:

(Source: Google Finance)
Rene Robichaud, a Layne director since 2009, was named CEO in 2011, inheriting a business that had already reached its apex and was in the midst of a tough economic environment. His tenure was marred by an SEC investigation alleging that its affiliates violated the Foreign Corrupt Policies Act by paying off officials and customs agents of multiple African countries to secure equipment clearances and reduce its tax liabilities. Layne settled the case for over $5 million. While Layne had self reported the incident to the SEC and appears to have fully cooperated with the Commission, the Company was left with an expensive black eye and "undertook an extensive remediation effort."
In 2013, Layne moved its headquarters from Mission Woods, KS, to the Woodlands, TX, in a move billed as an effort to unify divisions and locate the company closer to some of the country's energy leading companies. At that time, Layne's senior vice president of finance and its COO decided to leave the company - possibly to avoid the relocation and possibly due to other unknown reasons.
Robichaud abruptly resigned from the CEO position in June 2014, being replaced in the interim by non-executive Chairman of the Board, David A. B. Brown. Eventually, in December 2014, Michael J. Caliel was named the new CEO of the Company and remains in that role today.
OPERATIONS AND FINANCIALS:
Layne has five operating segments, as described on the slide below from the Company presentation at the D. A. Davidson engineering conference: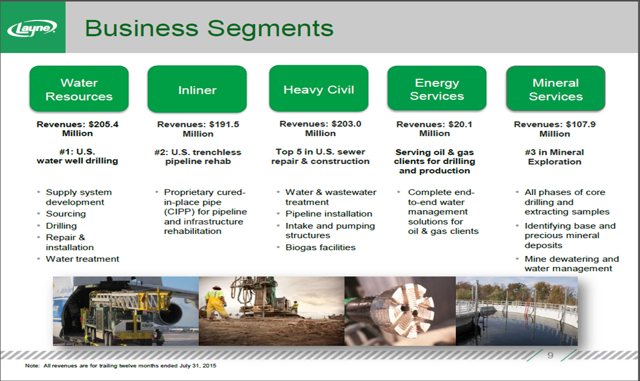 The majority of Layne's revenue is generated from domestic operations as their international revenues have fallen off dramatically year over year as shown below from on in the July 31, 2015, 10-Q filed on September 9.

The Company is struggling. Only the water resources and the Inliner divisions are reporting positive operating income. Also, from the 10-Q:

The two profitable divisions do offer potential bright spots. The water resources division has increased revenue from $176 million in FY 2014 to $196 in FY 2015 and pre-tax income has increased nicely (with the exception of the previous three months) as shown in the above table and below graphic.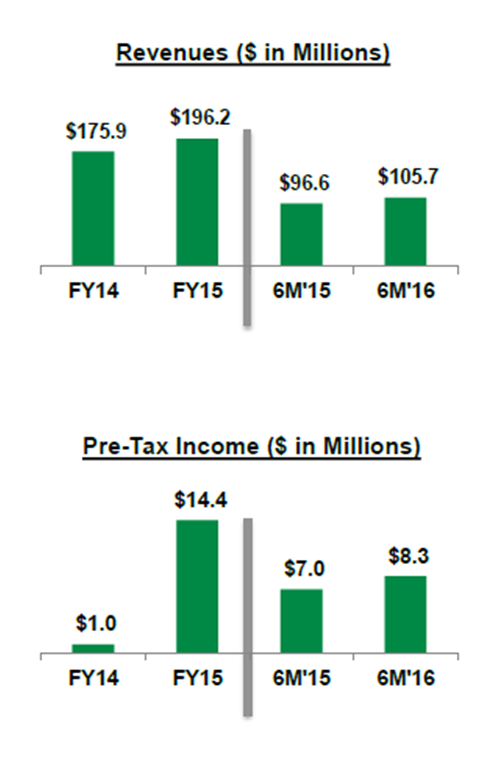 The Inliner division is possibly the division that gives the Company a bit of a moat. The division has the proprietary technology to install cast-in-place pipe via directional bore and slip liners in damaged existing pipelines. While the product and technology may be pricey, it eliminates the need for open cut construction and trenching, reducing much labor and equipment cost. The division looks to have some potential with significant improvements from a year ago on both top and bottom lines: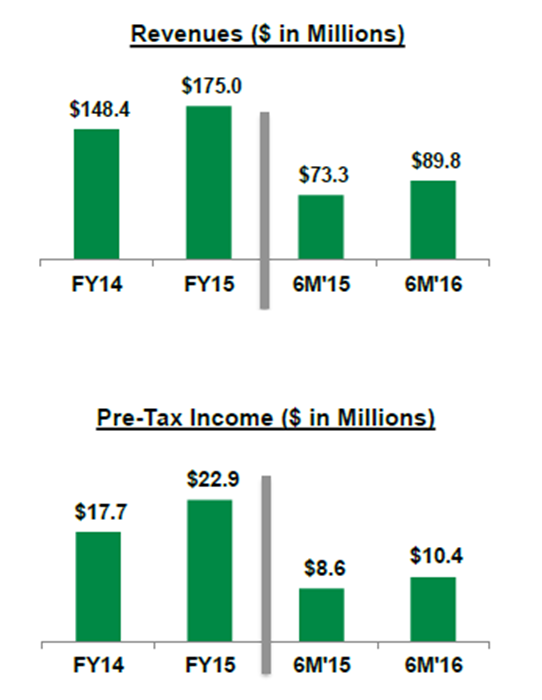 Debt at the end of the quarter was $162 million, consisting of $62 million of 4.25% and $100 million of 8% convertible notes. The debt appears manageable if the ship can be righted, considering neither set of notes will mature until 2018 at the earliest. The Company also shows $38 million in cash on the balance sheet for the quarter, but that number will increase to around $75 million from the proceeds of their recent sale of the GeoConstruction business. It also has zero drawn on its $100 million credit facility.
The company is selling for a 0.87 price-to-book value, but of the Company's $148 million in shareholder equity, approximately $12 million is contributed from intangible assets, which is unattractive from a value investor's perspective.
COMMENTARY:
The Company has too many variables and question marks right now to advise going long the stock. The potential for a turnaround is present but the major restructure currently underway is not scheduled to bear fruit until 2017. In my opinion, the Company needs consolidation. While the world is much more connected now than ever before, a company that only does $800 million of work annually may be spread a bit thin trying to manage intricate projects in 5 of out the 6 continents - Asia being the only excluded region. Layne appears to be reeling in some of these operations, as evident in the recent decision to close the African minerals business. However, major consolidation does not appear to be on the agenda of CEO Caliel, as he alluded to opportunities for further geographic expansion on the latest conference call.
Layne went a little acquisition crazy over the last decade and I feel their time and energy (and money!) would be better spent harvesting these acquisitions for full potential - especially domestically. Here is a list of their recent acquisitions:
Reynolds, Inc. on 28 September 2005
Collector Wells International, Inc. on 13 July 2006
American Water's Underground Infrastructure Group on 27 November 2006
Water and Wastewater Treatment Technologies with SolmeteX on 6 December 2007
Tierdael Construction Company on 17 January 2008
Wittman Hydro Planning Associates on 16 May 2008
Meadors Construction Company on 18 November 2008
W.L. Hailey & Company, Inc on 3 November 2009
Intevras Technologies, LLC on 29 July 2010
Diberil Sociedad Anonima (50% interest), parent company to Costa Fortuna on 25 August 2010
Bencor Corporation of America on 17 November 2010
Wildcat Civil Services 28 February 2011
Costa Fortuna Fundacoes e Construcoes Ltda (acquired the remaining 50% interest) on 19 June 2012
(source: Wikipedia)
Acquisitions are difficult to properly execute; 13 acquisitions in 10 years is an ambitious yet futile task. If some of these acquisitions are not panning out, Layne needs to cut its losses and not fall victim to the endowment effect. Otherwise, the effort needs to be put forth to consolidate these businesses under one unified management team and consistent performance needs to be a priority.
Losses have narrowed from $83 million for the first six months of 2014 to $24 million in the same period of 2015 - not exactly reason to celebrate, but at least heading in the right direction. Performance from the Inliner and Water Resources divisions are showing growth and promise; more focus needs to be placed on expanding those businesses. The Heavy Civil division brings in significant revenue (around 29% of the Company's total revenue for three months and six months ended July 31, 2015) and nearly breaks even on the bottom line. Cost cutting initiatives and selective bidding could allow that division to have a positive impact on overall company performance.
Between the Company's management turnstile and the (lack of) financial performance over the last few years, I have yet to see evidence that a substantial turnaround is in the works. Current CEO Caliel gets a pass for right now, as 8 months on a job provides inadequate information to judge the performance of a manager. However, his credentials - President and CEO of a software company from 2011-2014 and director and CEO of an electrical services company before that - seem suspect. It appears he has little to no experience in the construction and civil engineering industry - a tough industry with thin margins where mistakes can be magnified by a cyclical economy and governmental temperament. Mr. Caliel may be a great manager, but as Mr. Buffett points out:
When a management with a reputation for brilliance tackles a business with a reputation for bad economics, it is the reputation of the business that remains intact.

'Warren Buffett
Time will tell if he has the tools to execute a successful turnaround of a once proud Company. Layne specializes in a market that isn't going anywhere and, if anything, should be growing, as the water infrastructure throughout the country (and world) is aging and the global population continues to boom.
If the Company is able to reestablish its identity and position itself to profit in better economic times, significant upside potential exists. As for now? I'd stand on the sidelines.