More than four months ago, I was unapologetically sensationalist when I said that Caterpillar (NYSE:CAT) had "tremendous potential". Well, the stock has soared by nearly 50% since then and continues to be rated a "buy" on the Street. Based on my multiples analysis, review of the fundamentals, and DCF model, I find that the firm will continue to outperform competitor Deere (NYSE:DE).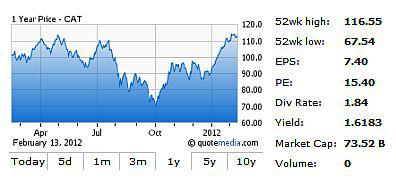 From a multiples perspective, Caterpillar is the more expensive of the two. It trades at a respective 15.1x and 9.9x past and forward earnings with a dividend yield of 1.7% while Deere trades at a respective 13.2x and 10.6x past and forward earnings with a dividend yield of 1.9%. At the same time, Caterpillar is still trading at only 79% of its historical 5-year average PE multiple and has a free cash flow yield that is 80 bps greater than that of its competitor.
After the fourth quarter earnings call, Deere's management noted an excellent close to the year:
Today John Deere wrapped up 2011 with the announcement of our fourth quarter results. It was an excellent quarter which capped an exceptional year. Profits and sales were the highest ever for a fourth quarter. The improvement was broad based but led by Ag and turf. Our other divisions construction, forestry, and John Deere Financial had dramatically higher results as well. Deere's performance for both the quarter and full year reflected strong customer demand for our products as well as the skillful execution of our business plans which are aimed at expanding our global competitive position.

During the year these plans moved ahead at an aggressive rate. We introduced an unprecedented number of products, announced plans for new factories in China, Brazil, and India and invested a record amount in future growth, well over $2 billion of spending for R&D and capital projects. For the year as a whole, John Deere registered its highest ever level of sales, earnings, and cash flow.
Management is showcasing confidence in underlying demand through expansion into emerging markets. It is the leading manufacturer of agricultural equipment and has a strong brand that is well positioned to benefit from a global macro recovery. Deere is increasing share in Brazil to help augment improving domestic demand. With management committed to returning free cash flow to shareholders, the firm is also safer than what the market currently acknowledges given 50% greater stock volatility than the broader market. With that said, the agricultural sector is structurally uncertain and faces significant margin pressures.
Consensus estimates for Deere's EPS forecast that it will grow by 17.6% to $7.80 in 2012 and then by 5.5% and 3.3% in the following two years. Modeling a 3-year CAGR of 8.6% for EPS and then discounting backwards by a WACC of 9% yields a fair value figure of $108.57, implying 24% upside.
Caterpillar's excellent customer network and scale grants it equally excellent cost control to navigate any macro environment. Competitive headwinds in China have further been overblown if management's investments in capacity in the region are of any indication. I also believe that management made the right decision to close the EMD plant in China following a dispute with the Canadian Auto Workers. It will be likely shifting to Indiana, where margins are better due to non-unionized operations. At the same time, the firm is penetrating global markets, which now make up three-fifths of engine and machine sales - up around 1,000 bps from half a decade ago. Caterpillar does, however, face more risks in commodity volatility due to the Bucyrus acquisition.
Consensus estimates for Caterpillar's EPS forecast that it will grow by 28.4% to $9.50 in 2012 and then by 18.9% and 18.1% in the following two years. Assuming a multiple of 13.5x and a conservative 2013 EPS of $11.15, the rough intrinsic value of the stock is $150.53, implying 34.2% upside.
Disclosure: I have no positions in any stocks mentioned, and no plans to initiate any positions within the next 72 hours.