Alexion
(NASDAQ:ALXN) has done what so few biotechs ever manage to do. Not only has the company successfully developed a drug, it has stayed independent and achieved profitability on its own. Now the company is in that tricky area grey area between biotech and pharma, an area that can be dangerous to valuations and new investors.
Soliris A Powerful Engine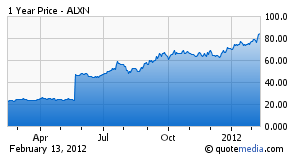 The Alexion story today is all about Soliris, the company's drug for paroxysmal noctural hemoglobinuria (PNH) and atypical hemolytic uremic syndrome (aHUS). PNH and aHUS are uncommon diseases, but like Genzyme (before it was acquired by Sanofi (NYSE:SNY)), Alexion has built a lucrative franchise around a unique drug that commands incredible pricing.
Alexion has come close to building a $1 billion business around a single drug with a single approved indication, but more is likely on the way. The approval for aHUS in the U.S. has only been in place for about five months and the company is pushing ahead with other potential indications for Soliris. If additional approvals come for uses in conditions like neuromyelitis optica, myasthenia gravis, cold agglutinin disease, kidney transplant, and shiga toxin e coli-related HUS (STEC-HUS), the addressable market for Soliris could well approach $3 billion in a a few years.
Alexion Pays For Its Pipeline's Underperformance
It's lucky for Alexion that Soliris has worked out well, but the company has had relatively little else to show from its pipeline. Years and years ago, pexelizumab was supposed to be the exciting drug, what with its potential in bypass and heart attack. That drug didn't pan out, and Alexion has not really delivered anything else into the pipeline apart from a very early-stage cancer drug.
Whether it was a move to supplement this one-drug story or simply a good opportunity to acquire a rare asset, Alexion decided to pay $1.1 billion to acquire Enobia - a development-stage private biotech with a drug targeting a very small niche application.
Enobia's prime asset was ENB-0040 or asfotase alfa, an enzyme replacement for hypophosphatasia. HPP is a very rare disease where people lack a protein essential for bone mineralization and growth. Not surprisingly, this has very serious consequences in children. Though a rare disease (perhaps 3,000 to 4,000 children in the U.S., and some teenagers and adults as well), asfotase alpha could nevertheless be worth as much as $750 million in sales.
On the plus side, asfotase alfa has looked very compelling in early studies. The nature of the condition will mean that pivotal trials will be fairly small and the company will enjoy orphan drug protection. On the down side, small trials mean that small "quirks" can throw off the final data analysis. What's more, the cost of the deal means that asfotase alfa pretty much has to be a $500 million or better drug for the deal to simply be worth the cash Alexion paid, let alone a value-additive deal.
How Safe Is Soliris
Right now Alexion's valuation suggests relatively little risk to Soliris. Certainly there are plenty of lucrative follow-on indications, many of which can be protected by orphan status.
That said, patents and protections don't last forever and some of those will start to roll off in the next three to four years. With the enormous list price of Soliris and the profit potential of a biosimilar, investors should fairly count on Novartis (NYSE:NVS), Teva (NYSE:TEVA) and the like wanting to get into this game as soon as legally possible. There's certainly plenty of mud left in the water with respect to how the FDA will handle the biosimilar approval process, but FDA guidance has been favorable thus far and analysts may be a little too confident on Alexion's ability to maintain exclusivity out through 2020.
Beware The Reset
Arguably the biggest upcoming risk to Alexion is something that I think you could fairly call "biotech puberty". There's a point where biotechs like Amgen (NASDAQ:AMGN), Biogen Idec (NASDAQ:BIIB), Gilead (NASDAQ:GILD) and Genzyme lose that "valuations don't matter" enthusiasm of the biotech crowd and have to stand more on the merits of their own sales, profit, and cash flow growth potential.
History shows that that can be a pretty painful process. Amgen and Biogen both basically hit a wall and saw almost a decade of choppy trading, with Biogen only recently accelerating again on the potential of its multiple sclerosis drug. Likewise, it has taken the enthusiasm over Hep C to get Gilead out of its four-year funk.
The Bottom Line
If I build my own hall of fame to missed opportunities in the stock market, Alexion is a first ballot entry. But it's not bitterness that leads me to be cautious on Alexion, it's that fear that it is only a matter of time before investors collectively re-examine how much they're paying for Alexion and decide that there is no reason to give such a high multiple any more.
Perhaps additional indications for Soliris and/or a successful launch of asfotase alfa in 2014 can stave off that process. Maybe the company will identify enough pre-clinical research targets to recharge the pipeline and keep investors salivating over future blockbusters. It's all possible, but I've heard it before with stocks like Amgen and Genzyme and sooner or later there is that point where multiples compress severely.
I don't have the appetite for self-destruction that could easily go with shorting Alexion, but I would be very careful about buying today. With the stock already trading at about 10 times the best-case sales scenario for Soliris and asfotase alfa, I struggle to see how the stock outperforms its sector over the next two or three years.
Disclosure: I have no positions in any stocks mentioned, and no plans to initiate any positions within the next 72 hours.