AmerisourceBergen (NYSE:ABC) is a big drug wholesaler based in southeast Pennsylvania, near Valley Forge. Until this week its CFO was Michael DeCandilo, 50, who was making about $4 million a year. Last year, he drew another $6 million from the sale of ABC options. DeCandilo's sudden resignation "to pursue other interests" sent shares down over 3% Tuesday morning, below its 50-day moving average.
Do the sellers know something?
There is nothing in the numbers to suggest so. Sales for the most recent quarter were up 2.4%. The dividend was raised in November so the yield is now 1.39% on shares with a PE of 14.4.
The fall comes just as some analysts are pounding the table for the stock. And this is an industry where scandals are not uncommon - $7 billion in fines have been paid by pharmaceutical players since 2004. There is no evidence that Mr. DeCandilo is doing anything other than changing jobs, but there is some rumored news that could be moving the stock.
That is a $32 billion contract to supply drugs to the Veterans Administration, currently held by McKesson Corp. (NYSE:MCK), which both AmerisourceBergen and the industry's third big player, Cardinal Health (NYSE:CAH), have been vying for. A decision on that contract was recently pushed back to mid-March, with evidence the agency might split the contract, bullish for Amerisource Bergen.
But at a House hearing on February 1, McKesson seemed to answer all those charges, dramatically increasing the chances it will win the new deal outright, and that AmerisourceBergen will be shut-out. The company still holds contracts with the Department of Defense, but failure to get even a taste of the VA business would be discouraging.
Lightening up on AmerisourceBergen ahead of the VA decision, now expected in mid-March, may well explain the current action. That's a good fundamental reason to wait on a purchase, or even switch out of AmerisourceBergen for something with more potential.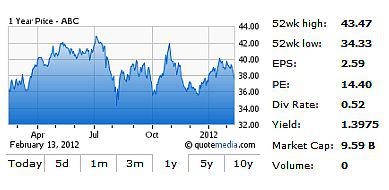 If you're going to play these short-term moves, puts or calls may be your best bet. If you think another shoe is about to drop, the big open action right now being in the $39 puts, options to sell at that price currently going at $1.75-1.85 each.
Disclosure: I have no positions in any stocks mentioned, and no plans to initiate any positions within the next 72 hours.