WisdomTree (NASDAQ:WETF) is an asset manager and a sponsor of ETFs and ETPs.
Company Overview
WisdomTree has a market capitalization of $2.6 billion, trailing revenues of $269 million, and trailing earnings of $69.2 million. With a diluted share count of 138 million, WETF has earned 50 cents per share over the last twelve months.
Its AuM (assets under management) totaled $59 billion (as of October 30), and the average advisory fee is 0.53 percent.
Most of the company's AuM falls under the category [International] Hedged Equity ETF ($39 billion in AuM), US Equity ETFs have $9 billion in AuM, and the rest is distributed over International Developed Equity ETFs, Emerging Markets Equity ETFs, Currency ETFs and Fixed Income ETFs. WisdomTree's most sizeable ETF is the Europe Hedged Equity ETF (NYSEARCA:HEDJ) with an AuM of 20.2 billion.
The majority of WisdomTree's AuM belongs to the company's US-based operations, but WETF is active in Europe as well.
WETF's competitors in the currency-hedged ETF business include Deutsche Bank (NYSE:DB) (via x-trackers) and BlackRock (NYSE:BLK) (via iShares), but neither of these have currency-hedged ETFs as large as those of WisdomTree (absolute and relative to the company's total AuM).
Recent Results
In the third quarter, WisdomTree has been able to grow revenues by 71 percent yoy to $81 million, based on higher AuM (up 48 percent yoy) and slightly higher average advisory fees (53 basis points versus 52 basis points). Net income grew 119 percent to $23 million, and earnings per share grew to $0.17 ($0.68 annualized). AuM was $53 billion at the end of the third quarter (it has risen eleven percent since).
Balance Sheet
WisdomTree's balance sheet is very clean. The company holds $212 million in cash (up from $165 million nine months ago), which makes up the biggest position in WETF's balance sheet. All other assets total $81 million ($39 million in non-cash current assets).
The company has $40 million in current liabilities, $7 million in non-current liabilities and $245 million in stockholders' equity (up 15 percent year to date).
With a huge net cash position, low current and non-current liabilities and a growing equity position, WisdomTree's balance sheet looks low risk. The company could easily fund acquisitions or higher shareholder returns with its large net cash position without having to access debt markets.
Growth Outlook
WisdomTree has been growing its AuM significantly in 2015. The company saw net inflows of more than $20 billion year to date (more than 30 percent of total AuM). As currency-hedged ETFs gain popularity, WisdomTree (as a specialized sponsor in this area) should be able to capitalize on the trend. In the second quarter, WETF was able to capture sixteen percent of the total ETF industry net inflows despite its small size (WisdomTree's market capitalization is just four percent of BlackRock's market capitalization).
In addition to the overall good outlook of growing AuM at WisdomTree's currency-hedged ETFs, WETF will also be able to capitalize on its growing European business. Right now, the European operations have $740 million in assets under management, about twenty times last year's number. This shows the strong demand for the company's products in Europe, and it is a positive due to another reason: WisdomTree's European ETFs have a higher average fee than its US ETFs (70 basis points versus 53 basis points), which means higher revenues for the same amount of assets WisdomTree manages. WETF's total revenues will thus grow at a faster pace than AuM, due to growing average fees as long as the company's European business keeps expanding at a fast pace.
In addition to strong revenue growth, WisdomTree will also be able to grow its margins over time: As an asset manager, the company has only low proportional costs - costs grow at a slower pace than revenues, which, in turn, means that earnings grow at a faster pace than revenues.
We see the following in the third quarter's numbers:
- Average assets under management grew 68 percent, in combination with slightly higher average fees; this meant revenues grew 71 percent
- Total expenses grew 53 percent (despite huge investments in WisdomTree's European business)
- Net income grew 119 percent
As this is based on WisdomTree's business model, we can assume that the same will hold true for the future - earnings will continue to grow at a faster pace than revenues (which are growing at an attractive pace already).
Another factor investors should account for is the reduction in WisdomTree's share count, which will mean that earnings per share will grow at a faster pace than its net income (more on this later).
In addition to the organic growth, WisdomTree is also growing via acquisitions. Just yesterday the company announced it would buy GreenHaven Commodity Funds, which sponsors two commodity ETFs. This will add another $250 million in AuM for a purchase price of $11.75 million in cash. The acquisition will not add meaningful amounts to WisdomTree's earnings per share this year, but shows WETF is able to make acquisitions to grow its customer base and product portfolio.
Shareholder Returns
WisdomTree is not a large company and has a rather short history (the company was founded in 2006), nevertheless it returns cash to shareholders via dividends and share repurchases.
In the last four quarters, the company has paid a dividend of $0.08 per share, which means its dividend yield is 1.7 percent - just slightly below the market's average dividend yield of 2.0 percent.
With its last earnings report, WisdomTree has announced a special dividend of $0.25 as well. A rather low regular dividend, in combination with higher special dividends, reminds of Franklin Resources' (NYSE:BEN) dividend policy. The record date for WisdomTree's special dividend is November 11 (the payment date is November 25).
Regular and special dividend combined equals a forward dividend yield of 3.0 percent (not including any increases to WisdomTree's regular dividend), which is higher than the forward dividend yield of much bigger peers (such as BlackRock (2.5 percent) or T. Rowe Price (NASDAQ:TROW) (2.8 percent)).
WisdomTree is also returning cash to shareholders via share repurchases. Its share count has been increasing slightly over the years up to 2014 (which is pretty normal for young companies growing at a fast pace). In October 2014, the company has decided to stop the share count dilution and announced a $100 million share repurchase program. In the third quarter, it repurchased 330,000 shares, which means the share count sinks about one percent each year. This provides a small additional increase to its earnings per share growth. I could see WisdomTree increase the share repurchase rate when cash flows keep growing at a momentary pace.
Valuation
WisdomTree earned $0.53 per share over the last twelve months.
Q4 2014
$0.08
Q1 2015
$0.10
Q2 2015
$0.18
Q3 2015
$0.17
Total

$0.53
At a share price of $19, this means the company is trading with a trailing earnings multiple of 36. This is a lower valuation than the average over the last year (WisdomTree has been valued at more than 55 times trailing earnings in 2015).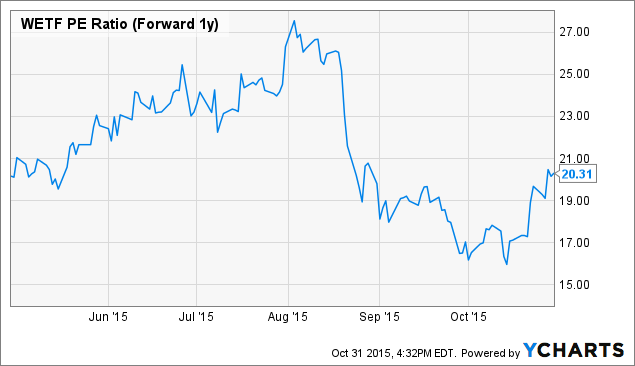 Its forward earnings multiple is 20.3, which seems like a rather low valuation for a company growing as fast as WisdomTree (remember, in the third quarter the EPS grew 120 percent).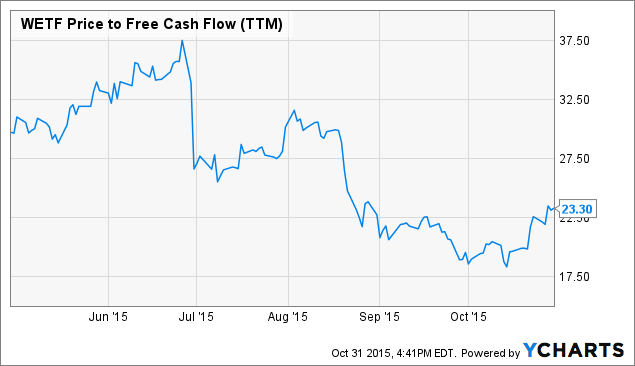 WisdomTree's trailing price to free cash flow ratio is 23.3, which means that WisdomTree is valued at a lower valuation than the broad market right now (the S&P 500 has a trailing P/FCF ratio of 23.9). This discount to the broad market average comes despite WisdomTree's very high growth rates and pristine balance sheet, which makes the company even more attractive.
The price to free cash flow ratio is also lower than it has been over most of the last year, which is a sign of a good entry point right here.
We should also look at the fact that WisdomTree's free cash flows are a lot higher than the net earnings, which is a very good sign for shareholders. The company is a very capital-intensive business, which means that there is a lot of cash the company can use to make acquisitions (additional inorganic growth) or return value to shareholders.
I also used the discounted cash flow method to see whether WisdomTree was really undervalued at today's price, and used a cost of equity of 14%.
The company's free cash flow was $115 million over the last year; the growth rate over the last year is 46 percent (the five-year growth rate is 53 percent). Since I assume that WisdomTree's free cash flow growth rate will continue to sink over the next years, I will use a 30 percent FCF growth rate (average) for the next five years, which is two thirds of last year's growth rate. For years six and beyond, I will use a free cash flow growth rate of five percent (which seems appropriate since WETF should be able to grow at a rate that equals GDP growth + inflation).
This leads us to a total present value of WisdomTree's free cash flows of 3.0 billion. By dividing this present value by the number of diluted shares (138 million), we get to a per share value of 21.70.
Per this calculation, the company is thus undervalued by ten to fifteen percent right now. The finding signifies my belief that WisdomTree is attractive at today's price.
Technicals
I also want to shortly talk about WisdomTree's technicals: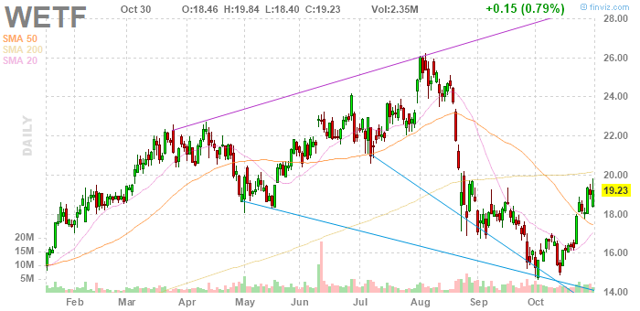 WisdomTree trades at $19 per share right now, which is 27 percent below the 52-week high, and 26 percent above the low from late September.
Its shares broke above the 50-day moving average and the 20-day moving average in the last two weeks, two bullish signals for WisdomTree's shares. Additionally its 20-day SMA is about to cross the 50-day SMA from below in the next days, which is another positive technical signal.
The technical picture is thus good right now, and the share price has room to grow further.
Takeaway
WisdomTree, as a specialized ETF sponsor, is seeing strong growth in AuM, revenues and net income. The company's growth rates (and growth outlook) are good. Additionally, the company offers attractive shareholder payouts through dividends and share repurchases.
The company is trading at an attractive price (when factoring in the high growth rates), and the technical picture is good as well.
I thus conclude that WisdomTree is an attractive pick right here.
Disclosure: I/we have no positions in any stocks mentioned, but may initiate a long position in WETF over the next 72 hours.
I wrote this article myself, and it expresses my own opinions. I am not receiving compensation for it (other than from Seeking Alpha). I have no business relationship with any company whose stock is mentioned in this article.