Overview
Scorpio Bulkers (SALT) is a dry bulk pure play, with 26 vessels currently on the water and an additional 34 newbuilds with scheduled deliveries through Q3-16. SALT also has 10 short-term, time-chartered vessels on the roster. SALT was initially a private equity darling, but saw its share price destroyed due to a horrendously timed leveraged bet on a dry bulk recovery followed by massive equity dilution. Following the release of Q3-15 earnings yesterday morning, I am updating my analysis of SALT to reflect the latest fleet and cash flow developments. I believe SALT is a clear avoid at $1.40 due to its tough position between saving the balance sheet and attaining necessary scale.
Additionally, management has shown that they have little regard for minority shareholders and I do not trust them as good stewards of value. On the plus side, SALT's fleet modernity is unrivaled, with an average age of less than 1 year fully-delivered, and zero vessels older than 1 year. At a price of $1.40 per share and 344M shares outstanding, SALT has a market capitalization of approximately $482M. SALT currently has a strong balance sheet, but this will rapidly shift as SALT is scheduled to pay out $792M for installment payments between October 2015 and September 2016.
Increase in Insider Ownership
Between July 31 and October 1, insider Scorpio Services Holding Limited ("SSH") has boosted shares by 5.4M, or roughly 32%. SSH now owns approximately 6.5% of SALT. At face value, these purchases appear to represent a huge vote of confidence, but with private equity giant, Monarch Capital, sitting on a 38M share stake (11.3%), this represents just another move in a toxic power struggle.
For investors who may have forgotten, SALT demonstrated its equity management ineptitude last spring via a panic dilution at $1.50, followed quickly by a toxic "poison pill" when Monarch complained and demanded better representation. The poison pill prevents ownership above 15% by an entity not specifically approved by the Board of Directors.
Fleet Valuations
The latest market-adjusted vessels' values are shown below from VesselsValue.com. SALT has recently delivered one vessel and the below screen capture includes 2 tankers and 8 bulk vessels which have been recently sold. The net value drop is $400M versus the totals in the below picture. The approximate net valuation for Scorpio Bulkers' live fleet is $695M and the remaining newbuilds are worth a net $944M, for a total pro forma fleet valuation of approximately $1.64B.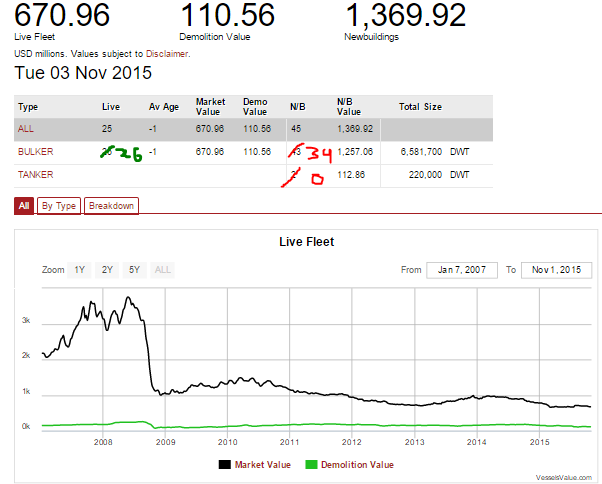 Balance Sheet
SALT had $95M in net debt as of Q3-15, but this is prior to Q4-15 installment liabilities of $266M and 9M-16 liabilities of $526M (of which $293M is due in Q1-16). Following the conclusion of its current order book, with estimated installment liabilities of $792M through Q3-16, SALT will have net debt of $887M. Pro forma D/A now rests at a decent 54%, which is a sharp improvement from this spring, but hardly represents a "strong balance sheet." Admittedly, SALT has done a good job of improving its solvency proposition over the past 9 months, but it has come at the cost of selling off 25% of its bulker newbuilds and suffering through a painful 48% dilution (61% vessel adj.).
Cash Burn Rates
SALT's cash expense rates have yet to be proven, as nearly 60% of its total fleet remained in the shipyards as of the latest report. Additionally, SALT suffers from a poorly timed charter-in program, with 10 vessels still employed (highlighted has been cancelled). The combined losses on these contracts are over $60k/day.

Q3-15 Cash Burn and Forward Projections
The cash burn rates for Q3-15 were fairly impressive and definitely surpassed by bearish expectations, with SALT only losing $5M on an operational basis. However, there are two big caveats here as SALT had a miniscule interest expense (Q3-15 was the first time SALT had a net debt balance). The other caveat is that the June-August revenue days were fixed during a stronger period of the dry bulk market than the likely rates for November onward. Rates are tumbling during what is normally the strongest market of the season (typical peaks in late summer and late fall).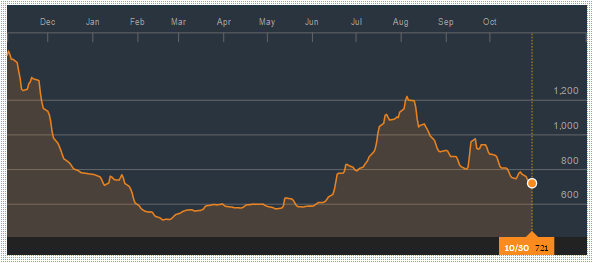 With the dry bulk market prospects looking bleak until mid-2017 at the earliest, SALT's survival depends on a healthy cash burn rate. It is difficult to determine SALT's true opex rates and overall breakeven rates due to the obscured data, as management mixes the revenue days between owned vessels and T/C-in vessels. The combined fleet had an average all-in expense hit (including full opex + charter hire + G&A + interest) of over $15k/day, but this is inflated due to the horrendous T/C-in positioning.
Based on the fairly impressive voyage fixtures thus far for Q4-15 (as shown below, from the Q3-15 report), SALT is still likely to burn a minimum of $10-$15M per quarter going forward.

Can SALT Avoid Further Dilution?
I believe SALT is likely to achieve operation breakeven on its organic fleet by the end of 2016, but there will be significant pain in the process, primarily due to the T/C-in fleet. I believe the best case scenario is that SALT burns $60M in cash through Q4-16, perhaps up to $100M. If the fleet values remain constant, SALT might be able to avoid further dilution and remain in compliance with its debt covenants, but this is a long shot. If its fleet valuation drops by 10%, SALT will hit 65% D/A in less than a year and might be forced to issue more equity at fire sale prices.
NAV Bargain Trap?
SALT has attracted some analyst support due to its "strong cash position" and also its price-to-NAV. SALT is worth $2.19 per share based on current asset valuations, a premium of 56% over today's share price, but this is before factoring in the likelihood of further cash burn, fleet value erosion, and dilution potential.
Investment Conclusion
I believe the management team is competent and shrewd; however, their careless behavior both in the 2013 ordering spree and the 2015 rampant dilution sent a clear message that they have little regard for common shareholders. SALT is otherwise decently priced and it has a fantastic fleet and a manageable balance sheet. However, the lack of a proven opex record, coupled with the lack of regard for public shareholders, makes this firm completely uninvestible at $1.40.