Student Transportation (NASDAQ:STB) reported another excellent quarter, demonstrating the strong growth in this yield investment. For the second quarter, ended December 31, Student Transportation reported revenue growth of 24% and EBITDA growth of 19.5%. This growth rate is also well ahead of the 12% stated as being already secured for fiscal 2012, through acquisitions and new contract awards, before the start of the school year (August 2011).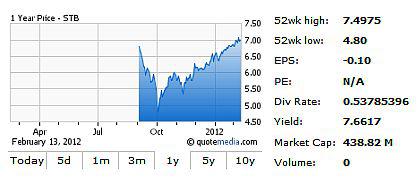 Student Transportation is North America's third largest school bus transportation service company, with operations throughout the U.S. and Canada focused on rural and sub-urban markets. The company has been operating since 1997, and went public in Toronto in 2004 and listed on NASDAQ In September 2011. Since its IPO in 2004, the company has always maintained a strong dividend policy, currently C$0.56 per annum (paid monthly), providing a yield of 8% at current the current price. While the high dividend may seem uncharacteristic for a transportation company, it is perfectly suited to the defensive nature of the school bus business. A look at the company's track record shows consistent revenue and EBITDA growth since its IPO in 2004, avoiding the financial fallout from spiking oil prices and the U.S. recession which have plagued most transportation companies.
While school bus transportation is undoubtedly a mature industry, Student Transportation has achieved growth through successfully executing on a three-pronged strategy. Management calls its growth plan, which the company has consistently followed for years: The A-B-C strategy. A is for acquisitions of regional bus operators, usually small privately-owned operations which can benefit from Student Transportation's larger, more efficient operation. Student Transportation's most recent acquisition, announced November 15, of Dairyland Bus Inc. was a typical rural-focused private operator, although perhaps larger than the average acquisition.
B refers to bid opportunities from local governments contracting out school bus services. Student Transportation has a good track-record of winning and maintaining bus routes, although it has in the past complained of rivals hurting the industry through undisciplined pricing. C is for conversions, where local governments which operate their own school buses agree to outsource the business to Student Transportation. The company estimates that school districts and certain states still own and operate almost two-thirds of the school buses in the U.S., suggesting years of potential growth through conversion deals. In these situations, Student Transportation offers cash up front to acquire the government-owned school bus fleet, providing an incentive that may be particularly successful during these times of increasing budget pressures.
When hunting for dividend stocks, one always needs to be wary of unsustainable dividends, often because the company is operating in economically sensitive industries, or the lack of growth. Student Transportation seems to be a rare case of stability, growth, and an above average dividend yield.
Disclosure: I am long STB.