Between 2013 and 2015, we wrote three articles for Seeking Alpha entitled 'One Small Secret To Pick Winning Gold And Silver Miners' and 'Outperforming Junior Gold Miners' part I and part II. In these articles, we analyzed several junior gold miners with excellent management teams, in particular managers that were part of "The Next 10" of Casey Research, a selection of highly talented and young entrepreneurs in the resource sector.
In these 3 articles, we followed young stars (highly talented young gold mining entrepreneurs), and the performance of the share price of the companies they were running during one of the most brutal gold mining bear markets in history. We concluded the following:
"A strong management is a key success factor, without any doubt. Mainly miners with the very best management teams should be considered. But, as in every company, control of deficits and a good core product are equally important. In the absence of revenues, it is key to understand how management will control costs and, hence, deficits. Our cases have proven that some companies have better management skills."
In today's article, we want to take this idea one step further, and try to understand what serial successful gold mining entrepreneurs are doing at this stage of the bear market. As we have said, this is the most brutal bear market for gold stocks in history, when measured from peak to bottom, as evidenced by a decline of 80% in the gold mining index GDX (NYSEARCA:GDX), see first chart below, and an astonishing 88% decline in the junior gold mining index (NYSEARCA:GDXJ). Chart courtesy: StockCharts.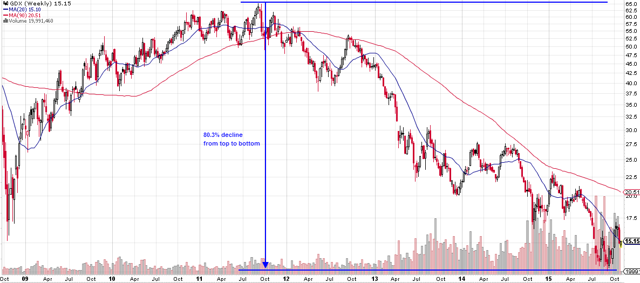 Note on both charts how the 90 week moving average is acting a key indicator for gold's secular trend, as we have said repeatedly in the past to our subscribers.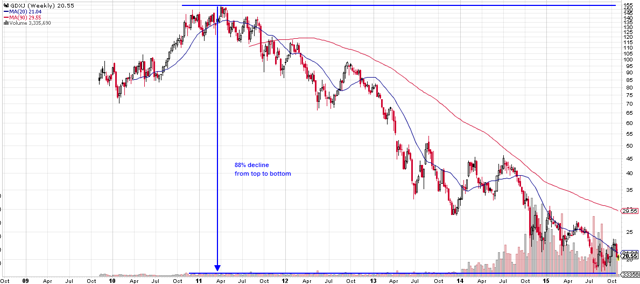 Make no mistake, there are only a handful of truly successful serial entrepreneurs in the gold mining business.
While our previous articles were focused on the rising starts, our focus in this article is on the senior managers, the ones that see this bear market as a huge opportunity, and are able to reap in the long run the rewards of this crisis, or "when there is blood in streets" as Baron Rothschild said in the 18th century.
One of the very few senior entrepreneurs in the gold business is Keith Neumeyer. His first real success was First Quantum Minerals Ltd. (OTCPK:FQVLF), a resource company created in the 90ies, that grew into a +$10B company, where he served as the original and founding President.
Neumeyer's big success was undoubtedly First Majestic Silver (NYSE:AG), which was founded in 2002 by himself. The company grew from zero to successfully running five producing silver mines. Although the company was founded in 2002, right at the depth of the previous gold and silver bear market, the company's first operating mine (La Parrilla Silver Mine) was acquired only in 2004. It took First Majestic Silver 7 years until their first mine started producing silver.
First Majestic Silver's IPO took place in October of 2008. In a matter of 3 years, AG went from roughly $0.5 to $27, a 50-bagger in other words.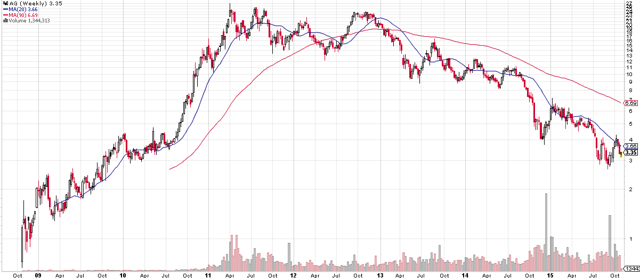 Obviously, silver's bull market played a key role in this huge success. But was it coincidence that Neumeyer founded a silver company at the depth of a bear market? Was it coincidence that his company survived all challenges, from operations to finance, to build several producing mines in exactly ten years? The answer is undoubtedly that excellent management skills are required to realize such a success, even in a bull market.
When asked for his success formula, in an interview "How to Build a Major Silver Producer" conducted in December of 2011, Keith Neumeyer revealed some of insights from his success formula. He says:
"First of all, it comes down to the people. I formed First Quantum Minerals back in 1992. It's one of the top 5 copper producers in the world. [...] I learned a lot at First Quantum. The team and the on-the-ground skill set in the country you're active in is extremely important."
He goes on to explain how his multi-skilled background has helped him:
"I was on the financial side for a number of years and I got a lot of business experience. I developed good connections in the financial community, with analysts and brokers, so I can raise money when needed for good projects."
So far past successes. The key question for investors is what an entrepreneur is doing at this (final) stage of gold's bear market.
Keith Neumeyer has recently launched a new venture, i.e. First Mining Finance Corp (OTCQX:FFMGF). While First Majestic Silver was focused on setting up silver mines, the model of First Mining Finance is truly different, and, in our view, extremely smart. His new company is a mineral bank which acquires and holds (or, in other words, 'banks') resource projects. As soon as prices of those assets start rising, which will undoubtedly happen at some point in the future, First Mining Finance will enter into agreements with third parties which want to exploit those projects, while First Mining Finance would hold residual interests in the form of royalties, metal streams, joint ventures, minority interests or equity positions.
Currently, the company holds 18 mineral assets across Canada, the U.S. and Mexico. We believe the company made some smart moves recently, by acquiring The Springpole project (owned by Gold Canyon Resources) will produce an estimated 217,000 ounces of gold and 1.2 million ounces of silver annually. First Mining will issue a total of approximately 160M shares to the former Gold Canyon shareholders. The Pickle Crow gold project (owned by PC Gold) has a million ounces of high-grade gold. First Mining will issue a total of approximately 27M shares to the former PC Gold shareholders.
Some figures about First Mining Finance to put the previous amounts into perspective: it has a market cap of $39.42M, EPS $0.04 and a cash position of $3.7M ($0.04 cash per share). The debt position stands at $1.08M. The company has 73.58M shares float of which 1.92M shares short.
Looking at the total number of shares, and the shareholder dilution that is taking place because of the recent acquisitions, we believe that shareholder dilution is not a key consideration for an early-stage company like First Mining Finance. The long term value that this company is building is much more important than shareholder dilution, at least at this stage.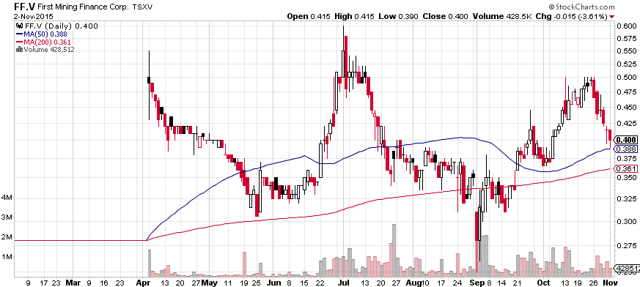 We believe Keith Neumeyer's new journey is extremely smart. His ambition is to acquire at least 30 mineral projects, which increases the probability of scoring several high grade and profitable projects. While it is too early to give a confirmed buy signal for this company, it seems that acquiring a small position at this stage, with available risk capital, is a justified consideration.
Disclosure: I/we have no positions in any stocks mentioned, and no plans to initiate any positions within the next 72 hours.
I wrote this article myself, and it expresses my own opinions. I am not receiving compensation for it (other than from Seeking Alpha). I have no business relationship with any company whose stock is mentioned in this article.
Editor's Note: This article covers one or more stocks trading at less than $1 per share and/or with less than a $100 million market cap. Please be aware of the risks associated with these stocks.