By Karyl Patredis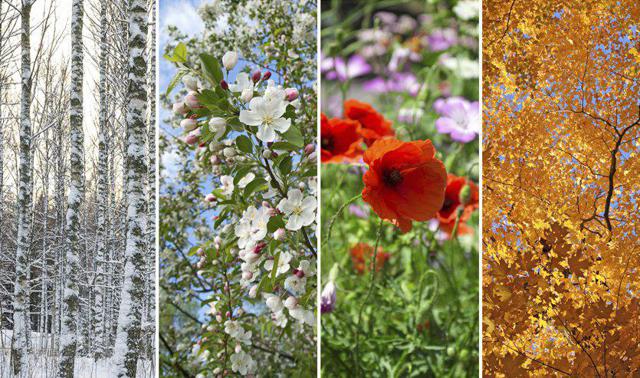 How does weather impact MLPs?
"Oh the weather outside is frightful, but the fire is so delightful…"
If you are a person who cringes at the sound of holiday music in November, you and I will have to agree to disagree. Here in Dallas, it's about 65 degrees [1] in November, but the second the local oldies station starts playing holiday music, I am wearing scarves and belting songs about snow at the top of my lungs as I be-bop into work. If it's wrong, then I don't want to be right.
While I've just described how I react to happenings in the winter months, you probably didn't come here to read my life story [2]. Let's talk about how MLPs react to colder weather.
It probably doesn't take an astrophysicist [3] to figure out that in colder weather, demand for propane goes up and this is good news for MLPs like AmeriGas Partners (NYSE:APU), Ferrellgas Partners (NYSE:FGP), Star Gas Partners (NYSE:SGU), and Suburban Propane Partners (NYSE:SPH). The winter of 2013-2014 was among the coldest on record in the Midwest, and demand spiked in the region as propane was needed not only for space heating, but also for crop drying.
Severe weather can impact upstream (and as a result gathering & processing) operations due to wellhead freeze off. For example, DCP Midstream Partners (DPM) noted in their 2010 first quarter 10-Q that they experienced, "near record cold weather, causing operating challenges…creating periods of low NGL recoveries and volume curtailments due to plant shutdowns and producer wellhead freeze offs."
Additionally, weather may also delay construction projects. In Enterprise Products Partners' (NYSE:EPD) 2014 10-K, the company highlights that construction of new assets involves numerous risks and underscores that projects may not be completed on schedule or at the budgeted cost due to a number of factors including weather conditions [4].
Some have posed concerns about El Niño playing a part in the consumption of both propane and natural gas this winter. For anyone unfamiliar with the effects of an "El Niño year", this typically suggests a warmer winter. However, as can be gleaned from The Weather Channel's Winter 2015-16 Outlook, while the West Coast, Midwest, and northern parts of the country may see above-average temperatures, the Southern states and parts of the East Coast are predicted to see temperatures below average. In Texas, it says to expect temperatures that are much below average [5]. This means propane will likely still be in demand, even if it's not in the typical corners of the country.
In regards to natural gas demand, there doesn't seem to be a correlation between El Niño periods (1997-1998, 2002-2003, 2009-2010) and natural gas consumption.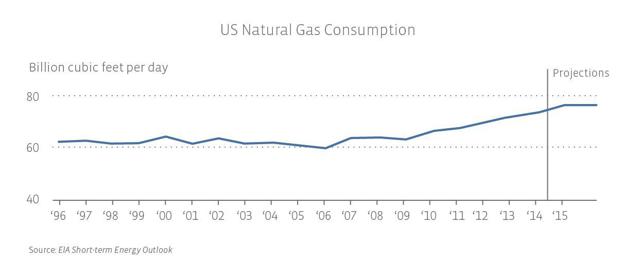 Even looking at only residential use, typically associated with heating, no clear relationship is apparent. A much larger driver of demand than weather is the continued retirement of aged, coal-fired power plants and the construction of new, natural gas-fired generation for residential, commercial, and industrial consumption.
In the wise words of Outkast, try as we might, "you can't predict the weather, Ms. Jackson". And despite changes in weather patterns, as a general rule, people are going to need heating in the winter and cooling in the summer, which is good news for MLPs who transport energy all over our great nation. So, as our resident astrophysicist and fellow lover of holiday music would tell us, Keep Calm and MLP On.
Footnotes:
[1] Which is considered freezing in Texas.
[2] Although I'm giving it to you piece by piece in my weekly mailbags.
[3] We actually have an astrophysicist at Alerian. You may know her as our Director of Research.
[4] Hurricanes and tropical storms are mentioned in conjunction with projects along the Gulf Coast.
[5] Below 32 degrees with a hint of moisture = the city of Dallas shuts down.
Disclosure: © Alerian 2014. All rights reserved. This material is reproduced with the prior consent of Alerian. It is provided as general information only and should not be taken as investment advice. Employees of Alerian are prohibited from owning individual MLPs. For more information on Alerian and to see our full disclaimer, visit http://www.alerian.com/disclaimers.
Karyl Patredis is the Logistics Coordinator at Alerian, which equips investors to make informed decisions about Master Limited Partnerships (MLPs) and energy infrastructure. Ms. Patredis leads the firm's ongoing efforts toward greater organizational efficiency. She also oversees Alerian's feedback process for creative output. Ms. Patredis graduated with a Master of Science in Accounting and a Master of Business Administration from the University of Dallas, as well as a Bachelor of Arts in Communication and a minor in Psychology from Texas A&M University.