J. C. Penney Company, Inc. (NYSE:JCP), through its subsidiary, J. C. Penney Corporation, Inc., operates department stores in the United States and Puerto Rico. The company sells family apparel and footwear, accessories, fine and fashion jewelry, beauty products, and home furnishings.
In the last couple of months, JCP experienced a fast and furious run of more than 50% in share price. When such a seemingly boring retail chain performs such a move, we want to take one step back and listen. Only then can we intelligently decide whether to join the crowd or fade this bullish run.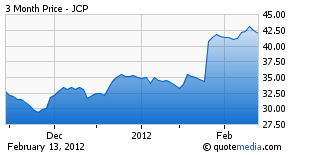 There are 2 main reasons why to fade this move, and short the stock.
The company is overvalued by the numbers. Let's take a look at some of the company's metrics and compare them with those of its rivals of comparable size, from the retail industry:
| | | | | | |
| --- | --- | --- | --- | --- | --- |
| Metric/ Company | JCPenney (JCP) | Kohl's Corp (NYSE:KSS) | Macy's (NYSE:M) | Sears Corp. (NASDAQ:SHLD) | Target (NYSE:TGT) |
| P/E | 46 | 11.7 | 13 | N/A | 12.2 |
| PEG Ratio | 2 | 0.9 | 1 | -0.2 | 1 |
| Price/Book | 2 | 2 | 2.6 | 0.7 | 2.3 |
| Price/Sales | 0.5 | 0.7 | 0.6 | 0.12 | 0.5 |
Now, one must realize that buying JCP at the current price level means paying top dollar for the stock: its PEG ratio stands at 2, which is twice as much as I would have paid for any growth stock. Moreover, its sky high P/E of 46 borders on the absurd - JCP is not some futuristic fly-high dotcom but a very real and boring retail chain. No surprises there.
The only surprise is the one awaiting the investor who buys JCP at its current price only to watch his investment make annual returns of 2% on his equity. The investor must realize that the possible potential for a turnaround is already priced in the current stock's price.
Non- GAAP measures: Since last December, the company ceased to report a very important gauge, called- "Same Store Sales" (SSS) or "Comparable Store Sales" (CSS), which represents the growth (or the lack of) of sales compared to the previous quarter. This metric serves as an indication of what the company is likely to report next quarter. Now, I cannot accentuate this enough: CSS is probably the most important gauge in the retail world. To just suddenly stop reporting it should be a flashing warning sign to investors.
But aside from my bearish view, my theory has three potential obstacles:
The company has a nice 'safety cushion' to rely on: JCPenney has approximately $1.8 billion in cash and cash equivalents on its balance sheet. The company also completed the renewal of its bank credit facility not a long time ago, providing further strength to its liquidity position.
New Strategy: The company has recently embarked on a new strategy of "Becoming America's favorite Store". Now, as I have no idea as to how this strategy will play out, I do understand that this might pose some danger to our short position if proven highly profitable in grabbing market share in the retail industry.
The 'herd- effect': The stock's price has increased dramatically over the past few months. Often, people believe that if the stock price of a company has risen substantially, it is more likely to do so in the near- term future.
My recommendation is to sell JCP short as long as the price range remains $40- $45; place your stop loss at $50 to give this trade some breathing room. Take profits at $31. Good luck.
Disclosure: I am short JCP.