Renren (NYSE:RENN) has been testing its new real-name social networking platform, Renren Shopping (人人逛街) that focuses specifically on fashion related networking and idea sharing. In my view, the platform will:
Strengthen its leadership in real-name social networking
Deliver a superior advertising platform for ecommerce and online retailers
Exhibit 1: Renren Shopping (人人逛街) Profile Page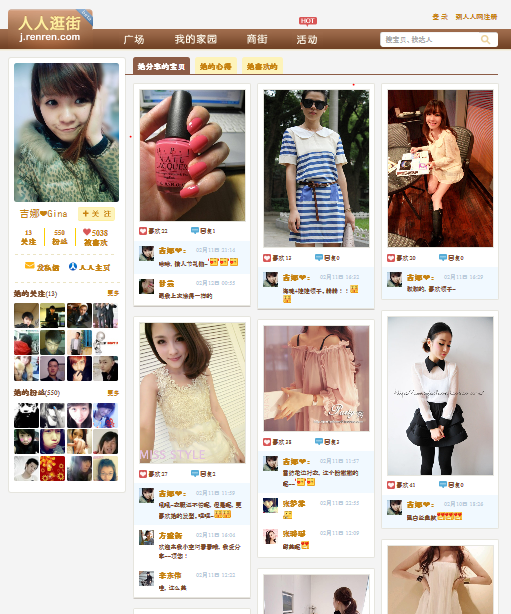 Source: Renren
Renren Shopping is the first real-name social networking site that focuses on fashion. Users can share their latest fashion ideas, discuss latest trends and purchase items via ecommerce sites.
Renren's user base consists of mostly students and young white-collar professionals between the ages of 18 to 30 who are considered the core of China's rising middle class because they are well educated, earn above average income and aspire to live in an indulgent lifestyle. This platform is ideal for fulfilling their needs of being at the forefront of the latest fashion trend.
Renren Shopping could also potentially become an effective advertising platform for ecommerce and online retailers. As noted in my February 2 initiating report titled "Renren: Social Networking Top Pick; Initiating With $6 Target," real-name social network advertising on sites are superior to non-real name social network advertising sites because they allow advertisers to capitalize on all three social network advertising channels, namely sponsored story, display ads, and fan page.
Currently, non-real name social networking sites can only offer sponsored story and fan page while display ads from the Web 1.0 era prove to be little value. However, display ads will become more valuable with the emergence of the enhanced ad system, such as Facebook's (NASDAQ:FB) Beacon Project, that targets audience based on their gender, age, location, school, employer, interest and other relevant demographics.
The real-name profiles and the users' fashion interest on Renren Shopping will be crucial intelligence for ecommerce sites and online retailers to target their consumers. Companies such as Taobao and Dangdang (NYSE:DANG) will benefit from the traffic generated by the platform as consumers look for items after learning about them from their social networks feeds. Online retailers such as Tiffany's (NYSE:TIF), Coach (COH) and Ralph Lauren (NYSE:RL) can also benefit from Renren Shopping by promoting their products based on users' status updates and interests.
Renren Shopping is expect to launch by the middle of this year and could be a catalyst with the ramp up of Renren's social ad system.
Exhibit 2: Renren's Monetization Verticals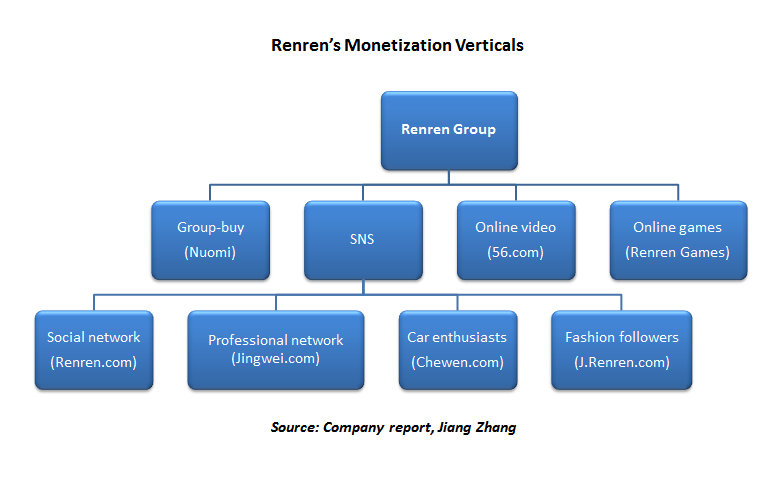 Disclosure: I have no positions in any stocks mentioned, and no plans to initiate any positions within the next 72 hours.