The stock market had a nice run for the month of January, but there is still a lot of time left in February before investors will know if February will be as great as January. With the Dow not far away from 13,000 and the S&P 500 (NYSEARCA:SPY) approaching the 1350, I believe if we see weakness in the markets the stocks that I am about to mention should technically pull back. Here are two technical bearish trades if investors expect Nike (NYSE:NKE) and McDonald's (NYSE:MCD) to pull back.
Trade 1: Buy the April 100/90 put spread
Mike Khouw presented this trade on CNBC Fast Money last Friday. Out of all the trades that were presented this was the one that I find the most favorable. I like Nike from a fundamental point of view and believe Nike is a good long-term hold. From a technical point of view, Nike looks due for a pullback.
(Click charts to expand)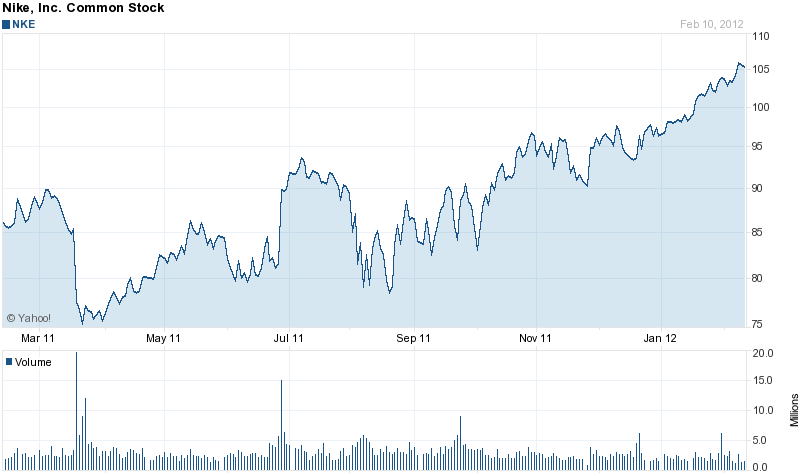 When looking at a one-year chart investors will notice Nike has been in an upward bullish channel since October. The stock is nice to buy on price dips, but with Nike trending in the top part of the channel this may be a good time for Nike to pull back. Nike was up $7.18 for the month of January and is up $1.66 for February. Nike has already delivered earnings and I don't see any short-term catalysts to help drive the shares higher. In Khouw's trade the 100/90 April put spread cost (April 100 put = 2.38 (-) April 90 put= 0.74= 1.64) If Nike goes to 90 one can expect to make 8.39 per contract (100-90=10 take 10-1.68=8.39). When looking at the chart I wouldn't be surprised to see Nike pull back from a technical point of view, but another way to play this trade for less would be to buy the April 100/95 put spread. This trade will cost investors about $113 per spread and if Nike climbs higher you should be able to get a better price.
Trade 2: Buy the March McDonald's 100/95 put spread
In 2011 McDonald's was the Dow's best performer, but McDonald's has struggled to stay about $100. McDonald's went to a little over $100 three times this month, but has failed to hold. I believe if McDonald's breaks its 50-day moving average it could be heading toward its 100-day moving average near $95. In the long term I have the same view as on Nike; I like McDonald's in the long term, but in the shorter term I would prefer to buy on a pullback. The March 100/95 pullback cost $116, which is a little over 1% of the stock price (March 100 put=2.48 (-) March 95 put= 1.32 = 1.16). The maximum profit on this trade is (5-1.16=3.84 per spread).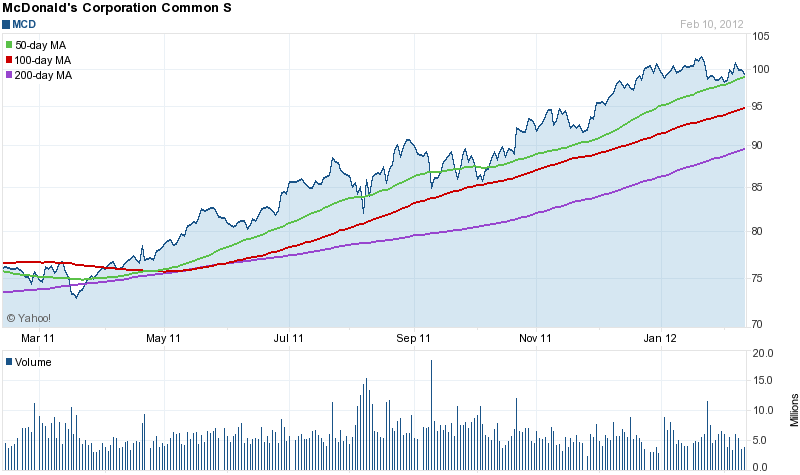 Overall I am bullish on the markets for 2012, but I want to be careful on stocks that have had nice runs. By doing a spread instead of buying the put, investors get protection from the put they are selling in case these stocks rise. One pitfall of doing a spread is that profits are capped at the strike of the lower put. I don't expect either of these stocks to have major swings down, but these stocks are starting to look fully valued. For stocks that trade in the upper part a bullish channel for an extended period of time, I don't mind doing a cheap put spread. Also, if investors own stock and don't want to do a covered call this trade can be seen as a cheap alternative for protection. When stocks trade for a period of time in the upper part of a bullish channel formation, it's normal to see a decent correction before the next leg upward. If investors believe now is the time for a small correction in Nike and McDonald's then these trades might be for you.
Thank you for reading and good luck.
Disclosure: I have no positions in any stocks mentioned, but may initiate a short position in MCD, NKE over the next 72 hours.