TiVo (NASDAQ:TIVO) will release its fourth quarter earnings on February 23, 2012. A couple of key events took place during Q4 (Nov-Dec-Jan) that should prove to be a compelling earnings play that is not currently reflected in the stock price. TiVo's settlement with AT&T (NYSE:T) in early January means that TiVo will record a one-time gain above EBIDTA of between $40-51M. The lower $40M estimate is based on the TiVo 8-K filed on Jan 3rd that indicated,
during its current quarter, TiVo expects that it will recognize some portion of the upfront guaranteed amount as consideration for past damages as well as expense certain success-based legal expenses as a result of the settlement."
This one-time gain coupled with subscriber estimates that will far exceed analyst consensus will lead to a significant beat on the top and bottom lines. A key contributor to subscriber growth is TiVo's deal with Virgin Media (NASDAQ:VMED) in the UK which has been adding approximately 3,000 TiVo subscribers a day in the last quarter. Virgin announced their Q4 earnings on February 8th, reporting 435,100 TiVo subscribers as of Dec 31, 2011. If I extrapolate Virgin's adds to the end of TiVo's fiscal quarter (Jan 31), they will contribute approximately 510,000 high-margin subscribers to TiVo's February 23rd report. In addition to Virgin, Spain's ONO, Charter Communications (NASDAQ:CHTR), and DIRECTV (DTV) launched TiVo into their respective markets.
I developed the following proprietary model to highlight the addressable market for TiVo in the US and abroad and determine the subscriber growth attributed to these new deals. It should be noted that FY12 is just the start of the penetration of these nascent MSO markets. FY13 should be the year where TiVo adds more than 2 million new MSO subscribers.
Click charts to expand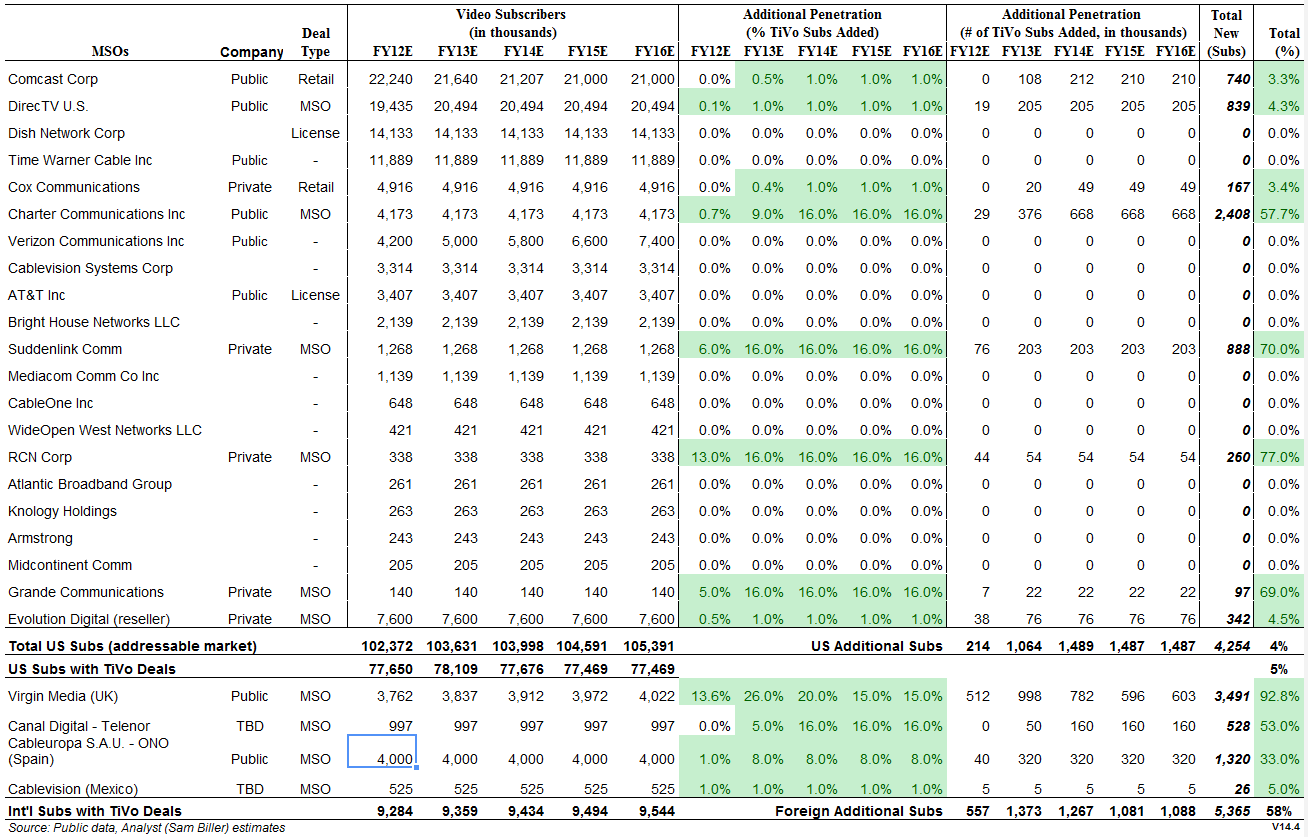 If we drill down into what these subscriber numbers mean from a TiVo subscription reporting, I project that TiVo will announce an additional 416,000 net adds or a 17 percent increase in their subscriber base in one quarter! They will continue to lose stand-alone subscribers but at a reduced churn rate mostly due to the recent positive press and user feedback associated with the latest TiVo software release in the US, which stabilizes their subscriber base and reduces churn. Although TiVo does not provide details on legacy DTV subscribers, I'm estimating that there are approximately half-a-million DTV subs remaining and many of these could migrate to the new THR-22 TiVo box on DIRECTV which was launched nationwide on February 9th.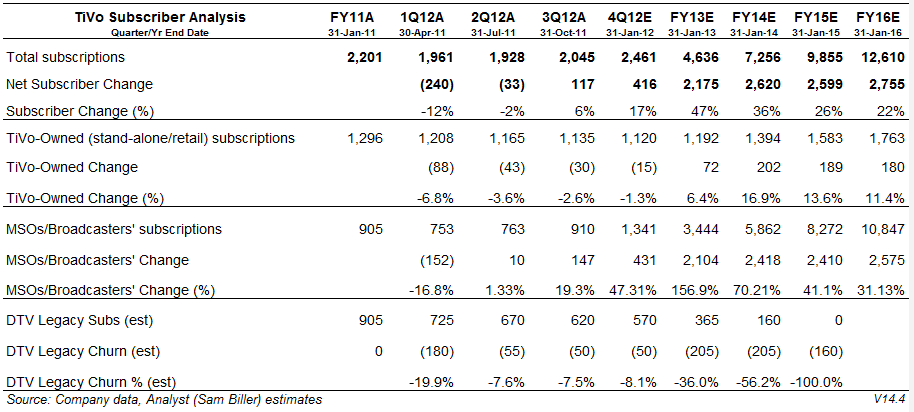 My detailed quarterly income model for TiVo projects revenue through FY16. This revenue model predicts that TiVo will announce Q4 EPS of $0.15 on Service & Technology revenues of approximately $51M and a one-time gain associated with the AT&T settlement of $40M. My model also reveals that TiVo will be EBITDA profitable in FY13 with an FY13 $0.16 profit. A VZ settlement which is likely will result in another "extremely" profitable year.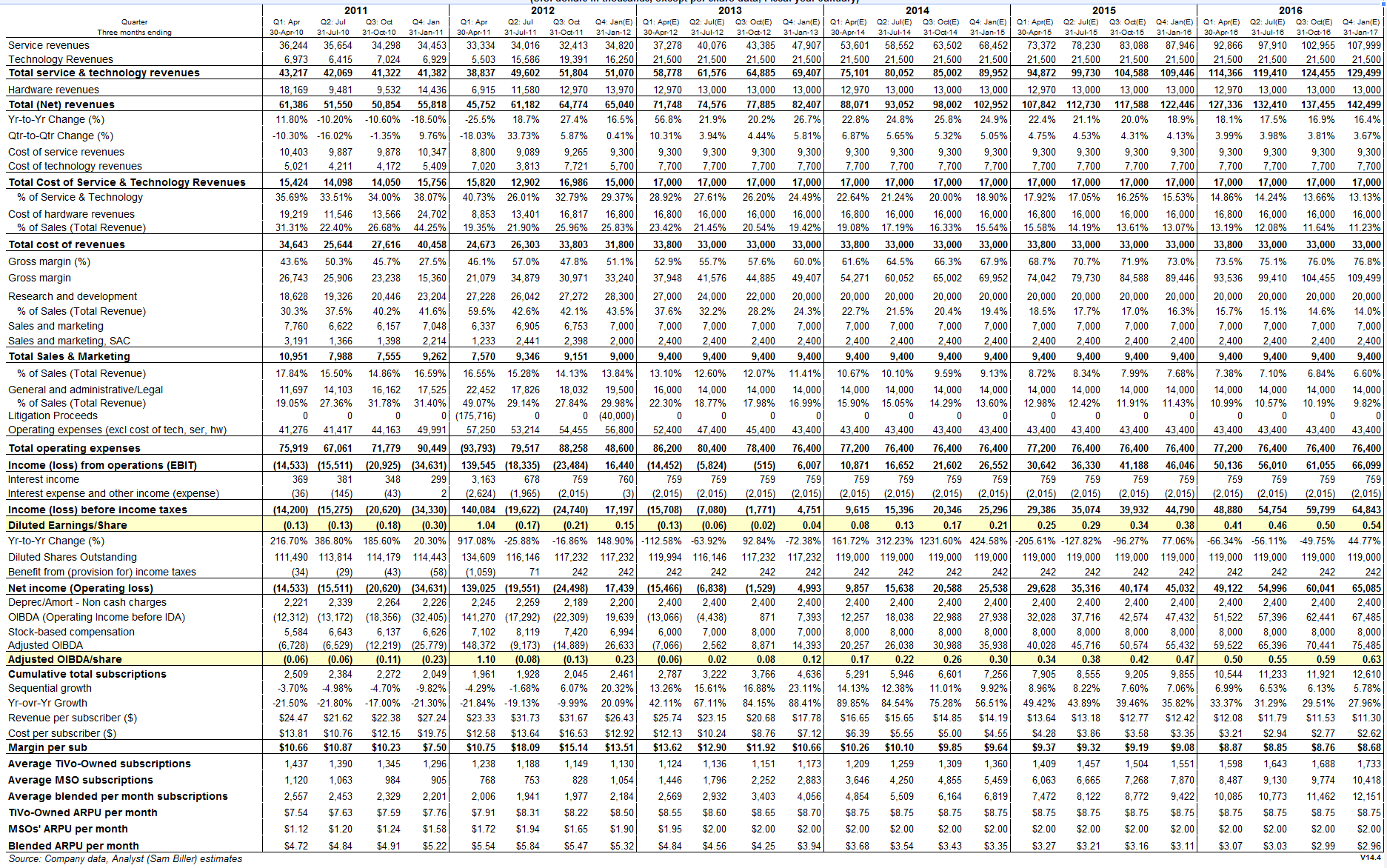 From a revenue perspective, TiVo's $65M total revenue in their upcoming report will result in total revenue for the year of $236M, or 7.8% better than the $219.6M reported in FY11. The real story is FY13 where revenue will increase far beyond analyst expectations to over $300M.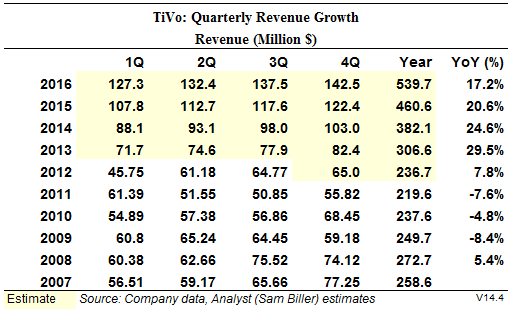 Finally, if we look at quarterly EPS it's easy to see that the growth story really accelerates in FY14 and beyond.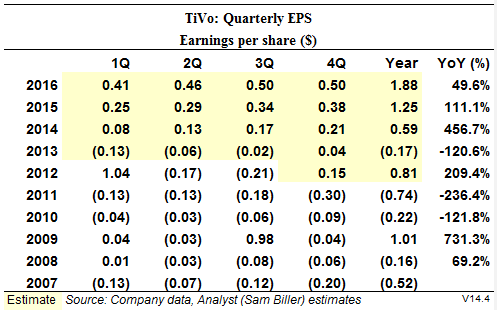 Risks/Opportunities
TiVo's stand-alone subscribers continue to shrink and the retail deals with Comcast (NASDAQ:CMCSA) and Cox may not result in the subscriber gains anticipated. The Comcast deal is being piloted in San Francisco and is expected to launch within the next few months. I'm expecting the Comcast deal to result in stand-alone gains for FY13.
The FCC mandates AllVid which makes the TiVo deals with MSOs in the US less meaningful. Right now, there are significant barriers to entry for a big-player like Apple (NASDAQ:AAPL) or Google (NASDAQ:GOOG) to provide a compelling retail or MSO offering because of the diversity of the cable infrastructure in the US. If the FCC radically shifts the playing field by mandating an AllVid solution, this could impact the FY15-16 projections for revenue and EPS growth.
TiVo has an unfavorable legal ruling. TiVo currently is waiting on the Administrative Judge ruling where they are being sued by Microsoft (NASDAQ:MSFT) at the ITC. A judgment is expected in March. A status conference on TiVo v Verizon is scheduled for February 23rd followed by what I expect is a claims construction (Markman) ruling. Either the MSFT or VZ legal challenges could provide upside or downside risk to TiVo. Its also possible that TiVo could settle with MSFT or VZ.
TiVo strikes a deal with another major international or domestic partner. A couple of very large MSOs are absent from the deal list. I'm expecting some kind of action with Time Warner Cable (TWC) in the first half of the year. I expect a deal similar to Comcast or a lawsuit to be filed by TiVo in the matter. On the international front, the landscape is much cloudier but the market is very open based on TiVo's success with Virgin.
TiVo is acquired. With its small market cap, compelling patent portfolio and healthy balance sheet I wouldn't be surprised if TiVo is on the radar screen of a couple of big cap players. I believe Cisco (NASDAQ:CSCO), Microsoft or Google are the likely acquirers for TiVo although it's possible that Apple (although a long shot) could acquire TiVo.
A wise investment manager recently told me in an email,
If the answer were abundantly clear, it's unlikely there would be as many good values available. Uncertainty is what creates investment opportunity. Certainty/Clarity - when people believe they have that - we get the tech bubble and the housing bubble. It's counter-intuitive, but it's concern and uncertainty that create good investment opportunities, not the other way around.
TiVo's stock price today (~$12.10) reflects a company that remains misunderstood. TiVo has completely reinvented their business model and their subscriber numbers are reaching an inflection point which is just starting to accelerate. Q4 will be the first time the acceleration is readily seen. It will establish a trend that will be irrefutable to most analysts and investors. The investment and growth story for TiVo will become abundantly clear this year.
Note: The models shown in this article can be viewed directly on my Google Docs here.