Apparently, Chinese stocks were on a roll today. Hang Seng went up 2.15%, whereas the Shanghai Stock Exchange Composite rallied a full 4.31%. The reason that's been put forward for this large move was that news resurfaced of the impending Shenzhen-Hong Kong trading link.
This is ironic. And it's not just ironic because apparently the comments which led to the speculation had been made back in May 2015 by Governor Zhou Xiaochuan. There's much more to it than that. It's ironic because of how the markets moved.
Remember again, that Hang Seng (the Hong Kong market) went up 2.15%, whereas Shanghai doubled that at +4.31%. Now, if the supposed trading link were to happen, what would it mean?
Among many other things, it would mean that it would become a lot easier to arbitrage between mainland Chinese markets and the Hong Kong markets, in much the same way that it's easy to arbitrage between ADRs quoted in New York and the underlying equities quoted all around the world.
This arbitrage is what keeps prices similar in spite of stocks trading in different markets. A good example of what happens when this arbitrage breaks down can be seen in several of my articles on the National Bank of Greece, like this one titled, "Notice Today's Compression In The National Bank Of Greece Arbitrage", where one such arbitrage breakdown was nearing its demise.
So, if the trading link were to be established, we could be sure that similar arbitrage trades would quickly take place between Hong Kong and Shanghai/Shenzhen.
Therein Lies The Irony
Shanghai went up more than Hong Kong on the news about the trading link. But in practical terms, what would such arbitrage trades lead to? They'd lead to selling of stocks that are relatively overvalued in one market and relatively undervalued in the other, if such stocks were traded simultaneously in both markets.
It so happens that we actually have a measure of where such selling and buying would take place in what regards Hong Kong and Shanghai. The Hang Seng China AH Premium Index tracks the relative pricing of similar stocks trading simultaneously in Hong Kong and Shanghai. An index of 100 means these stocks are more or less trading in line, a reading above 100 means they're more expensive in Shanghai and a reading below 100 means they're more expensive in Hong Kong. This is how that index looks right now: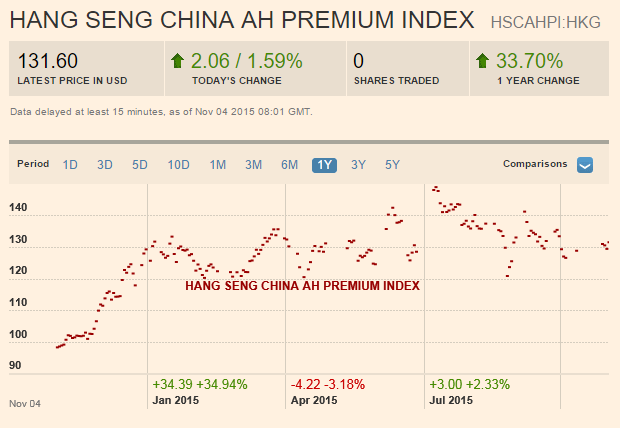 (Source: FT.com)
So there you have it. The index sits at 131.60 and actually went up today. Meaning, similar stocks are a lot more expensive in Shanghai than they are in Hong Kong. Meaning that if such a trade link were put in place, it would lead to buying in Hong Kong and selling in Shanghai. It would make Hong Kong outperform Shanghai.
See The Irony?
Shanghai went up more than Hong Kong on the news - which was the exact opposite of what should have happened, if the news were to be taken seriously.
Implications For U.S. Investors
If at some point you want to bet on the impending activation of such a trade link, you'd do well to bet on Chinese stocks quoted in Hong Kong by possibly buying the iShares China Large-Cap ETF (NYSEARCA:FXI). At the same time, you might want to sell short the Deutsche X-trackers Harvest CSI 300 China A-Shares ETF (NYSEARCA:ASHR) to hedge the position by selling Chinese stocks quoted in Shanghai.
However, this would have to be done close to the actual opening of the trade link. There are two reasons for this:
FXI and ASHR are not exact proxies for the same Chinese stocks trading in Hong Kong and Shanghai, so you can get significant tracking error versus the strategy you actually want to implement.
ASHR has had significant short interest leading to high short rebate fees, meaning it costs money just to keep a short position open. This has been more of a problem in the past when such a fee stood at 24%/year, but even now it hovers at 6%/year.
Disclosure: I/we have no positions in any stocks mentioned, and no plans to initiate any positions within the next 72 hours.
I wrote this article myself, and it expresses my own opinions. I am not receiving compensation for it (other than from Seeking Alpha). I have no business relationship with any company whose stock is mentioned in this article.