In 2011, when biotech Geron Corporation (NASDAQ:GERN) halted its work and FDA-approved clinical trial on spinal cord research using human embryonic stem cells in patients, they left a gaping hole, confusion and disappointment for many investors and patients with spinal cord injury (SCI). The decision had been pegged as purely a financial one as the company said it wanted to focus on developing cancer treatments instead. But before the trial was ended, Geron had injected stem cells into the spine of a small number of spinal patients to test safety. In its statement the company said the treatment had been "well tolerated with no serious adverse events". The man who led Geron's effort towards spinal cord research was Dr. Edward Wirth M.D., Ph.D. At Geron, Dr. Wirth spent 7 years as Medical Director, Regenerative Medicine, where he led human clinical trials of the application of human progenitor cells to spinal cord injury.
At present, there are no available treatment options that restore function post injury for Spinal Cord Injury patients. Most existing treatments focus on treating symptoms only. The annual global market for SCI is estimaIted at $10 billion.
Enter InVivo Therapeutics (NASDAQ:NVIV)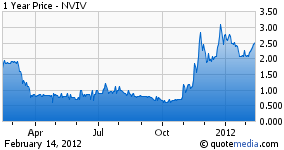 Preclinical studies of a technology device developed by InVivo Therapeutics have shown that paralyzed African rats and monkeys were able to walk again, and do so within weeks, after initial treatment. The preclinical results for InVivo's biopolymer scaffold device (BSD) were published in the Journal of Neuroscience Methods in 2010. In 2005, Frank Reynolds, who was once paralyzed himself, and Robert Langer, ScD., professor at MIT and finalist for the Noble Prize in Medicine this year, founded InVivo on the basis of proprietary technology co-invented by Dr. Langer and Joseph P. Vacanti, M.D. with Massachusetts General Hospital. Dr. Langer also headed the FDA's Science Board and has patents licensed by over 220 companies. The patent rights that are the basis for InVivo's products are under an exclusive, worldwide license from Children's Medical Center Corporation and Massachusetts Institute of Technology.
The above mentioned Dr. Edward Wirth, formerly of Geron, is now InVivo Therapeutic's new Chief Science Officer, a significant development for InVivo and their human phase clinical trial for SCI. InVivo utilizes biodegradable polymers as a platform technology to develop treatments to improve function in individuals paralyzed as a result of traumatic spinal cord injury.
An early treatment approach
Typically, when a patient's spinal cord is injured the emergency medical focus is on securing and stabilizing the spine. Patients experience spinal cord shock as the central nervous system acts as a type of protector by shutting down, but patients are not immediately paralyzed for life. It is subsequent bleeding and inflammation (referred to as secondary injury) over the following several weeks, followed by scarring, that actually causes permanent paralyses in 90% of spinal cord injuries. Invivo's approach is to halt the process of inflammation and scarring early in the treatment stage by implanting a "scaffold" designed to fit into the torn area of the spinal cord. The scaffold is a biopolymer material that is already approved by the FDA for other uses, including sutures, which ultimately dissolves into CO2 and water. The restoration of functioning occurs through neuroplasticity, a process through which the body can locally reorganize toward functional recovery through the spared healthy tissue.
The biomaterial polymer can be implanted as a solid scaffold or can be injected after being liquefied, and could save patients with spinal cord injury from life in a wheelchair.
A device may lead to faster FDA approval
The process of drug development, pre-clinical testing and analysis, FDA approvals, and actual clinical trials before a drug is approved is daunting, expensive, and time consuming. It can take 12-15 years before a drug becomes commercially available. However, the process for medical devices has been less restraining and time consuming. Part of what makes InVivo's spinal cord injury offering so exciting is that it is designed as a medical device as opposed to a drug, and this could matter significantly as it makes its way through the FDA process. Management filed the Investigational Device Exemption (IDE) to the U.S. FDA in July 2011. InVivo plans to meet with the FDA in April 2012 to finalize the design for the trial.
As indicated earlier the biopolymer scaffold device confronts the secondary injury aspect of a spinal cord injury by addressing inflammation, bleeding, and scar tissue. This approach essentially attempts to heal the spinal cord in a timely manner before the secondary injuries take effect. Many treatments to date have been approached from the Pharma side, i.e. drug-based treatment of symptoms.
According to company representatives, the scaffold device can be customized to fit each spinal injury and can be administered immediately in the operating room when an SCI patient first arrives into the ER. It is reportedly a 15-minute process. A key benefit is that the device can be administered within the current standard of care in many medical facilities. In spinal cord injuries, often a rod structure with screws is installed to protect the damaged area. It is anticipated that the biopolymer scaffold device will make its way through the FDA process to commercial availability in a much quicker time frame than existing drug-based treatments.
A variety of revenue streams and products
InVivo has more than 100 patents that protect its technology, and company officials have plans to expand its use to additional areas. Some areas include peripheral nerves, prostate nerves, retinas, and brain. The company continues to work on new generations of its technology and will file another IDE in 2012 for peripheral nerve damage. One promising area is an injectable hydrogel that doesn't require major surgery. It is designed to block nerve pain for periods up to twelve months, whereas current care treatments only last for one week. InVivo and Geisinger Health System recently announced a research collaboration to conduct a preclinical study using InVivo's injectable biocompatible hydrogel for the treatment of chronic pain caused by peripheral nerve compression.
InVivo expects to submit data from the study to the U.S. Food and Drug Administration (FDA) in 2012, representing the company's first technology to treat degenerative neurologic conditions outside of the spinal cord.
Advancing beyond its own footprint: The Miami project
The University of Miami Miller School of Medicine's Miami Project to Cure Paralysis, and InVivo announced a strategic research collaboration for the development of novel SCI treatments. The collaboration will evaluate InVivo's biopolymer devices with cellular based therapies, specifically the Miami Project's Schwann cells. This is critical as it extends InVivo's footprint beyond its own developmental direction effort.
The collaboration effort enables InVivo to advance their robust technologies to the chronic spinal cord injury population via the Miami Project. The Miami Project's Schwann cells represent an integral component of their research strategy because they are a significant component of the peripheral nervous system. The cells are known to function as insulators and subsequently they promote the growth and regeneration of nerve fibers. In preclinical models, Miami Project scientists have demonstrated locomotor function recovery, spared nerve function and nerve cell growth using autologous Schwann cell transplantation. The Miami Project has completed preclinical studies and has filed an Investigational New Drug (IND) application for a Phase 1 human study using Schwann cells with the U.S. Food and Drug Administration.
InVivo's biopolymer scaffoldings mimic the natural and protective properties of the extracellular matrix within the spinal cord to promote the proliferation and survival of implanted cells. In preclinical studies, InVivo's biopolymer devices, alone, combined with drugs, or seeded with human neural stem cells, have demonstrated the ability to minimize scarring (astrogliosis) and promote post-SCI neural survival.
Digging in at Cambridge Mass
In late 2011, InVivo entered into a multi-year lease for a 21,000 square-foot facility in Cambridge, MA. This will be the global headquarters for the company and will house its corporate offices, lab space, a rodent vivarium, and a cGMP cleanroom. The facility will include a chemistry lab for formulations and chemical synthesis of the Company's hydrogel and polymer-based scaffold technologies and a cGMP cleanroom for manufacturing and packaging of the company's biomaterial devices for clinical studies and early product launch. A unique rodent vivarium will be present to evaluate the safety and efficacy of the company's devices and treatments for spinal cord and nervous system injury models. This massive space will also include a surgeon training facility and a biology lab.
The advancement of InVivo's technology could lead to palpable savings for the healthcare system. The first year course of care for a spinal cord injured person ranges from $.25 million to $1.3 million dollars depending on the extent of their injury and treatments. A lifetime cost of $5 million is likely. In 2011 more than $39 billion was spent to care for people in the United States with spinal cord injuries.
InVivo's current market capitalization is just $127 million, currently trading at $2.36 with 52wk Range of 0.60 - 3.23. Its 1 Yr target is $4.50. The Cambridge MA firm has multiple benefits going for it and little competition with apparently sufficient cash on hand to operate throughout 2012. Its biopolymer scaffold device could be quick to market, with several others close behind. With one founder Dr. Robert Langer, a former FDA science board head, and other extremely highly qualified individuals at the helm, its strong animal model data is a plus. Expected positive clinical trial results could make the effects of InVivo valuable for investors, stakeholders, and patients.
Disclosure: I have no positions in any stocks mentioned, and no plans to initiate any positions within the next 72 hours.