Below are 11 companies that have built sizable cash buffers and links to monitor them on SA moving forward:
Apple (AAPL), Microsoft (MSFT), Alphabet (NASDAQ:GOOG) (NASDAQ:GOOGL), Pfizer (PFE), Cisco (CSCO), Goldman Sachs (GS), Moody's (MCO), Oracle (ORCL), AT&T (T), AbbVie (ABBV) and JPMorgan Chase (JPM).
From the ratios I'm seeing between interest rate expectations in the futures markets through December 2017, relative to stock price change, it appears rate hikes might actually fuel these stocks higher.
I'm trading these stocks using "collars" to define my risk on all trades and for the duration of every trading period.
Example of a "collar" to define risk:
Own 1,000 shares of GOOGL at $745
Write the $800 call collecting premium (1,000 shares)
Using the collected premium, buy the $700 put (1,000 shares)
Why will anyone much less the market be surprised when the Fed finally pulls the rate hike trigger? The Fed has stated repeatedly where they see the rate they set and when through December 2017.
Sure, Fed credibility has eroded to the point where even the Futures market doesn't fully believe the Fed about the rates they set, but one thing the Fed has made clear is they will hike rates. They've also cried wolf so many times during the seven years of "emergency and temporary rate cuts" we've had plenty of practice as to how the market will react and plenty of time to learn defensive trading strategies like "collars."
Below are the Fed's versus market's expectations for the Fed Funds rate through December 2017:
Current cash market Fed Funds rate 0.11%
Contract value = $458
The lowest disclosed Fed expectation for the Fed Funds rate by the end of December 2016 is 1.80%, contract value = $7,500
Futures market expectations for Dec. 2016 delivery 0.75%, contract value = $3,125
Fed expectations for Dec 2017 3.15%, contract value = $21,874
Futures market expectations for Dec 2017 1.27%, contract value = $5,292
How these companies are reacting to rate hike expectations
The last Fed FOMC meeting concluded October 28, 2015, although it did not produce a rate hike, it did produce statements that were more hawkish than the futures market had priced in. After the hawkish statements, the futures market priced in an anticipated increase in rates from 0.56% to 0.75% for the December 2016 delivery.
GOOGL and AAPL rallied into the Fed FOMC meeting and when the anticipated increase in rates was priced into the December 2016 futures contract both held strong and sailed through unscathed.
Market reaction
October 14, 2015: Futures market expectations for Dec 2016 Fed Funds = 0.54%, contract value = $2,250
GOOGL = $683
AAPL = $110
After the hawkish Fed statements
November 3, 2015: Futures market expectations for Dec 2016 Fed Funds = 0.75%, contract value $3,125 or +38.88%
GOOGL = $741 or +8.49%
AAPL = $122 or +10.90%
Let's look at the market's reaction during the last tightening cycle.
From June 2004 through June 2006, we had 17 consecutive 0.25% rate hikes moving the Fed Funds rate from 1.00% contract value $4,167 to 5.25% contract value $21,874 or +425%.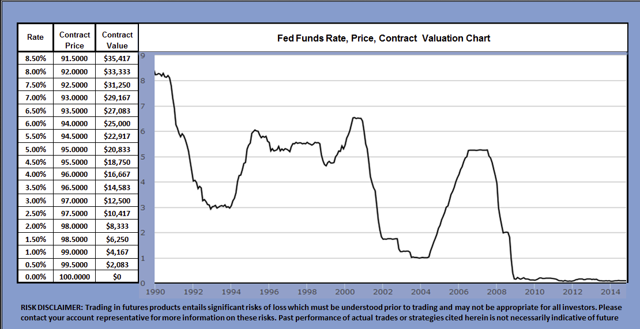 Source: Federal Reserve
Did the US stock market sell off?
No, it rallied from 1,121 to 1,273 or +13.55%.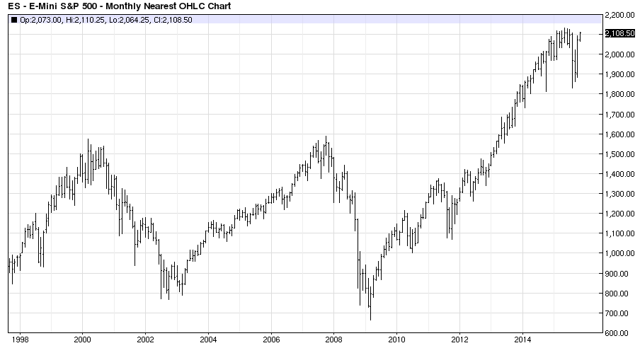 Did GOOGL sell off?
No, it rallied from $50 to $192 or +284%.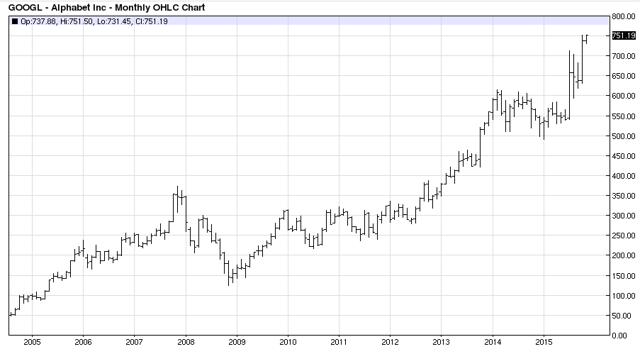 Granted, the United States by the Fed's own numbers is in the worst fiscal shape in history and rates have been lower and for longer than any other time in history including the great depression.
Regardless of these terrible numbers, GOOGL and the others have held strong and properly traded using collars to define risk, I believe GOOGL and the others will continue to outperform the S&P.
Have market or Fed rate projections motivated any "character builders" in the companies mentioned in this article?
I realize the Fed funds rate in the cash market is currently at 0.11% and the Fed expects this rate to increase to 3.15% for an appreciation in contract value of 2,763%, but we're still talking 3.15% by December 2017 not 5.25% like we saw in 2006. 3.15% is still 1.95% below the 1954 to 2015 historical average for the Fed Funds rate of 5.10%.
Maybe it's time for all of us to rethink the impact of higher rates.
If savings rates "normalized" moving up by 3.00%, it would give savers and the free market economy over a 1/2 a trillion dollar annual raise. How can anyone believe that a 1/2 a trillion dollars getting pumped into the economy annually could be bad for the stocks mentioned here or the economy?
On the flip side, how can anyone believe letting the US Treasury continue to strip savers and the free market economy of this 1/2 trillion dollars annually to save the US Treasury the same amount in debt service cost could be good for any stock or the economy?
I for one think it's time for rates to rise and provide true "economic stimulus" for those that are picking up the tab. The harsh reality is "economic stimulus" has benefited the US Treasury and the same banks that facilitated the debt crisis far more than the economy, taxpayer or saver. During "economic stimulus" savers have been stripped of trillions in interest income, each taxpayer's portion of the national debt has increased from 67K to over 130K, while banks enjoyed the largest gross profit margins in history on their borrowing costs. One has to remember that during economic stimulus, banks never lowered the prime rate. It has remained unchanged since 2009 at 3.25%. They never lowered credit card rates. They have remained above 12.00% (20-year average is 14.22%). At least when Japan's savings rates went near zero they had the conscience to lower their prime to 1.10%.
A word of caution - remember to hedge up your positions using strategies like collars to avoid the "character builders." If and when this market does finally break hard, it could get beyond ugly generating losses on unhedged positions that could be worse than a divorce and five kids in private school. Also brush up on short trading strategies, as I believe over the next 36 months, there will be some excellent short trades in companies with high debt.
Good luck to all. With the economic fundamentals we have on deck, it's going to be a fun period for those who are prepared.
Supporting links
The CME Fed funds futures contract will show you within 0.01%, 24 hours a day, where the market sees the Fed funds rate and when through November 2018. Link
The CME 3-month rate expectations through September 2025. Link
To convert the contract price into the rate it represents take 100.00 - the contract price = the rate. Example, 100.00 - a contract price of 99.50 = a rate of 0.50%
For a 2-minute video of Fed chair Yellen's lowest disclosed expectations for the Fed funds rate through Dec 2017, click here.
The Fed has given us additional "guidance" preparing the market for higher rates over the last 36 months. See the Fed's site for statements and videos.
For the results of "economic stimulus" and the "emergency and temporary rates cuts" over the last 7 years, click here.
According to the Fed's own numbers "economic stimulus" was the most costly policy failure in US history.