Overview: The Worst House in a Great Neighborhood
The commercial aerospace industry is in the midst of a decades-long boom fueled primarily by the rising economic prospects of hundreds of millions of consumers in the emerging world. Global air travel has been projected to double over the next twenty years, engendering a commercial aviation "super cycle" that has built enormous backlogs of commercial orders for Boeing and Airbus as the two titans of the commercial aviation world compete for the future.
Serving both Boeing and Airbus are a network of suppliers including Triumph Group (NYSE:TGI), a diversified Aerospace company that has struggled mightily over the past three years of the Aerospace boom. Shares of the company have moved in the opposite direction of its major competitors and major customers as it has struggled to integrate a number of recent acquisitions and somehow found itself unfortunately positioned in troubled commercial and military aerospace programs.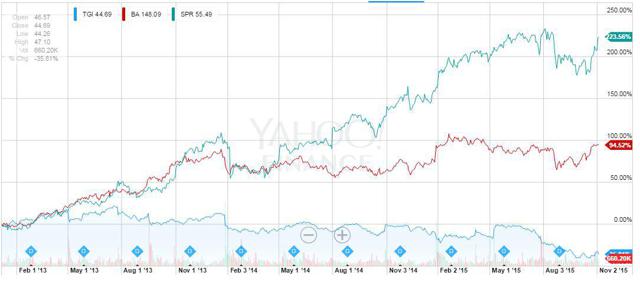 TGI Share Price has performed poorly relative to its largest single customer and competitor Source: Yahoo Finance
The company is currently organized into three segments: Aerostructures, Aerospace Systems, and After Market/Maintenance Services. The company derives approximately 2/3rds of its sales from its Aerostructures Segment, around a quarter of its sales from Aerospace Systems, and less than ten percent of its sales from its After Market business. The company's major customers include Boeing, Gulf Stream, and Airbus.
Company Headwinds
In April of this year Triumph's CEO Jeffrey Frisby stepped down after a long string of operational missteps, program delays, and production shortfalls. In his place the company placed its chairman and founder Richard Ill on an interim basis. Frisby's departure marked the end of a long stretch of acquisitions from around the Aerospace industry that had amassed an enormous and unwieldy operation spread across 63 facilities and become, in the view of some company critics, a drain on operational execution.
Triumph Group's acquisition related struggles are typified by the closure of the Jefferson Street Bonded Parts Facility in Dallas, Texas that it inherited from its acquisition of Vought Aircraft in 2010. The closure of the facility has been a multi-year drag on the company's earnings, notably in the 4th quarter of 2013, that have continued through mid 2015 when the company noted still $15 million in costs associated with the closure for the current year.
In addition to acquisition related costs, the company has faced headwinds to its organic growth in both its Aerostructures and Aerospace Systems segments as the company found itself reliant on commercial and military products whose production rates have been cut over the past three years. The company manufactures a variety of components for the 747-8, C-17, and A380 that have all had their rates of production reduced and, in the case of the 747-8 and C-17, are nearing the end of their program lives.
The combination of these headwinds have helped to create some of the poorest performance in operational metrics and margins in the company's industry. Triumph Group generates only about a third of the income per employee as its peers and only about half the pre-tax margin. This poor performance has unsurprisingly driven TGI's valuation to the very bottom of its industry peers.
No Place to Go But Up!
Despite the headwinds that still face Triumph Group, long-term investors should see potential in the company that has likely hit rock bottom both in terms of performance and valuation. The company's move to replace its CEO in April of this year likely signals the beginning of a new chapter in the company's focus, moving from major acquisitions to execution and profitability.
While the company's legacy Aerostructure and Aerospace Systems contracts are poorly positioned, it has a number of contracts that are just now coming online or will be ramping up in order over the next 24-36 months and will very likely act as engines of stronger future growth. The company is poised for long-term growth from its contracts to build components for the 737 Max, 787 Dreamliner, 777X, A320neo, A330neo, and the next generation Air Force tanker based on the 767.
Boeing is currently projecting the first 737 Max to be delivered in third quarter of 2017 and has amassed an enormous backlog for the MAX of over 2,000 orders, while in the meantime current 737 production will continue to grow in 2016. The growth in 737 production in 2016 and Max production in future years will benefit Triumph Group as they manufacture the plane's inboard flaps. Triumph Group will also benefit as Boeing projects Dreamliner production to ramp up by two more aircraft per month in 2016.
Perhaps the most exciting development for Triumph Group investors when it comes to Boeing, Triumph's largest single customer, is the recently won order from Fed-Ex for an additional 50 767 aircraft that led Boeing to announce it will boost the rate of production of the 767 by 25% in 2017. This production boost is in addition to the production of the Airforce next generation tanker aircraft. This growth in 767 orders will be particularly lucrative for Triumph Group Aerostructures as the segment manufactures flight control surfaces, nacelles systems and components, center wing box, and doors for the 767 aircraft.
The company looks to play an integral role in the future of Boeing's rival Airbus as the company recently announced it will be the supplier of a few additional systems of the company's best selling A320neo aircraft including the cowl opening actuator to complement the company's legacy work for Airbus, including important aerostructures for the A330 and A330neo.
Triumph Group also counts Gulf Stream as an important customer as the company continues to work to better integrate and extract value from the G280 and G6500 programs. The company struck an upbeat note on its ability to do so in its recent October 28th earnings report, noting the program's cash burn rate has decreased ahead of schedule.
Weighing the Future vs The Present
On its most recent earnings call the company reported results that were disappointing as continued short-term headwinds bit into both revenue and income. The company noted the slowing rates of production in key programs from its customers and persistent consolidation costs and charges as important drags to the firm's performance.
The long-term investor should note, however, that the future prospects of the company look much brighter when considering that consolidation costs will eventually begin to trail off and the ramping of production by Triumph's largest customers in new Aerostructures and Aerospace Systems contracts. In the company's Aerostructures segment, for example, 4 of the company's 10 largest programs announced significant production ramps over the next 24 months. While in the company's Aerospace Systems segment the company's top three projects will be ramping significantly over the next 24 months.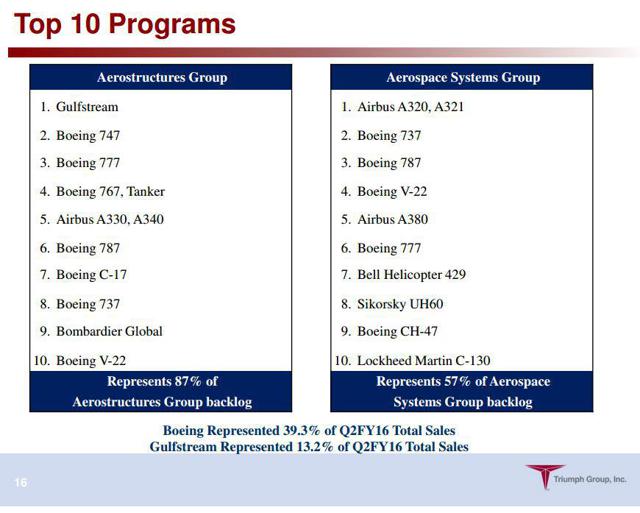 Source: Triumph Group Inc.
Valuation
Relative to its peers in the aerospace industry, Triumph Group is trading at an incredibly attractive valuation when considering its future prospects for growth. The company's depressed share price already reflects all of the near-term headwinds as it trades at less than 9 times next year's projected earnings and approximately equal to its book value. This is compared to its peers such as Spirit Aerosystems (NYSE:SPR) that trades at thirteen times its forward earnings and over three times its book value. While Spirit's superior management and positioning in the commercial aerospace industry warrants a premium valuation relative to Triumph Group, the current spread between the two companies will likely be unwarranted in the medium to long term when considering Triumph Group's growth prospects.
Conclusion
Triumph Group is an important and undervalued player in the aerospace industry when considering its long-term growth prospects. The company's current share price is valued far below its industry peers due to poor execution and unfortunate near-term positioning in specific slowing programs like the 747-8. Over the next 24-36 months, however, the company's near-term headwinds should abate as consolidation costs taper off and production ramps in such programs as the 767, next generation Airforce tanker, A320neo, and Dreamliner allow the company to grow sales and earnings. While the growth in these ramping programs will be partially offset by slowing and ending production in the 747-8 and C-17, even modest growth in sales and earnings will permit a closing of the valuation gap between Triumph Group and its peers. If Triumph Group were to close only half the gap between book value to its peers, for example, the company's share price would double. A doubling of Triumph's share price would still provide a modestly valued company at twice its book value and only 14 times next year's earnings.
Disclosure: I/we have no positions in any stocks mentioned, and no plans to initiate any positions within the next 72 hours.
I wrote this article myself, and it expresses my own opinions. I am not receiving compensation for it (other than from Seeking Alpha). I have no business relationship with any company whose stock is mentioned in this article.