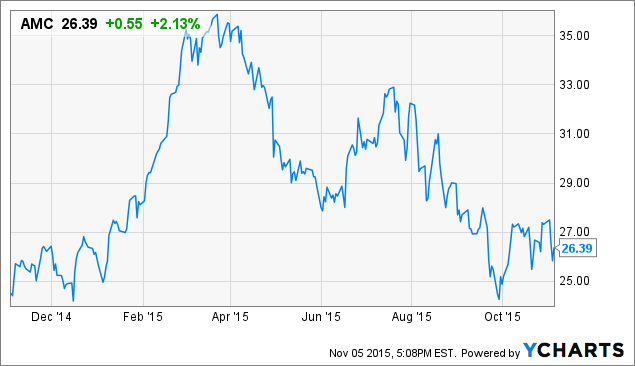 AMC (NYSE:NYSE:AMC) reported third quarter earnings on November 2 that missed analyst's expectations, and as a result the stock traded down toward its 52-week low around $25-$26/share. This miss provides investors an attractive entry point to benefit from an incredibly strong film lineup in Q4 and 2016. What was a weakness during the third quarter will be a strength during the fourth quarter and the company has demonstrated its capital allocation strategy is paying off. In my opinion, AMC is the best positioned US theater chain to benefit from massive blockbusters such as The Hunger Games and Star Wars.
Third Quarter
Three months ended

($ millions)

9/30/2015

9/30/2014

Y/Y %

-Admissions

$ 441.2

$ 417.4

5.7%

-Food & beverage

$ 216.7

$ 189.1

14.6%

-Other

$ 30.8

$ 27.4

12.4%

Total Revenue

$ 688.8

$ 633.9

8.7%

Film exhibition costs

$ 233.4

$ 220.6

5.8%

% film costs from admissions

52.9%

52.9%

0.1%

Net Income

$ 12.2

$ 7.4

64.9%

EPS

$ 0.12

$ 0.08

50.0%
While AMC posted an impressive 8.7% year-over-year revenue growth and a 65% increase in net income to $12.2 million, the stock fell $0.05 short on EPS and $1.7 million short on revenue. The company was negatively impacted from a weak IMAX (NYSE:IMAX) lineup during the quarter. Admission revenue grew 5.7%, but attendance actually increased 7.4%. The shortfall and discrepancy was a result of a 1.6% decline in the average ticket price. A weak IMAX lineup as well as difficult comps from the previous year was to blame in this 160 basis point difference.
The company also had approximately 300 screens under construction for upgrades during the quarter. AMC has been aggressively revamping their theaters to include recliners to enhance the customers overall experience. This strategy has been proving very beneficial for the company's long-term strategy, but hurt the top line numbers during the third quarter.
Catalysts
IMAX and premium seating
AMC is the largest IMAX exhibitor in North America with 150 screens, which gives it a 45% market share. While this large weighting toward IMAX screens can be a benefit and a curse (as seen during the third quarter), the company stands to be a beneficiary of an incredibly strong IMAX lineup in Q4 and 1Q16. Spectre, Hunger Games: Mockingjay - Part 2, Star Wars: The Force Awakens, and Batman vs Superman: Dawn of Justice will all be released over the next 2 quarters and will be heavily weighted toward IMAX screens. History has shown these blockbusters have skewed toward premium formats such as IMAX, which will benefit AMC.
In addition to AMC's heavy investment into IMAX theaters, the company has made a strategic goal to increase the number of screens with recliner seating to approximately 1,850. These upgraded recliner theaters are seeing a more than 25% return on capital, so management believes this is the best use of cash flow. YTD, they have invested over $215 million into capital expenditures with the majority of that going to enhance the overall customer experience with improved seating and better food and drink options. Today, the company has a total of 851 screens with the upgraded recliners and expect to complete another 250 before the holiday season (aka before Star Wars). AMC expects to complete this roll-out over the next 3 years. By improving the customer experience in this manor, they've discovered patrons are more likely to spend additional money on food and beverage, which is the real money maker for movie theaters. And if you think about it, this strategy makes sense. If you're going to out to the movies, you'd much rather sit in a theater with comfortable recliners and expanded food and beverage options than the older more traditional movie format.
Star Wars
If advance ticket sales tell you anything, it's that the next installment of Star Wars movie will break all kinds of records. For AMC, the advance ticket sales broke previous sales records by a factor of 10. In the first 12 hours, they sold out more than 1,000 auditoriums. Just to accommodate the incredible demand, AMC plans to have 30 theaters open 24 hours on opening night. IMAX will be a huge part of Star Wars presales. IMAX presales for Star Wars has also broken virtually every domestic record with $6.5 million. In comparison, other major IMAX blockbusters such as The Dark Knight Rises, The Hunger Games: Catching Fire, and The Avengers were in the $1 million dollar range for presales. This dramatic increase will directly benefit AMC since it houses 150 IMAX screens, or roughly 45% of the US market. So what was a negative in the third quarter and helped lead the stock price lower, will be perhaps the biggest contributor to AMC revenue and average ticket price in Q4 and spill over into 1Q16.
Starplex Cinemas acquisition
In July 2015, AMC acquired Starplex Cinemas for $172 million in cash. Starplex has 33 theaters with 346 screens in 12 states. The acquisition has little geographic overlap with existing AMC theaters and gives the company several small-to-mid size markets. Once completed, it will give the company approximately 380 theaters with 5,300 screens. Starplex adds 90 upgraded recliners screens to AMC's portfolio and expects to add another 80 reseated screens to Starplex's existing theaters. The deal is expected to result in earnings-per-share, EBITDA and cash flow accretion in 2016 and beyond, exclusive of the one-time transaction fees. AMC has said all along, they hope to close on this deal before the end of the year, and again reiterated this on the .
Take Away
AMC has reinvested its cash flow directly back into the business to enhance their customer experience and loyalty. With 150 IMAX screens, nearly 1,000 upgraded screens with comfortable recliners and nearly one-third of theaters with expanded food and beverage options, I believe AMC is in a better position than its peers to benefit from an extremely strong fourth quarter lineup that extends well into 2016. The fact that the stock fell to the $25-$26 range after earnings gives investors a great entry point for a company with numerous catalysts over the short-term and long-term fundamentals intact.
The third quarter also showed higher film exhibition costs aren't the new norm in the industry and were only the result of a top heavy second quarter. During the second quarter, the top 5 movies accounted for roughly 55% of the box office, which led to film exhibition costs increasing by roughly 300 basis points. During the third quarter, the top 5 films returned to a more historical norm of around 40% of the box office, which led to film exhibition costs declining by 250 basis points quarter-over-quarter. Due to the concentration of blockbusters in Q4 and 1Q16, film exhibition costs will likely appreciate to roughly 55% of admission revenue. While this increase led to an industry wide sell-off earlier in the year, it's an extremely short sighted view. Movie theaters get the majority of profit from food and beverage sales, not ticket sales. In comparison, food and beverage has a gross profit margin around 85%, while admission revenue has a gross profit margin under 50%.
The domestic box office has been week in the fourth quarter so far, but this will change with the release of Spectre this weekend and The Hunger Games two weeks from now. Star Wars will cap off a strong 2015 and will give a strong start to 2016. AMC underperformed the industry in 1Q15 due to its heavy weighting toward urban markets and limited presence in southern states. The strong performance of American Sniper was most dramatic in these southern states, where AMC doesn't have a strong presence. This 1Q15 underperformance and being highly leveraged to IMAX screens and the Star Wars release should lead to favorable comps in 1Q16. Add in the highly anticipated Batman vs Superman at the end of the first quarter, and there are 2 consecutive quarters that AMC should provide extremely strong results.
I added to my position in the latest pullback. As the box office improves through the end of the year, AMC should get a bounce. As Star Wars nears, momentum will likely return to the stock and push it back above $30/share. Add in a healthy 3% dividend yield and you get a nice reason to wait for a turnaround in performance, which is on the horizon.