CF Industries Holdings (NYSE:CF) is one of my favorite stocks to trade with options. It is one of the better stocks to use in my daily options trading strategy, which I wrote an article about for Seeking Alpha last year.
CF Industries is also a good stock to trade around earnings using stock options and various strategies. CF is scheduled to report earnings on Wednesday, after the market closes.
Currently, CF Industries is trading at $182.31/share. The 52-week range is $115.34 - $192.70.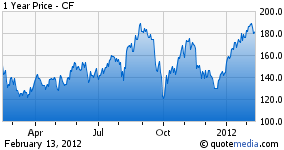 This stock has been steadily moving up over the past two months. It has had some resistance around the $190.00/share level, however. If the stock can break this resistance it could really skyrocket.
I am expecting a large price move for CF Industries after the earnings. If it happens to miss estimates, the stock could plummet. This is why I am taking a conservative options trade.
For those who have never read any of my previous articles, I always take a neutral-based approach to earnings. This means that I do not really care which direction a stock moves after earnings-- as long as it makes a sufficient one.
By only taking one side on any earnings release, you are really playing with fire. The trade is completely out of your control. The stress with placing a directionally biased options trade is enormous. Sure, if you are right on the direction, you will do extremely well. Yet, if you are wrong on the direction the trade becomes a disaster.
The trade I will be making is a 'reverse iron condor' spread. Unlike a 'straddle' or 'strangle' option spread, which requires a significant price move to profit on the trade, the 'reverse iron condor' does not require such a large price move, as the break-even strike prices are much closer than the former. However, the maximum potential profit is limited, but so is your total risk. The 'reverse iron condor' is simply a great strategy to use if you prefer to know exactly where the stock needs to be at in order for you to profit.
This trade is placed with a net debit and not a net credit.
The 'reverse iron condor' has four "legs" in the strategy. Here is how the trade is accurately placed (Note: I will use one contract on each "leg" for explanation purposes):
Buy one out-of-the-money put option
Sell one out -of-the-money put option (Lower Strike)
Buy one out-of-the-money call option
Sell one out-of-the-money call option (Higher Strike)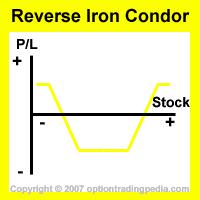 Presuming all things remain equal and CF Industries is trading near its current price (you can always adjust the strike prices), the Trade I will be placing should be executed in this manner (Note: I will be using 25 contracts for each "leg" of the trade):
Buy 25 CF February 2012 $180.00 put options
Sell 25 CF February 2012 $175.00 put options
Buy 25 CF February 2012 $185.00 call options
Sell 25 CF February 2012 $190.00 call options

Requirements
| | |
| --- | --- |
| Cost/Proceeds | $9,250.00 |
| Option Requirement | $0.00 |
| Total Requirements | $9,250.00 |
| Estimated Commission | $125.00 |

The current bid/ask spread is $3.35 - $3.40. It is best to place the trade with a limit order that is at the halfway point or a little bit more. Never place a market order when trading options.
Here is a closer look at the profit/loss chart:
Current Price: $182.31
Current Price: $182.31

| Price | Profit / Loss | ROI % |
| --- | --- | --- |
| $131.25 | $3,250.00 | 35.14% |
| $151.64 | $3,250.00 | 35.14% |
| $173.11 | $3,250.00 | 35.14% |
| $175.00 | $3,250.00 | 35.14% |
| $176.30 | $0.00 | 0.00% |
| $180.00 | ($9,250.00) | -100.00% |
| $185.00 | ($9,250.00) | -100.00% |
| $188.70 | $0.00 | 0.00% |
| $190.00 | $3,250.00 | 35.14% |
| $194.57 | $3,250.00 | 35.14% |
| $237.50 | $3,250.00 | 35.14% |
I just do not see how CF Industries will not make the required percentage move needed for this trade to profit. I plan on purchasing this trade on Tuesday.
If you have any questions, please leave a comment or e-mail me. I usually respond very quickly. Thanks.
Disclosure: I have no positions in any stocks mentioned, but may initiate a long position in CF over the next 72 hours.