Community Health Systems (NYSE:CYH) is a hospital operating company with solid valuation. Being on a discount of 48% versus a year ago, the company offers a good value for investors. In this article, I will compare CYH with a few competitors, namely, Tenet Healthcare Corporation (NYSE:THC), Universal Health Services (NYSE:UHS), LifePoint Hospitals (NASDAQ:LPNT) and Health Management Associates (HMA).
Opportunities in the Hospital Industry
Population trends provide the biggest opportunities in the hospital industry. Aging population and retiring baby-boomers coupled with bad exercising and diet habits of many Americans provide many opportunities for hospitals to see a revenue growth. For example, CYH predicts that healthcare industry will be as large as $4.6 trillion or 20% of GDP by 2020.
As individuals live longer lives, they will need to receive healthcare for longer periods of their lives. For example, according to American Diabetes Association, there are 25 million Americans with diabetes, a chronic disease with many complications requiring long term care. Currently individuals older than 65 years make up 12.9% of US population, whereas they are expected to make up 19.3% of US population by 2030.
Improved technology makes it possible to standardize processes, reduce rate of error and associated lawsuits, and increase profit margins for hospital operators.
There are many growth-through-acquisition opportunities for cash-rich companies.
Risks/Threats in the Hospital Industry
There are many uncertainties tied to president Obama's healthcare reforms. Only time will tell how this works out for the hospitals in the long run.
Economic uncertainties and high unemployment make basic healthcare unaffordable for many.
Aging population also comes with retirement of many doctors and nurses. A shortage of healthcare professionals may act as a pressure to increase personnel related costs in the industry.
Budget cuts in the local, state and federal levels of government may hurt hospital revenues from government sponsored healthcare programs such as Medicare.
There is always a risk of lawsuits associated with malpractice.
In this article, I will compare these companies in the following metrics: P/E excluding extraordinary items, P/E normalized, Price/Revenue, Price/Book value, Price/Cash, Price/Free Cash Flow and value per hospital.
First, I will look at P/E excluding extraordinary items. In the healthcare sector, it is a common practice for companies to acquire hospitals belonging to other companies, and even other companies. For this reason, we would have to exclude extraordinary items such as one time acquiring costs or one time fees paid by the company, in addition to one time gains due to sell of a property. In this metric, CHY seems to be better valued than its competitors as it has a pretty decent P/E ratio compared to its competitors. The company's P/E value currently sits just at 6. CHY is one of the few companies with a single digit P/E ratio in the industry. In addition, HMA also sounds like a good valuation in this particular metric.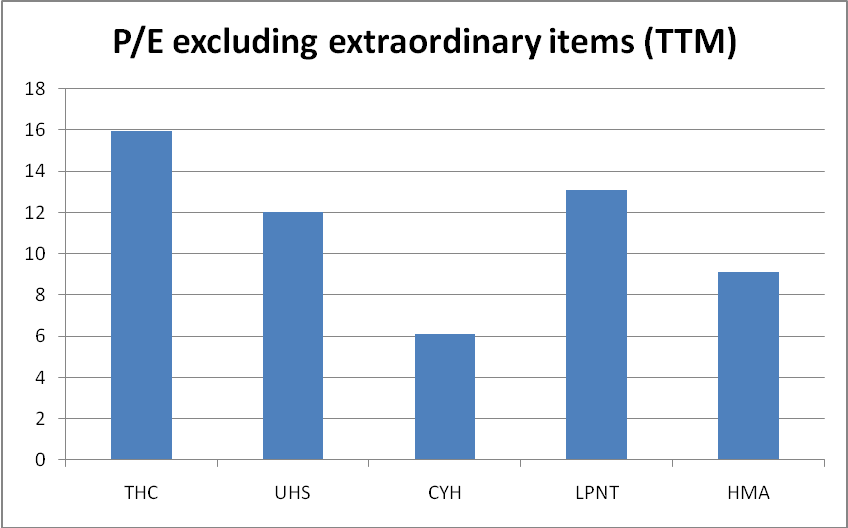 It is also important to look at P/E normalized values. This metric accounts for fluctuations in a company's earnings as these fluctuations may be great from season to season. Looking at average earnings of a company in a longer period of time might be more helpful than looking at earnings of last quarter or last year if the company performed extraordinarily well or bad in the last earning period. In this metric, CYH still offers one of the best valuations even though it trails behind Tenet Healthcare by a small margin.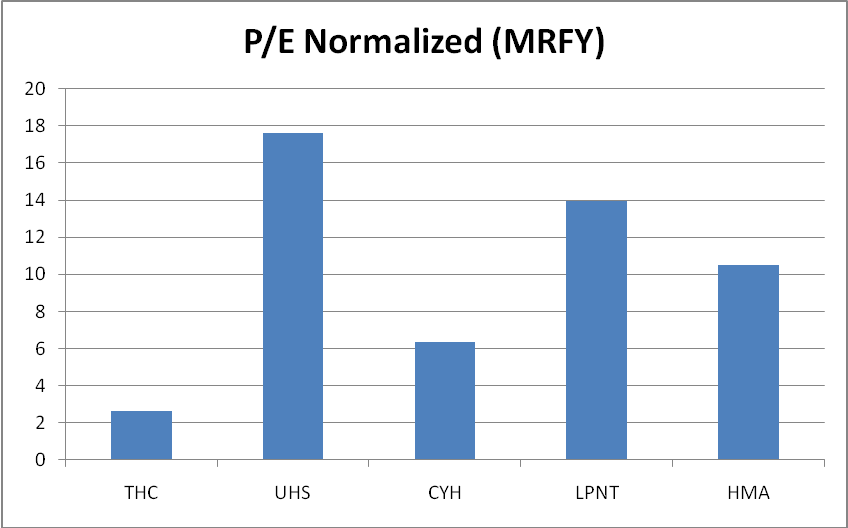 Another important metric to look at is Price to Revenue ratio. CHY has a price to revenue ratio just above 0.1. In the healthcare industry, price to revenue ratios tend to be below 1.0, however CHY's 0.1 is much lower than the industry average, indicating great valuation.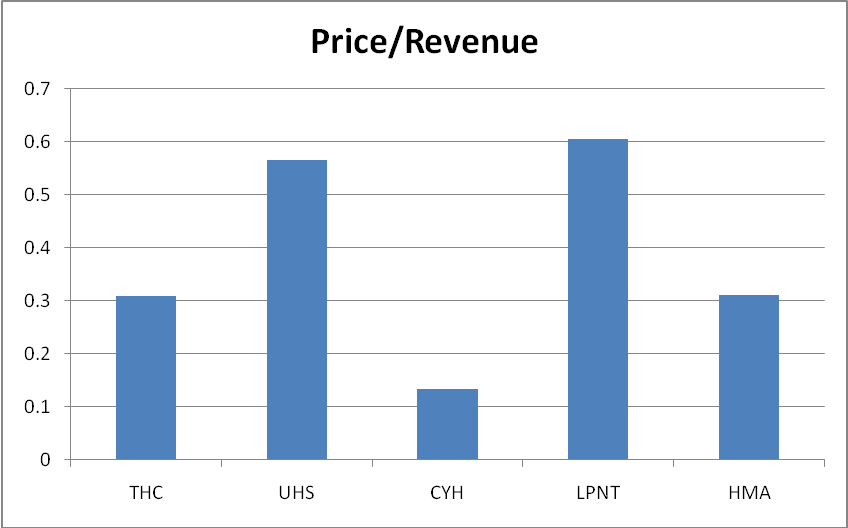 Because healthcare companies own a lot of property, it is important to look at their book value in comparison to their share price. Book values account for all the assets a company owns and in this case it will reflect value of hospitals and other facilities these companies operate. CYH currently sells for less than its book value. Even if the stock price catches up to book value alone, this still means an upside of 30%. In this metric, LPNT also seems to offer pretty good valuation.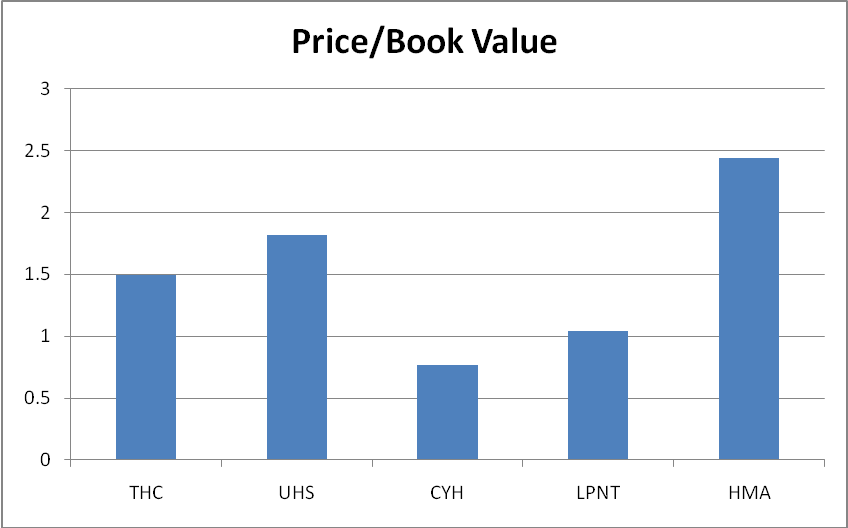 Price to cash ratio is another important metric to look at. CYH has a price to cash ratio of 6.77. While this may not sound very low to many people, it is very low compared to CYH's peers.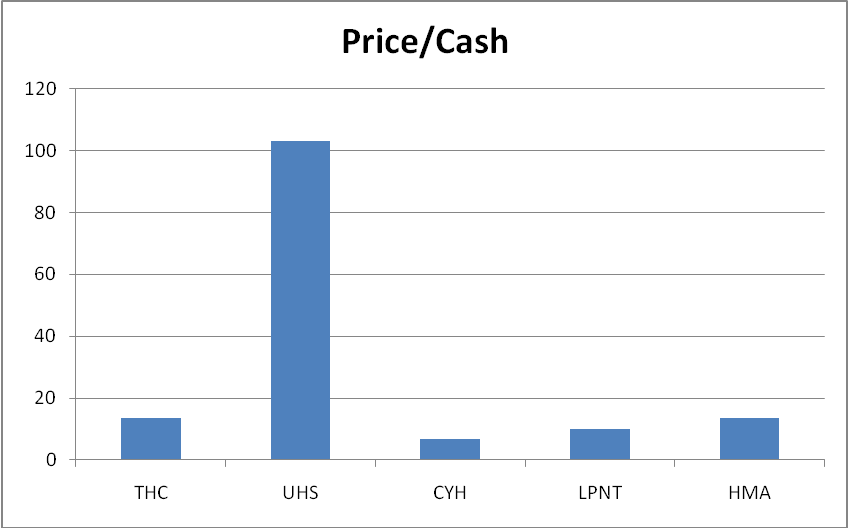 We will also compare price to free cash flow ratios of these companies. This can tell us how much operating cash flow a company generates after it spends for its operations and expenditures. Having a healthy free cash flow is crucial for a company's growth. CYH's price to free cash flow ratio of 1.77 is impressive. This is less than half of its nearest peer (HMA has a price to free cash flow ratio of 3.68).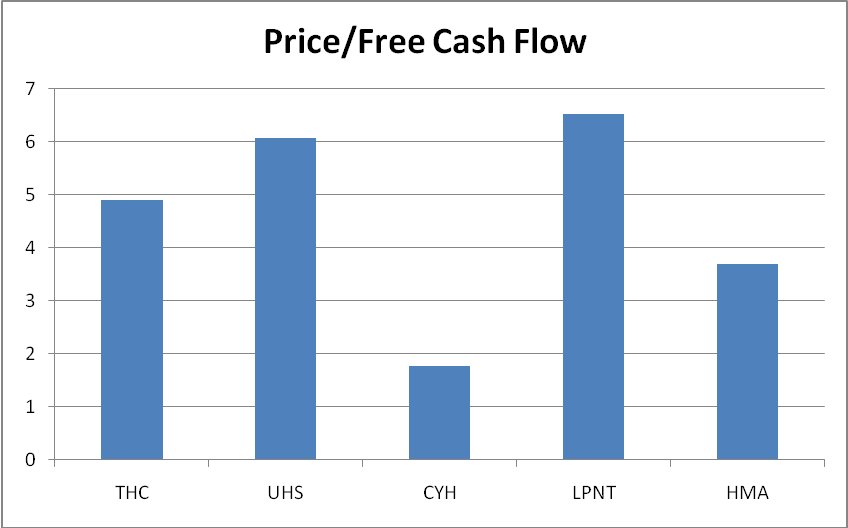 The company operates 133 hospitals in 29 states with a capacity of 19,800 beds. The company has a market value of $1.82 billion which comes down to $13.6 million per hospital. This is just slightly higher than value of each Chipotle (NYSE:CMG) restaurant (i.e., $11 million). In comparison, each of Tenet Healthcare's hospitals is valued at $48 million (i.e., market value divided by number of hospitals). Each hospital belonging to Health Management Associates is valued at $26 million. Each of LifePoint's hospitals is worth $36.48 million and each Universal Health Services hospital is worth $18 million.
CYH is a very cheap stock and I rate it as buy for long-term investors.
Disclosure: I have no positions in any stocks mentioned, and no plans to initiate any positions within the next 72 hours.