Markets are reacting strongly to today's Payrolls Survey, as they typically tend to do. But I believe investors put a little too much emphasis on this infrequently released, volatile, and often revised metric. I believe the much less volatile and more frequently published Weekly Jobless Claims is a much better statistic.
Just based on 5 year charts, one can see the relative volatility of each metric:
Initial Jobless Claims in white and Non-Farm Payrolls in yellow (5 year chart):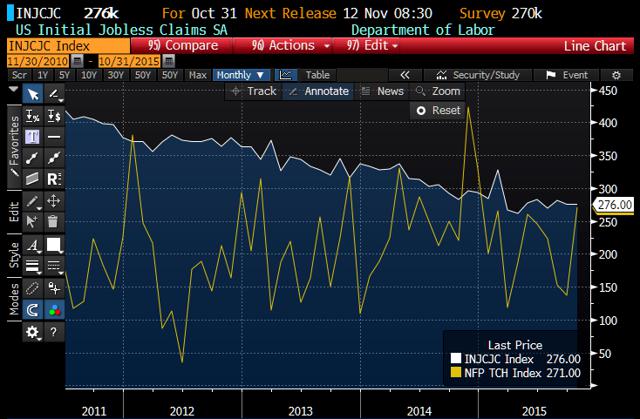 SOURCE: Bloomberg
While both statistics are important in their own right, as each measure two different points in the labor market (one is first time unemployment filers, the other changes to Non-Agriculture employers' payrolls), they both tell the same story, except Weekly Jobless Claims does it in a much more frequent and less volatile (hence more reliable) way. Non-farm payrolls is so volatile it is difficult to take any meaning away from a single release, yet the market tends to react as if it is one of the most meaningful statistics available. Take the past two months, for example:
Initial Jobless Claims, Sept and Oct 2015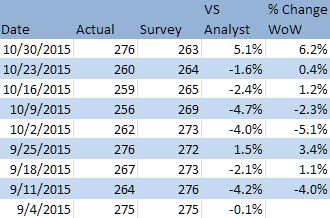 SOURCE: Bloomberg
Non-Farm Payrolls, Sept and Oct 2015

SOURCE: Bloomberg
Initial Jobless claims remained very stable through September and October, with week over week changes inside of 6%, and coming within analyst expectations by 5%. By contrast, Non-Farm Payrolls had a massive 32% miss VS expectations in September, then a huge 48% gain in October, for a whopping 98% gain month over month. When I saw the miss in September and the market reacting to it, I knew it was highly unreliable and likely to reverse the following month because initial jobless claims were painting a very stable picture of a healthy labor market.
Conclusion
While an important data point on the labor market, the volatility and lack of reporting frequency of Non-Farm Payrolls makes it less meaningful, especially in the context of more consistent and readily available figures such as Weekly Jobless Claims. Market participants should take it with a grain of salt, and rely on more consistent metrics.
Disclosure: I/we have no positions in any stocks mentioned, and no plans to initiate any positions within the next 72 hours.
I wrote this article myself, and it expresses my own opinions. I am not receiving compensation for it (other than from Seeking Alpha). I have no business relationship with any company whose stock is mentioned in this article.