Intel (NASDAQ:INTC) is planning to launch its next generation 14nm Atom SoCs in the second half of 2016, code-named "Denverton" and "Denverton-NS," intended for the microserver and the adjacent networking markets respectively. Intel will replace its current Atom C2000 server chip family, codenamed "Avoton" and "Rangeley," by introducing Denverton, which will be marketed under Atom C3xxx model number.
Some details of the Denverton SoCs are now available, reports CPU World, which reveals that the SoCs will have 16 cores compared to its predecessors along with many other significant enhancements. Sadly, the site has removed the details at Intel's request, which makes the case even stronger. Although it's widely expected that Intel will move to the "Goldmont" microarchitecture for Denverton, a "tock" in Intel's "tick-tock" cadence, nothing concrete regarding this is available yet. However, it's now clear that Intel is targeting to monopolize the growing microserver market with its next-generation Atom chips by throwing tough competition to ARM Holdings' (NASDAQ:ARMH) ARM-based chips. The growth potential of this market is significantly higher compared to the rest of the server market.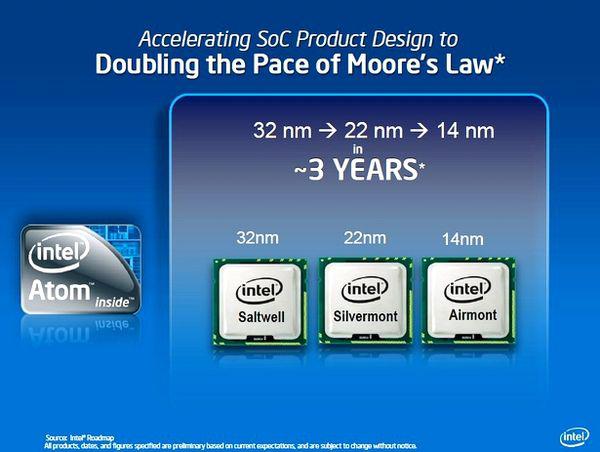 Image Credit: Intel
Intel Eyeing the Microserver Market
Unlike mid-range general-purpose servers, microservers are designed for specific and relatively light computing workloads, such as workloads related to web content and online services. With predefined workloads, it's possible to use a microserver in such a way that unused resources remain at a minimum level. In this way, microservers can be made much more efficient. In addition, microservers can be significantly cheaper compared to mid-range servers since they don't need to be run by higher-end processors like Intel's Xeon with 90W-plus TDP. Instead, an Atom SoC with a TDP of 20W or less is enough to run the microservers.
Going forward, the microservers will be used for diversified workloads. As a result, the microserver market will see huge growth opportunities. According to a report:
The total value for global market microserver stood at USD 1,059.69 million in 2012 and it is estimated that the market would reach a size of USD 30,205.56 million by 2019. It is estimated that the market would experience growth at a CAGR of 43.4% in terms of revenue during the period from 2013 to 2019. Further, it has been estimated that a total of 2,137.92 thousand units of microserver would be shipped in 2019.
By contrast, the overall server market is expected to grow at a CAGR of 5.73% over the period 2015-2019, according to another report. With the upcoming launch of Denverton-based Atom SoCs coupled with the newly launched 14nm Broadwell-based Xeon D, Intel is trying to grow its microserver market share by out-competing archrival ARM Holdings. After AMD (NASDAQ:AMD) exiting the SeaMicro dense server business earlier this year, Intel's job is far less difficult now.
Intel vs. ARM in the Microserver Market
AMD acquired SeaMicro three years ago. It had big plans for the microserver business with its future ARM-based processors, which came to an end rather abruptly with the demise of SeaMicro. Currently, Applied Micro Circuits' (NASDAQ:AMCC) X-Gene and Cavium Networks' (NASDAQ:CAVM) ThunderX-based ARM CPUs are Intel's prime competitor in the microserver market. However, Intel is set to monopolize the microserver market with its 14nm Xeon D and upcoming Denverton. If ARM were to profit from the upcoming boom in this market, a strong software ecosystem is needed to be built around its processors as early as in the next couple of years.
Both Applied Micro and Cavium are producing CPUs in 28nm nodes, and they are not in a position to offer customers 14nm chips anytime soon. They can at best offer 22nm chips using Globalfoundries' FD-SOI technology. Using the FD-SOI technology, which has the potential to deliver FinFET-like performance and energy efficiency, would enable the companies to compete with Intel's 14nm chips in terms of power and performance to a limited extent. However, if Intel moves to the Goldmont architecture for Denverton instead of Airmont as previously expected, competing with Intel will be far more difficult.
As far as building software support is concerned, Linux compatibility based on SUSE Linux Enterprise, which has been made available to both Applied Micro and Cavium, is a giant step for ARM-based processors to succeed in the server space in the long run. Further, the Linaro Enterprise Group is developing a full Linux stack for ARM, which is also encouraging. However, I strongly believe that building a workable software ecosystem will take at least three to five years and a full-fledged ecosystem will take a decade. As a result, ARM will miss the first phase of the microserver boom which will end in the next four-five years.
Conclusion
Although I believe that ARM will lose the first round of the microserver battle, I strongly believe it will comeback with a vengeance post-2020 not only in the microserver space, but in the broader server market as well. By then, the ARM ecosystem will be built and many new players will start chip production, such as Qualcomm (NASDAQ:QCOM) and Broadcom (BRCM), the latter of which is going to be taken over by Avago Technologies (NASDAQ:AVGO). Intel might have a tough time then.
Disclosure: I am/we are long INTC.
I wrote this article myself, and it expresses my own opinions. I am not receiving compensation for it (other than from Seeking Alpha). I have no business relationship with any company whose stock is mentioned in this article.
Additional disclosure: I might initiate a short position in QCOM if it rallies.