With a very fast GDP growth (8.3% last year) and relatively low debt (40% vs. GDP), Turkey seems like an ideal country to invest in. The country has a healthy amount of population growth, a relatively young population, abundant and diversified resource reserves and political stability. The country is usually pointed as the exact opposite of Greece by analysts. Turkish finance ministry Ali Babacan expects the country to have the 10th largest GDP in the world by 2023. The country created 3.5 million jobs since 2009, which is more than the job creation in entire European Union combined. In the last 30 years, Turkey's exports grew from $3 billion to $130 billion. This may all sound great, and I may sound like a contrarian, but I believe that Turkey is not a great country to invest in at the moment. In this article, I will explain why I feel this way.
For those that want to get exposure to Turkey, there is an ETF called iShares MSCI Turkey Index (NYSEARCA:TUR). Despite the country's financial accomplishments last year, shares of this ETF are down 17% in the last year, and the ETF currently trades for $50.56. The ETF holds a lot of financial stocks, comprising 42% of its portfolio; however on a positive note, Turkey's financial institutions have minimal exposure to Eurozone nations. Because this article is more about overall economy of Turkey, the interested readers should do more research about this ETF elsewhere before making a decision regarding it.
According to the World Bank, the Turkish economy expanded from $144.4 billion to $735 billion in the last decade; a growth of 410%. This may sound impressive, but government spending and credit-based consumer spending caused most of this growth, which may not be that great for the long term.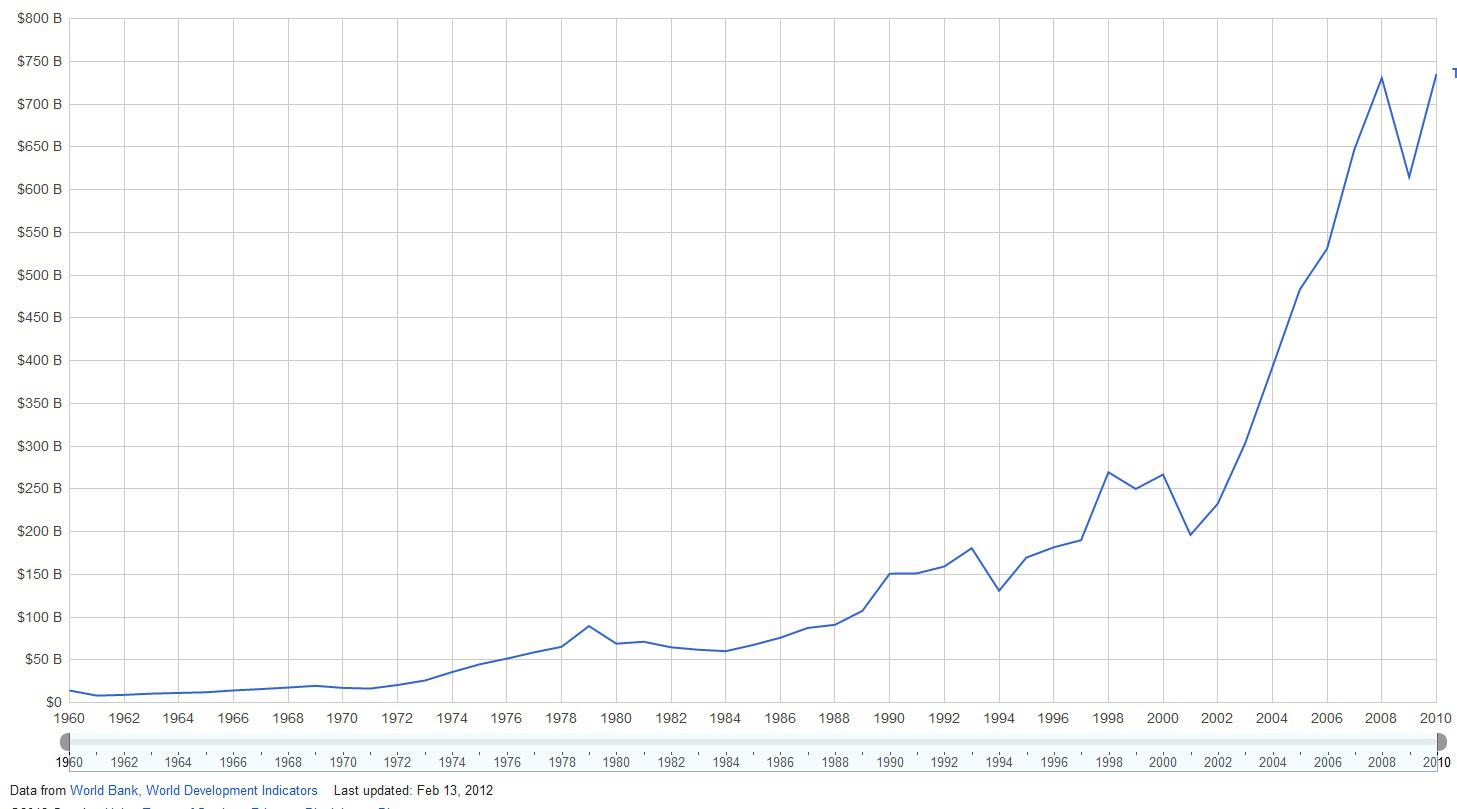 Import - Export Balance:
In 2002, Turkey exported goods of $69.20 for every import worth of $100. In 2011, as the country's economy grew by nearly 9%, its import to export ratio fell to 54.90%, one of the lowest in the last few decades. This means, unlike countries like China, Brazil and Malaysia, the Turkish economy doesn't grow on exports. The Turkish economy chooses to buy goods from other countries to consume rather than produce and sell goods to other nations. The country imports $50 billion worth of energy every year, mostly from Russia and Iran. Currently, the country's import growth is much faster than its export growth. Any country whose growth relies on spending rather than production will not enjoy a sustainable growth over a long period of time. Overall, 75% of Turkish exports are sold to Turkey's immediate neighbors in Europe and Middle East. This means that main buyers of Turkey's exports are countries suffering from slowing economy or instable political conditions. The country exports very little to fast developing countries in Latin America and Asia.
| | |
| --- | --- |
| Year | Imports/Exports |
| 2002 | 69.20% |
| 2003 | 68.10% |
| 2004 | 64.30% |
| 2005 | 62.40% |
| 2006 | 61.40% |
| 2007 | 62.90% |
| 2008 | 65.30% |
| 2009 | 72.30% |
| 2010 | 61.60% |
| 2011 | 54.90% |
Account Deficit
The country "enjoyed" an account deficit of nearly $80 billion (more than 10% of its GDP) in 2011. While the country's debt is not as high as most European countries, most of its debt will mature within the next few years. In other words, the country will have to rollover most of its debt in the near future. In the future, the country will have to slow down its growth in consumption by importing less in order to shrink its account deficit; however this may result in severe recession in this import driven country.
Social Spending
Turkey has one of the largest social spending programs in Europe. In the country, any employee that has paid social security taxes 20 consequent years becomes eligible to retire. For this reason, the country has many 45-year old retirees.
Privatizations
Prior to 2001, the government owned many large companies in the country. Starting 2002, the Turkish government decided to privatize tens of companies it held, which provided billions of dollars of cash flow to the government. The country used most of the income from privatizations to fix its infrastructure such as highways and bridges. This is well, however, once the country runs out of companies to sell, it will have to make up for it by either increasing taxes or issuing debt. The country's economy still depends heavily on government spending.
Black Market
Much of Turkish economy is unrecorded and untaxed. In order to tackle this problem, Turkish government keeps withholding taxes on employees very low and every other tax very high. For example, the country taxes gas by 300%, which means a Turkish citizen has to pay 4 times as much for a gallon of gas as an American citizen. The country also enforces very high rates of taxes on utilities and phone bills. According to Turkish government's numbers, 65% of the government revenues come from these indirect taxes. All in all, 43% of all employees in Turkey are off the books and this rate is much larger than most developed or developing nations.
Unemployment
The country is not able to provide enough jobs for its youth. Currently, Turkey has an unemployment rate over 10% and Turkish youth "enjoy" an unemployment rate over 20%. Compared to European standards, the country has very low wages, such as its minimum wage of $397 a month for full time employees. There are many anecdotes coming out of the country referring to taxi drivers, construction workers and retail sales associates with bachelor's degrees.
Consumer Debt Spending
The Turkish population saves less and spends more. HSBC's research note shows that in the last 7 years, consumer spending growth was 5% higher than GDP growth, whereas the savings rate fell by 7% in the same period. Between 2006 and 2010, credit card loans grew by an annual rate of 19% in the country. While Turkish Central Bank hopes to keep average annual loan growth at 25%, it currently sits at 35%, which is very high. At the end of the day, credit growth accounts for 40% of the GDP growth in Turkey in 2011. Credit expansion rate was 30% for households and 40% for industries in 2011. Turkey is one of the countries where it is easy to get loans at competitive rates. In the last 3 years, Turkish Central Bank's balance sheet more than doubled.
Foreign Investment
One thing Turkish government did right was to open the country's gates to foreign investors. Direct foreign investment grew to $6 billion in 2010 from $571 million in 2002. In 2007, the direct foreign investment in the country was as high as $19 billion. The trend has been downwards since 2007.
Currency
Turkey's currency is very weak against both Dollar and Euro. The currency lost 10% value against dollar and lost 8% of its value against Euro in the last 12 months. Turkish Central Bank attempted to devalue Turkish lira in order to make Turkish exports cheaper, however, it backfired by making imports too expensive in Turkey, forcing many Turkish citizens to seek additional loans in order to afford things. In 2011, Turkey had an inflation rate of 10.6%. Excluding food, energy, gold and tobacco products, the yearly inflation rate was at 8.4%. The country's inflation target for 2012 is 6.2%.
Turkish Stock Market
In the last year, performance of Turkish stock market did not impress anyone. In fact, since October 2010, Turkish stock market has been declining almost non-stop. Of course, this doesn't compare well with the country's fast growing economy.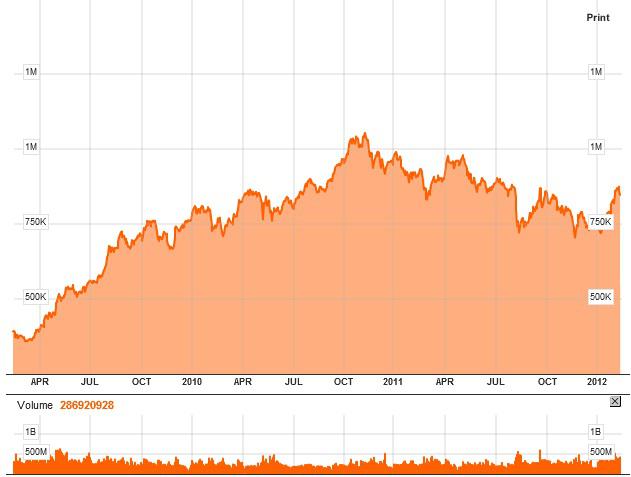 Conclusion
At this point, Turkey does not offer very attractive investment opportunities. The country may provide better attractive investment opportunities after its economy "lands." After the Turkish economy lands, Turkish shares and ETFs such as iShares MSCI Turkey Index will become solid investments.
Disclosure: I have no positions in any stocks mentioned, and no plans to initiate any positions within the next 72 hours.