I love the consumer staples companies and want to have a bulk of my portfolio tied to their success. Consumer staples tend to have less fluctuation in their operations compared to other sectors simply because their provide consumable items that consumers love. However, the market realizes this too and typically the shares of the excellent companies trade at premiums precisely for the stability and excellence of their operations.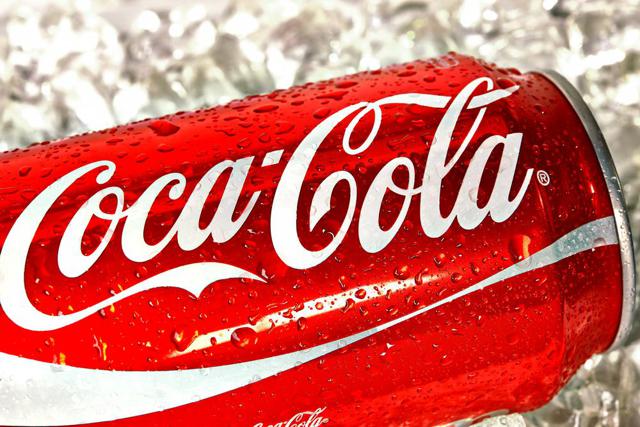 The Coca-Cola Company (NYSE:KO) was one of the first companies I ever purchased for my dividend growth investing portfolio. While I've received better returns from other positions there's few companies that I can say without a doubt will raise their dividend each and every year which The Coca-Cola Company has done for 53 straight years.
Every $1 invested in Coca-Cola 10 years ago has turned into $2.66 today. 20 years ago? $3.70. 30 years ago? $51.59. That's the beauty of investing alongside one of the best companies in the world. Something that's so simple and economical to run that even blundering management can't mess up the operational excellence that is The Coca-Cola Company.
While I love the company and deem it to be one of the best companies in the world, that doesn't mean I want to invest more money at any price. Investors 20 years ago were still able to generate solid returns despite the very rich valuation due to the tremendous growth that Coca-Cola was able to execute through international expansion. Although Coca-Cola's days of growing operations 10-20% per year are likely long gone so growing out of an overvaluation becomes more difficult which makes the purchase price all that more important.
Potential earnings and dividend growth
Before we move along into the analysis let's get some general information out of the way. My reference entry price will be the closing price from November 6th, $41.96, with an assumed purchase date of November 9th. The Coca-Cola Company still owes one more dividend payment for this year which has yet to go ex-dividend so it will be included in the cash flows later on. The current quarterly dividend is $0.33 and based on the consensus estimate of $1.99 for earnings the payout ratio will come to 66.3% for fiscal year 2015. Returns will be calculated using a sale price of 20x fiscal year 2018 earnings with a sale date of December 31, 2018.
The following table shows the consensus analyst estimates for earnings per share, as tracked by ValueEngine, between now and fiscal year 2018. I've highlighted the average earnings estimate since I will use that going forward in the analysis.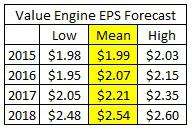 As I mentioned earlier the payout ratio is expected to come to 66.3% for fiscal year 2015. The payout ratio has averaged 56.6% over the last 10 years and remained fairly consistent each year but has seen a rise this year outside of the normal range.
In order to project the dividends that management will pay to owners I've assumed they will maintain a 65% payout ratio going forward. The payout ratio could be reduced to 60% for fiscal year 2017 but that would require management holding the dividend flat until then. I'm not sure management wants to ruin a 53 year streak just to reduce the payout ratio unless it's absolutely necessary. The following table shows the potential dividends that could be paid while maintaining a 65% payout ratio.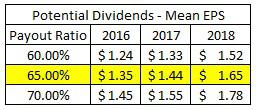 Dividend growth looks to be unimpressive for the next two years but by 2018 the annualized growth would work out to 7.7% per year. This would be a step down from the 5 year growth rate of 8.3% and 10 year growth rate of 9.3%.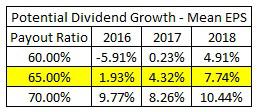 How are the returns going forward?
We have all the information we need now in order to see up a cash flow and get an estimate of our return. As a reminder, the sale price is calculated at 20x 2018 earnings or $50.80. The following table shows the expected cash flows based on the historical payment dates of dividends and the forecast growth I previously covered.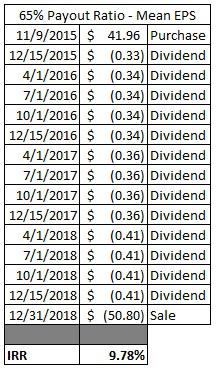 Between now and the end of 2018 you would receive 13 dividend payments totaling $4.77. Based on the purchase price of $41.96 you would receive 11.3% of your purchase back through dividends. The rest of the total return comes from the share price climbing from $41.96 to $50.80 or 21.1%. This gives a total return of 32.4% in just over three years.
When we account for the time value of money it appears that The Coca-Cola Company could potentially offer 9.8% annualized returns.
Low potential earnings and dividend growth
The previous analysis assumes that the average analyst estimates are correct. In order to get a "stress test" case I'll repeat the analysis using the low earnings estimates and repeat the analysis in order to get a baseline return expectation.
The following table shows the calculated dividends using the low earnings estimates.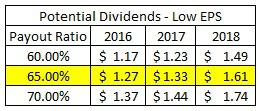 The dividend growth wasn't compelling for the next two years based on the average estimates and we see a similar issue here. Actually, in order to maintain the current dividend the payout ratio would have to expand to 67.6% for 2016 or maintaining the payout ratio would require that dividends be reduced. The annualized dividend growth through 2018 would still work out to 6.9%. As I mentioned earlier, I have no doubts that a dividend increase will be announced with the 1Q2016 payment, even if it requires an expansion of the payout ratio.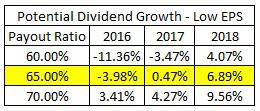 What's the damage to the cash flows and returns?
As I mentioned earlier, I have no doubts that a dividend increase will be announced with the 1Q2016 payment, even if it requires an expansion of the payout ratio. Since I expect the dividend growth streak to continue I've assumed token $0.005 raises to the quarterly dividend for 2016 and 2017 in order to keep the streak alive and then a large increase in 2018. However, I believe that management will smooth out the increases in order to keep investors happy.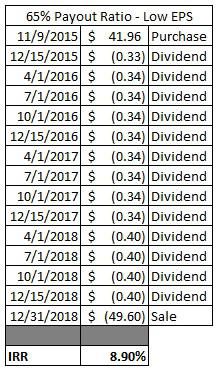 In the low earnings growth scenario, you would receive dividend payments totaling $4.64 for an 11.1% return. Due to the lower forecast earnings in 2018 the new sale price comes to $49.60 which is an 18.2% return. Bringing it all together the total return would decline by just over 3%. The rate of return would decline just under 1% per year to 8.9% annualized returns.
Range of returns
According to Morningstar the 5 year average P/E ratio that shares have traded for is 18.6. So using the 20x 2018 earnings might not be prudent, although I still consider it a reasonable valuation for a quality company that consistently rewards owners. The following table shows the range of returns from the two previous analyses as well as re-working them using a 18.6x 2018 earnings scenario.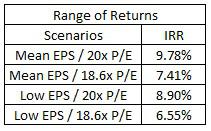 Can growth come faster?
Doing business in just about every country in the world does have drawbacks, namely the effect of currency exchange rates. The U.S. dollar has gained a lot of ground compared to other currencies over the last year and could possibly move higher if the Federal Reserve does in fact raise interest rates while most major economies around the world are still loosening their monetary policy. The dollar index is off slightly from its highs seen in March of this year but is well above where it has normally been over the last decade.
The strength of the dollar has hurt companies with significant operations overseas which have to report in their home currency. In Coca-Cola's case the company generated around 44% of revenue, 75% of operating income, and 106% of net income outside of North America. (U.S. operations reported a net loss during the quarter hence the remaining portions generating over 100% of net income)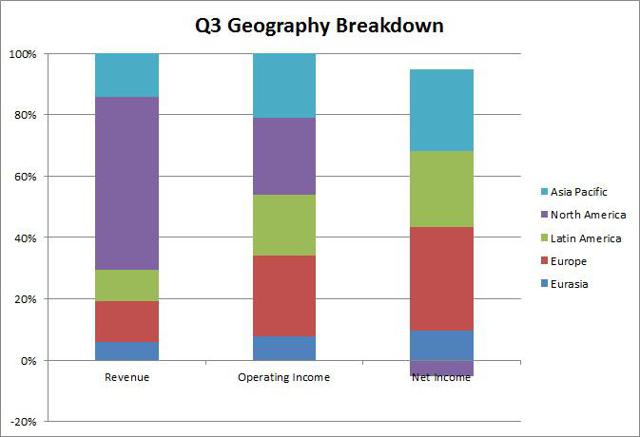 The encouraging thing though is that Coca-Cola generated 3% volume growth year over year which represents actual growth of the company. That's a welcome sight compared to flat or declining volumes that had been reported previously. Revenue also saw a bump from 3% price/mix changes which is encouraging as well. Unfortunately the currency headwinds knocked off 8% from the year ago quarter. On a constant currency basis earnings for 3Q grew 5% compared to the year ago period. Currency headwinds are likely to subsist over the coming years which will lead to larger gains for Coca-Cola.
Cash flow remains very strong for Coca-Cola, despite the currency headwinds. Compared to the year ago quarter operating cash flow and free cash flow both increased by 5% which is impressive given the large drag due to the strong dollar.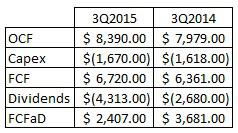 The Coca-Cola Company has also diversified itself even more into other beverage types. Besides the brands already under their control they have entered into agreements with both Monster (NASDAQ:MNST) and Green Mountain Coffee Roasters (NASDAQ:GMCR) which should provide additional growth opportunities compared to the slower growth of their current brands.
Coca-Cola should also see margins expand as they become more efficient and reorganize business structures. Management is aiming for cost savings of $3 B cumulatively by 2019.
Conclusion
Honestly I was quite surprised to see a near 10% annualized return from the current prices was possible based off the average analyst earnings estimates and subsequent dividends. I expected after the recent increase in the share price that the returns would have dipped down to the mid to high single digits so it's quite refreshing to see we're not far off from 10%+ returns.
There are issues with the move to healthier choices from consumers leading to declines in soft drink sales. However there's two important things to remember when it comes to Coca-Cola. (1) They are much more than a soft drink company and have 20 brands that generate $1+ B per year in revenues. Only 5 fall into the carbonated soft drink category which is the current ire of the new health conscious consumer. (2) Their distribution is world class. So much so that companies like Dr. Pepper Snapple Group (NYSE:DPS) have agreements with Coca-Cola to distribute their own syrups.
If I didn't already have a position in this wonderful company I would feel comfortable starting one near the current prices. However, since I need to take a broader portfolio view I feel there's better value in other positions within my portfolio at the current time. As such I would consider adding shares if they retreat back below $40 although I probably wouldn't pull the trigger until $38 or lower. When I analyzed the company in July my price target was just over $39 with a "back up the truck" price below $35. That still holds true for this extremely high quality company that will continue to deliver dividends for years to come.
Disclosure: I am/we are long KO.
I wrote this article myself, and it expresses my own opinions. I am not receiving compensation for it (other than from Seeking Alpha). I have no business relationship with any company whose stock is mentioned in this article.
Additional disclosure: I am not a financial professional and all thoughts/ideas here are my own and for entertainment purposes only. Investing involves risks. Please consult a financial professional and do your own due diligence before investing. The author is not responsible for losses of any kind by readers. This analysis uses forward looking, although conservative, estimates that may not come to pass. All charts/images and data are sourced from my personal stock analysis spreadsheet, Morningstar, Yahoo!Finance, The Coca-Cola Company's Investor Relations page, and ValueEngine.