"Only when the tide goes out do you discover who's been swimming naked."
And there you have it: we have quoted Warren Buffett.
The tide we are alluding to has been going out for four years now, and it has sucked the pants off most swimmers that brave these treacherous seas. With waters near the low-water mark, we believe it is a formidable time to look around us, and look closely in order to assess the full extent of the embarrassment. And as we do just that, we ask ourselves: will any of these tattered and wheezing characters be faring better than others when the tide comes surging in again? Or more to the point, is there a swimmer still equipped properly to catch the swell and be lifted higher than others?
For turn the tide will, eventually, and quite probably in the not-so-distant future.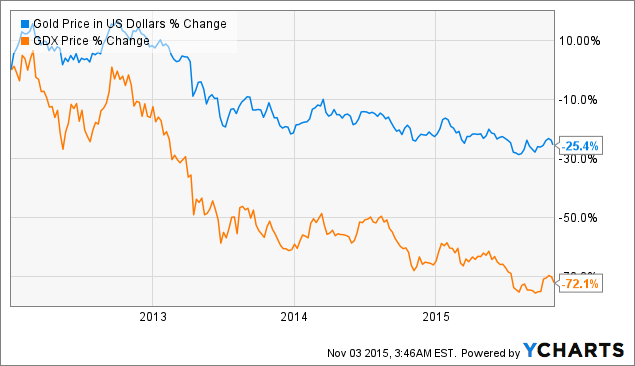 Gold Price in US Dollars data by YCharts
The chart above has given it away: we are referring to gold as the outgoing tide, and we are checking on the apparel of gold miners in the present article. Collectively, this sorry lot has lost more than 70% in value during the current bear market, while the yellow metal itself has shed a quarter of its price tag since those heydays in late 2011.
At this point, we will refrain from adding to the cacophony of noises calling for this direction for the gold price or that. Instead, we prefer to admit to our lack of market timing skills; and we submit that gold and its miners have reached a point close enough to the trough for us to justify positioning ourselves for a cyclical upswing. We are not looking for an event-driven undervalued investment here, but rather we will point to a solid proposition to take the best possible advantage of the upswing we see coming, and to survive the remaining downside should it manifest itself.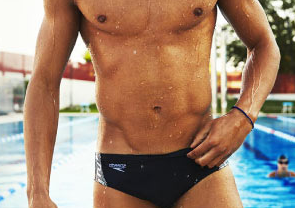 Invoking the beach scenery one last time (we promise), we are introducing a fit swimmer with his speedo cozzies firmly attached to his body in this article. A body ready and able to take to the seas and eager to frolic in the swells we anticipate.
Enter Agnico Eagle Mines (NYSE:AEM)
There is one trap that we have resolved not to fall into when picking candidates to serve as a vehicle to play the postulated upswing: we shall not place bets on the companies whose weaknesses have been exposed by the bear market, and who will need the best portion of the next bull market to repair the damage.
Other than most of its peers, Agnico Eagle is in excellent shape financially. The company's production per share has more than doubled in just five years and every mine in the portfolio is generating free cash flow. Its all-in sustaining costs (or AISC) are among the lowest among peers, and Agnico Eagle's low exposure to country risk is un-paralleled in the gold mining business.
There is plenty more to like, and we will try to make the case in the course of this article, but perhaps the most important point is this: Agnico Eagle has spent the better portion of the bear market opportunistically and systematically stoking its development pipeline. It has done so in two ways, and both set the company apart from others in the sector:
Agnico Eagle has not cut costs by cutting exploration. The company has out-spent just about any other gold miner consistently on in-house exploration, and the results more than justify the expense.
Agnico Eagle has made more accretive acquisitions during the past four years than just about anyone else in the mining sector.
In consequence Agnico Eagle's portfolio has morphed into the best set of assets among senior producers, and the company's development pipeline is brimming with opportunities, at its existing mines as well as at several potential new mine sites.
Quite simply, we view Agnico Eagle as best in class among senior gold miners, and we will use the remainder of this article to underpin this argument as best as we can. In doing so, we will paint in broad strokes, looking at the bigger picture and taking a high-level approach.
Reserve Quality
Collectively, the company's mines and projects boast a reserve grade of 2.4 g/t - the highest of any American gold miner, and only third to Randgold (NASDAQ:GOLD) and Gold Fields (NYSE:GFI), both of which own their reserves in precarious locations. The chart below illustrates a comparison with peers, and documents the grade advantage enjoyed by Agnico Eagle and the other two companies mentioned above.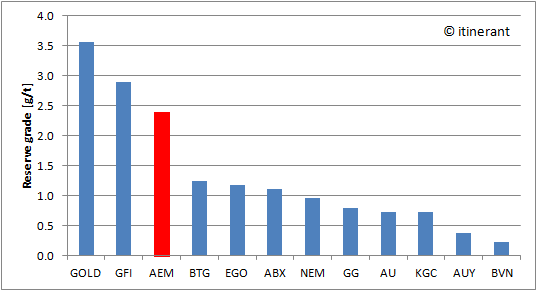 At 96% gold within its reserves, Agnico Eagle is among the purest for a senior gold miner, offering un-diluted exposure to gold. By-product metals have their place in precious metals mining, but also introduce risks, which Agnico Eagle is not exposed to.
Agnico Eagle assumes a gold price of $1,150/oz for its reserve estimate, which is among the most conservative among peers. And perhaps more importantly, a $150/oz move in the gold price assumption results in only a 6% change in reserves. Again, we state that this puts Agnico Eagle near or at the top of the pack in terms of resilience against a lower gold price.
Cost benefits are one obvious advantage from Agnico Eagle's high quality reserves. The chart below compares AISC expected for 2015 across the peer group (mostly Q3 updates, with a couple of estimates where necessary). Agnico Eagle has steadily moved down the cost curve over the past years, and has quietly established itself as the best cost performer in the pack. This is all the more remarkable when considering that Agnico Eagle has achieved this cost structure while increasing, not cutting exploration; and in mines located in countries not commonly known for low costs.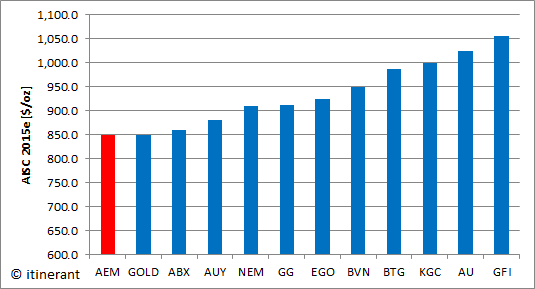 A less obvious benefit of the superior reserve quality is captured by investors without much ado on a quarterly basis. When other gold miners reported their latest tally of impairment charges throughout the bear market, similar announcements from Agnico Eagle have been notably absent. Gold miners have been forced to re-adjust their reserves in order to account for the new normal gold price that kept getting away from them. Agnico Eagle only wrote down assets of any significance once in the past four years, and has outperformed most peers in this respect.
Agnico Eagle's superior reserve base offers immense upside, especially when gold rallies. But perhaps equally importantly, we also find downside protection through the quality of Agnico Eagle's reserves.
Portfolio Structure
In continuing our high-level observations we note that Agnico Eagle not only has remarkable assets, but it has these assets in strategic locations. We detect four platforms formed by several mines and projects each, and allowing for systematic development of synergies within these platforms.
The Abitibi region is probably the most pronounced of these platforms. The Goldex, Canadian Malartic, La Ronde, and Lapa mines are located within just a few kilometers of each other, collectively producing roughly half of Agnico Eagle's gold. Several highly promising projects at various points along the development curve are located within this platform ensuring continuity of production, and a commanding position in the "Golden Valley" for Agnico Eagle.
Agnico Eagle is the only operator that has actually overcome the challenges of bringing a mine in Nunavut into production, namely the company's single largest asset, the Meadowbank mine. Two large and growing high-grade projects are located in close proximity to Meadowbank (Melliadine and Amaruq) promising immense growth when Agnico Eagle leverages Meadowbank to bring them into production as well.
The Kittila mine in Finland is a standalone asset at first sight, but when taking into account the near mine potential and also Agnico Eagle's steady efforts to make strategic investments in explorers who operate in Northern Europe, we see a pattern developing already. Kittila provides a highly profitable anchor with a long mine life and much potential. We see Agnico Eagle operating in Northern Europe for a long time to come, and we see a couple of very promising projects which will benefit from leverage provided by Kittila.
The region around the Pinos Altos, Creston Mascota, and La India mines serves as another hub for the company. These three mines produce gold at the lowest cost within Agnico Eagle's asset base and systematic consolidation of prospective lands around the mines and in the general area holds much promise. The Mexican mines reliably produce in excess of 300,000 ounces per year, and a host of exciting exploration results indicates substantial mine life extensions and potential for additional mines in years to come. The El Barqueno project could be the company's next mine, providing a foothold further south and leveraging the company's in-country know-how.
So there you have it - each mine is a low-cost asset and valuable in its own right even in today's gold price in environment. However, each platform is worth significantly more than the sum of its parts due to strategic value-adds such as pooling of purchases, know-how, and geological understanding to name just a few.
In terms of portfolio structure, we believe that Agnico Eagle is un-paralleled in gold mining. Other companies have established similar platforms, such as Barrick Gold (NYSE:ABX) and Newmont Mining (NYSE:NEM) in Nevada, or Yamana Gold (NYSE:AUY) in Brazil, and Kinross Gold (NYSE:KGC) in Russia; but to the best of our knowledge, Agnico Eagle is the only gold miner that has the complete portfolio structured in such a way.
Technical Prowess
Ask an industry expert around Val d'Or and chances are they will be happy to confirm that the best engineers, miners, or geologists in the area are typically employed by Agnico Eagle. In fact, ask Yamana Gold CEO Mr. Peter Marrone who all but confirmed our assertion when the two companies presented the joint Canadian Malartic acquisition.
A few arbitrary data points to this respect:
Agnico Eagle is the only company so far that has mastered the challenges of mining gold in Nunavut. This achievement did come at a high cost, but the knowledge gain has put the company well ahead of anyone else wishing to replicate this feat.
Agnico Eagle managed the ground instability issues at Goldex, and went on to underground mine a grade of 1.7g/t at Goldex at sub-$500/oz cash costs.
At La Ronde, Agnico Eagle operates the deepest single shaft in the world, descending 2.25 km below the surface. It's one of the deepest mines as it stands and the company is planning to go deeper. Agnico Eagle is mining gold at La Ronde at cash costs below $600/oz; that's half the cost achieved at other deep mines in areas with labour costs one tenth of what Agnico Eagle must be paying in Quebec.
The list goes on, but our point is: this company attracts talent in the mining industry like no other. And it is this talent that allows Agnico Eagle to meet challenges, and to produce more gold at lower cost. And it is this talent that allows the company to respond competently when challenges arise as they invariably do in any mining business.
Management
At the 2014 AGM, Agnico Eagle's CEO of 17 years Mr. Sean Boyd was presented to the audience as "the best CEO in gold mining." In our opinion, this was an understatement. Mr. Boyd has always taken a long-term view on strategic decisions, has mastered the Meadowbank and Goldex challenges, and has built the current portfolio which in our opinion will serve as the foundation to carry Agnico Eagle to the next level. His quarterly video briefings border on the boring and we find ourselves looking forward to these offerings without fail come quarter end. Boring is great in gold mining.
But let's move back from polemics to some hard numbers. Of all the metrics to measure management success by, we still think that financial performance per share is the most telling.
Since we mentioned individual shares, and since we already mentioned that Agnico Eagle has made more investments in exploration companies, and outright acquisitions in the past few years than any other large gold miners, we feel it deserves highlighting that the company has only got 218M shares outstanding, after 58 years of existence. Talk about "measured approach," one of the favorite phrases of Mr. Boyd in his video briefings.
The balance sheet has remained strong, despite numerous acquisitions of all sizes, despite a 4-year bear market, and despite aggressive exploration programs. We note a current ratio which has fluctuated between 2 and 2.5 for years now, a level that indicates ample ability to pay the bills, and at the same time has not allowed money to sit idle. We also note debt leverage of 0.221 at the very low end of the range for the peer group defined above (expressed using the debt-to-equity ratio in the chart below) which has allowed Agnico Eagle to move decisively on opportunities unlike most others.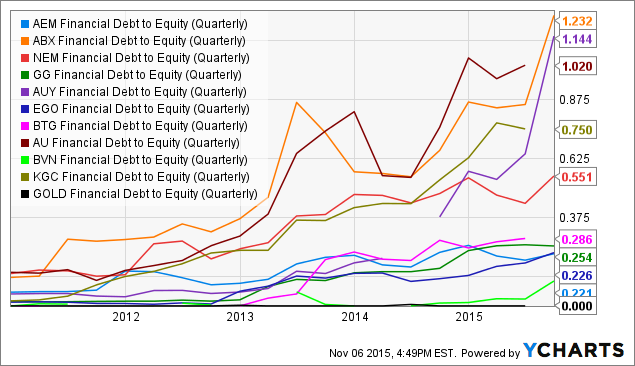 AEM Financial Debt to Equity (Quarterly) data by YCharts
The company is generating free cash flow, and has been for most quarters throughout this bear market. In fact, practically every operation within the business is generating free cash flow, which is definitely a differentiating factor again when looking at peers.
This free cash flow has been the driver behind the company's ability to fund exploration, to fund its acquisitions, and to pay down debt rapidly when it took some on. It has also enabled the company to pay a dividend without fail since 1983, another one-of-a-kind in the gold mining business. And last, but certainly not least, it has enabled the company to post positive earnings in most quarters.
We could go on singing the praise, but would like to move on instead and formulate some thoughts on valuation before we lose the attention of those that have made it this far.
Valuation
Conventional wisdom would have us believe that the most battered market participant will provide the most leverage and therefore the most outsized return in the event of a turnaround of fortunes from a bear to a bull market. The assumption being, that battered would be equivalent to "under-valued." This is a dangerous starting point in the present case, and we shall thoroughly avoid it. A formidable bear market such as the one we are relating to is quite effective in bringing out the strengths and weaknesses of individual market participants. Bad shape at this point in time is more often than not a sign of unresolved systemic problems, not undervaluation.
So let's not beat around the bush any longer: Agnico Eagle is valued at the upper bound of the range within its peer group; for the reasons summarized above and then some. The market has certainly recognized Agnico Eagle for what it is, and has assigned a premium to the company, at least compared to some of its peers. The table below lists various valuation metrics, proving the above.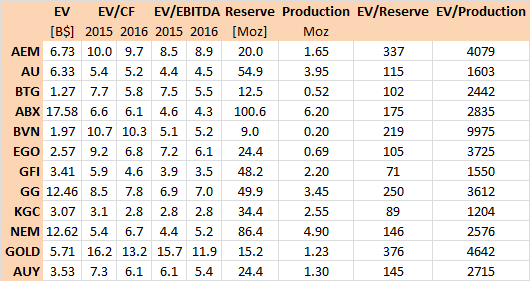 However, at this point in the cycle we are looking for value, and will not mistake a company that has been beaten down by the bear market for all the right reasons for a bargain. And as far as our quest for value is concerned, only very few companies are left standing. And of those, Agnico Eagle simply offers the greatest value for money in our opinion. Looking back in a few years' time, this price will look cheap, since we are buying at the bottom of a cycle, and we are buying the company with the best ability to take advantage of the next bull market.
Agnico Eagle is not cheap, but it offers the best value for money (aka. Investment Thesis & Takeaway)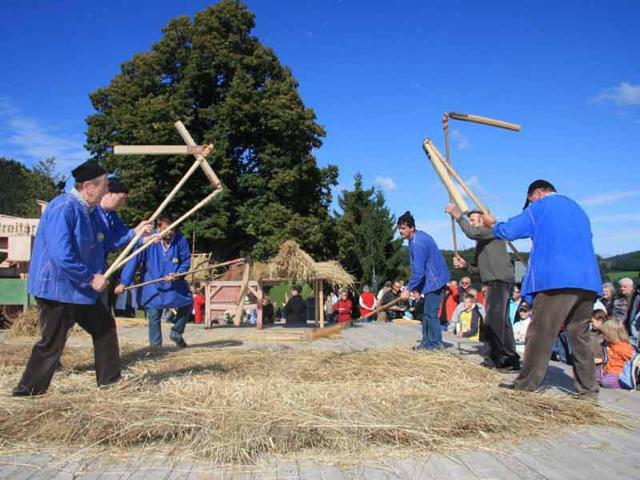 The past three years have been brutal for investments in the resource sector in general, and for gold-related investments in particular. However, the thorough threshing of the sector has separated the wheat from the chaff. Stout contrarians ready to follow the thesis that this bear market will run its course before too long should consider Agnico Eagle, a company that has been looking strong throughout the downturn and which is best positioned to benefit from the upturn when it comes.
The present article has not touched upon the many details that such a large and complex company would offer for analysis (we have done so elsewhere), rather we have tried to take a high level approach and looked at the forest instead of studying individual trees. It doesn't matter how one skins this cat, however. Agnico Eagle is a mighty fine company, and today's share price will look like a joke very quickly as soon as we enter the next precious metals bull market.
Disclosure: I am/we are long AEM.
I wrote this article myself, and it expresses my own opinions. I am not receiving compensation for it (other than from Seeking Alpha). I have no business relationship with any company whose stock is mentioned in this article.