InnerWorkings Inc. (NASDAQ:INWK) is a commercial printer, and its products include point-of-sale displays for North Face, branded merchandise for Heineken (OTCQX:HEINY), event banners for Cartoon Network, and various other products and services for 7,000 other clients.
Commercial printing is a highly fragmented global business, and the rise of digital printing has lowered barriers to entry and commoditized much of the business. Consequently, InnerWorkings adds value via creative services, custom design, rapid national rollouts, and vendor management via a huge supplier database. Recent results suggest that the company is getting back on track after problems in 2013 (discussed below).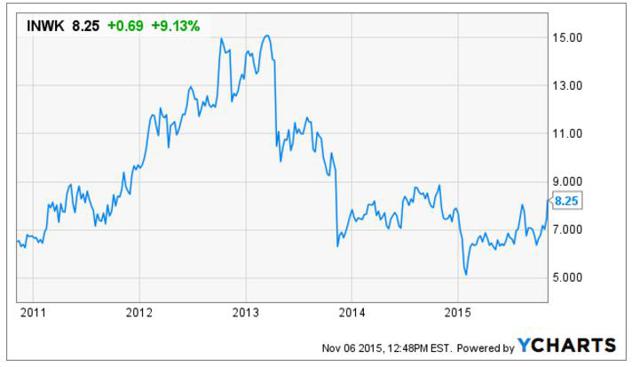 Quarterly Highlights and My Comments
The press release on November 4 offers highlights from the third quarter, including two big contract wins at Fortune 1000 companies.
Here are the highlights as the company sees it, followed by my comments.
"Revenue was $264.7 million as reported and $283.3 million in constant currency," a gain of 12.6% over 3Q 2014. This is bullish, since reported revenue growth of 5% would have been almost 13% if the U.S. dollar had been flat. This suggests strong organic growth.
"Gross profit for the quarter was $63.6 million as reported and $68 million in constant currency," a gain of 19.1% over 3Q 2014. I prefer to start with the reported earnings growth in the 8-K, since I want to I base my valuation decisions on GAAP accounting.
"Non-GAAP Adjusted EBITDA was $17.6 million as reported and $19.4 million in constant currency," a gain of 57.8% over 3Q 2014. I'm always wary of adjusted EBITDA, since it requires a lot of faith in management's assumptions. (And the adjustments usually work in management's favor.)
"Non-GAAP diluted EPS were $0.11 on a reported basis and $0.14 in constant currency," 100% above 3Q 2014 EPS of $0.07. Same comments as number 3 above.
"Non-GAAP adjusted operating cash flow was negative $9.5 million on a reported basis," compared to negative $11.3 million in 3Q 2014. Why is cash flow negative? I address this below under "Cash Flow and Balance Sheet."
Guidance: "The company reaffirms its revenue guidance of 8% to 11% growth over 2014 in constant currency. The company also reaffirms its 2015 Non-GAAP Adjusted EBITDA guidance of $49 million to $51 million and Non-GAAP diluted earnings per share of $0.25 to $0.27 in reported terms." This confused me, since I could not tell if sell-side analyst estimates are based on GAAP or non-GAAP earnings.
Another Look at Third-Quarter Results
This is sourced from the 8-K filed on November 5:
Revenues rose 5.2%
Gross profits rose 11.6%
Net income rose 30.1%
Profits in 3Q 2015 were reduced by an odd item, "Change in fair value of contingent consideration," and it's worth pausing to explain.

No Boost from Contingent Compensation
According to the 10-Q filed for 2Q 2015 quarter, contingent compensation refers to deferred comp that is payable to owners of firms that sold companies to INWK. Contingent compensation is carried as a liability on the balance sheet, and the company works it off as time goes by.
How big is it? As of June 30, 2015, contingent compensation was a $23.7 million liability. This is INWK's estimate of the cash and stock that the firm will have to pay out under performance contracts for the firms it has acquired. This deferred comp has a maximum value of $124.1 million, if all performance measures are achieved (page 9 of the 10-Q). The company makes an ongoing assessment of the fair value of this liability, and it records deferred comp as an expense on the income statement.
But sometimes, it isn't an expense.
Last year, in 3Q 2014, deferred comp boosted earnings by $1.7 million. Meanwhile, in 3Q 2015, deferred comp reduced earnings by $0.7 million. This happened due to some behind-the-scenes change in the estimate of this liability. So the current quarter is a cleaner one, since it did not get an artificial boost from changes in the estimated liability for deferred comp.
Still with me? Well, now things get really funky.
Accounting Issues in 2013
The stock plummeted 50% in 2013 after problems emerged following an acquisition. INWK was the victim of a fraud perpetuated by the former owner of a French production graphics business that it acquired in the fourth quarter of 2011.
On February 18, 2014, the company restated results from 2011 through 2013. 2012 earnings rose by $17 million, and 2013 earnings fell by $19 million. So, the immediate financial impact to the company was a loss of $2 million.
But the restatement raised issues about its internal controls, and INWK issued an amended 10-K in 2014 regarding financial controls. The auditor was Ernst & Young, which reported:
In our opinion, because of the effect of the material weakness described above on the achievement of the objectives of the control criteria, InnerWorkings, Inc. has not maintained effective internal control over financial reporting as of December 31, 2013, based on the COSO criteria.
Problem Solved? Not Quite
INWK got a clean report in the last 10-K, so it appears to have addressed its financial controls. The 10-Q for 2Q 2015 notes that the former owner of the company's French productions graphics business is suing INWK for wrongful termination. Another employee is also suing, and there is a shareholder lawsuit pending regarding the restatement of historical earnings.
These events are inherent to firms like INWK that grow via acquisition. Just check out this list of acquisitions made by InnerWorkings. The firm is consolidating competitors via roll-up acquisitions, which signals that it is relying heavily on acquisitions to boost its organic growth.
The Balance Sheet and Cash Flows
If INWK is buying all these firms, investors might think that the company is throwing off cash from its operations. A look at the balance sheet and cash flows shows that this is not the case. The following snapshots are from the 8-K filed November 5, 2015.


In the latest quarter, we see that receivables rose to $191 million and inventories rose to $40 million. This could be a seasonal variation, but it is not a good sign when receivables and inventories rise faster than sales. Ideally, I like to invest in firms that can finance growth through cash flow, and that is not the case here.
At the end of 2014, INWK had $247 million of goodwill. This reflects numerous acquisitions, and these intangibles on the balance sheet mean that it doesn't make sense to value the stock based on stated book value.
I also see that the company's line of revolving credit has risen by almost $24 million so far in 2015, and it is now $128 million. There is also a $10 million drop in cash from $22 million to $10 million. So its leverage is rising, and is worth keeping an eye on, especially as rates rise.
Given the debt, goodwill, and negative cash flow, it looks like INWK has been levering up the balance sheet to grow revenues via acquisition.
Buyout Candidate?
At this point in the economic cycle, M&A deals are flowing, and small firms are easier to finance. Since this stock has a market cap of under $500 million, I think it's worth considering the potential upside of a takeover bid.
INWK's design capabilities and its "domain expertise" are impressive, if the website and the 10-K are any indication. I noticed that the firm has a proprietary database of 10,000 suppliers, with detailed pricing data from each vendor. This type of asset might be attractive to a larger firm. And, of course, there is value in the firm's ongoing business, creative talent, and "cradle-to-grave" approach towards large marketing campaigns. Easy to talk about, but hard to execute.
One consideration that a buyer should consider is client concentration: The top ten clients accounted for 28% of 2014 revenue. Big firms are always cutting costs, and there is always the possibility that clients will leave if another printer offers a better price. The commercial printing business reminds me of auto parts: squeezed between big customers and big suppliers. It is not a great place to operate, since the competition is relentless and much of it is moving online.
Perhaps that is the opportunity, however, if the value-add at INWK is in its creative team and its logistics. Perhaps INWK simply makes better use of online tools to help customers execute. That's one way to look at it.
Potential buyers might include Quad/Graphics (NYSE:QUAD) and R.R. Donnelly (NASDAQ:RRD), which the 10-K mentions as competitors with "larger client bases and significantly more resources." RRD has a market cap of $3.4 billion and QUAD has a market cap of $475 million.
Other competitors include print management firms, such as Williams Lea (part of DHL), LogicSource, and HH Global. These firms offer outsourcing of procurement services and enterprise software for the print industry, and may be interested in vertical integration.
Finally, I'll note that executives and other insiders own 37% of the common stock (as of December 31, 2014). So, any takeover bid would probably need management approval (hostile deals are expensive, and I don't see upside here that would justify the expense).
Valuation
Consensus EPS are $0.25 for 2015 and $0.38 for 2016 (fully diluted GAAP earnings). These might rise a bit after Thursday's earnings announcement.
So, at $8.26 per share, the stock is selling for a 2015 P/E of 33x and a 2016 P/E of 22x. The forward P/E is double that of the S&P 500, which is selling at 16.5x 2016 P/E.
On the minus side, investors should consider INWK's checkered past, negative cash flow, $128 million in revolving debt, and $247 million of goodwill. On the plus side, the company has an interesting niche that is growing nicely.
This stock's P/E values INWK like a growth stock, even though commercial printing is slow-growing and price-competitive. I just don't see enough organic growth to justify the valuation.
I think this stock is worth a 25% premium to the market due to its growth potential. I might pay 50% if the company didn't have problems with its financial controls, or if the cash flow were better.
Using this back-of-the envelope valuation, the most I'd pay for INWK is 21x 2016 earnings of $0.38. That comes to $8.00, which is below the current market price of $8.22 (as of 3 pm on November 5). This valuation assumes that the company will deliver 50% earnings growth in 2016, which is no small thing.
As a company, InnerWorkings deserves credit for succeeding in the brutally competitive world of commercial printing. As a stock, it is worth watching, because it generates modest growth in a tough business, and it may become more attractively priced during the next market decline.
Disclosure: I/we have no positions in any stocks mentioned, and no plans to initiate any positions within the next 72 hours. I wrote this article myself, and it expresses my own opinions. I am not receiving compensation for it (other than from Seeking Alpha). I have no business relationship with any company whose stock is mentioned in this article.
Additional disclosure: Right Blend Investing is registered as a financial advisor in the state of New Jersey.

Additional information about Right Blend Investing is contained in its Form ADV, Part II, and at the Investment Adviser Public Disclosure ("IAPD") website at www.adviserinfo.sec.gov. Investors interested in using our services are encouraged to review additional information at the IAPD, and to consult with us about the specific risks of the investment strategies discussed herein.

Disclaimer: All written content on this site is for information purposes only. Opinions expressed herein are solely those of Right Blend Investing and our editorial staff. Material presented is believed to be from reliable sources, however, we make no representations as to its accuracy or completeness. All information and ideas should be discussed in detail with your individual adviser prior to implementation. The presence of this web site shall in no way be construed or interpreted as a solicitation to sell or offer to sell investment advisory services to any residents of any State other than the State of New Jersey or where otherwise legally permitted. This website is not a complete discussion of the information needed to make a decision to open an account with Right Blend Investing, LLC. There are always risks in making investments, including the investment strategies described in this website.

NO BANK GUARANTEE. MAY LOSE MONEY.