Amazon (NASDAQ:AMZN) just posted their second positive EPS quarter, which helps to justify the current premium that it trades at. Now the reason Amazon has come on my radar is because as I was sifting through the SEC filings I noticed where long-term debt was sitting at. Amazon receives a large amount of criticism for its heavy spending and it's worth taking a look at how their debt is changing and whether or not it's currently sustainable.
Performance Update
The stock is currently trading at all-time highs. It's heavily overbought according to the RSI being at 80.62. Watching this stock the last two weeks has been exciting, to say the least, as it's now at all-time highs for the third straight session, fueled by a great Q3 earnings report. The company is well past its 50 and 200 DMAs of $552.98 and $456.77, respectively. Below you can see the six month trend of Amazon and the two large jumps after earnings reports.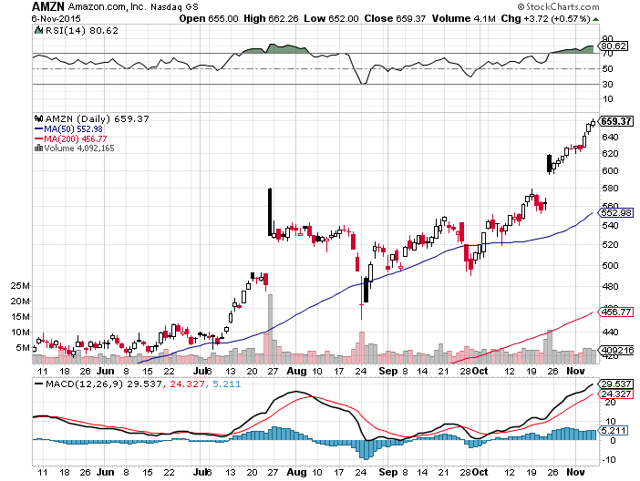 Source: StockCharts
Maturity Stack
It's important to see that Amazon's long-term debt is appropriately spread out, with the two closest maturities being the $750 million 0.65% due this month and the $1 billion 1.20% notes due November 2017. Thus, once Amazon passes this payment, they'll be effectively in the clear of large principal repayments for 24 months. Below you can see the maturity lineup and all amounts are in millions.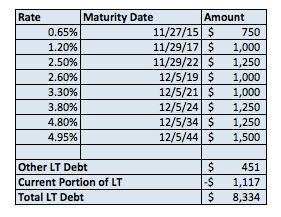 Source: Brandon Dempster
Morningstar gives the company a BBB+ rating while S&P currently has Amazon at a AA-. The latter is an investment grade rating, but Morningstar is showing that the company has moderate default risk. As we'll see below, this is quite interesting as Amazon has the cash flows to cover their debt burden easily.
Additionally, the company currently has a $2.0 billion revolving credit facility at LIBOR plus 0.625%. They have not currently borrowed from the facility and it's worth noting if their credit is downgraded, they could be subject to LIBOR plus 1.00%.
Comparable Debt
Let's take a look at Amazon relative to competitors in order to provide some context for their current debt burden. I've kept the comparable universe the same as last time, for consistency's sake.
Amazon:
Debt to Equity: 66.32
Debt to Assets: 16.81
Cap Ratio: 43.19
Debt to EBITDA: 0.21
P/E: 956.66, PEG: 3.87
Interest Coverage: 3.53
Current: 1.08
Alibaba (NYSE:BABA):
Debt to Equity: 28.74
Debt to Assets: 20.56
Cap Ratio: 21.64
Debt to EBITDA: 1.90
P/E: 31.25, PEG: 1.30
Interest Coverage: 26.46
Current: 3.40
eBay (NASDAQ:EBAY):
Debt to Equity: 38.32
Debt to Assets: 16.90
Cap Ratio: 51.21
Debt to EBITDA: 1.51
P/E: 15.99, PEG: 2.10
Interest Coverage: 28.86
Current: 1.51
Apple (NASDAQ:AAPL):
Debt to Equity: 54.01
Debt to Assets: 22.19
Cap Ratio: 30.94
Debt to EBITDA: 0.83
P/E: 13.16, PEG: 0.80
Interest Coverage: 99.93
Current: 1.11
I think the first thing that'll jump out at you here is the P/E of Amazon relative to competitors. Nearing quadruple digits, this could be a sign of overvaluation. Panning to the capitalization ratio, we can see that Amazon is the second-most leveraged, just behind eBay. Amazon does have the highest debt to equity out of the group, as well as the lowest debt to EBITDA. Their low interest coverage ratio relative to competitors also is concerning.
Even looking at all these ratios, we have to take into account that Amazon has a trailing twelve months FCF of $5.4 billion, which has increased $4.3 billion YOY. This provides a good base for liquidity, especially considering the growth of OCF to $2.61 billion for Q3, up from $1.77 billion a year ago. Investing and financing cash flows continue to be negative, so a reduction in these losses would be ideal moving forward, and would especially help the company in improving its credit rating.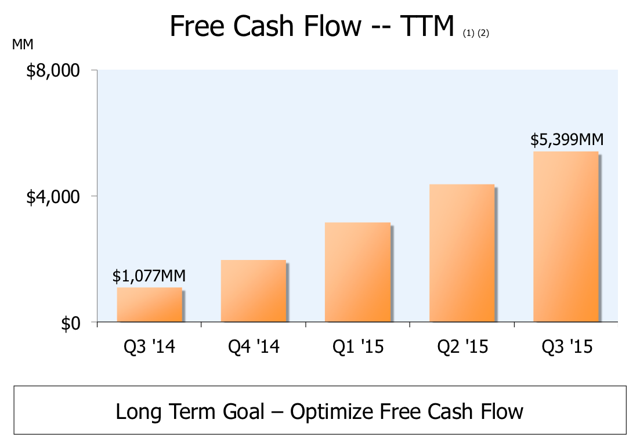 Source: Investor Presentation
Conclusion
Amazon's stock is currently commanding a significant premium and while their debt is showing less than ideal metrics relative to competitors, they have spread out their maturities well and are seeing good growth in cash flows, which will help them build stability in the current environment.
Disclosure: I am/we are long AMZN.
I wrote this article myself, and it expresses my own opinions. I am not receiving compensation for it (other than from Seeking Alpha). I have no business relationship with any company whose stock is mentioned in this article.