Mesoblast Inc. (NASDAQ: MESO) expects to raise close to $70 million in its upcoming IPO. Based in Melbourne, Australia, Mesoblast is a pharmaceutical company that develops and markets therapeutic products for the treatment of vascular, cardiac and eye conditions.
See our premium research on MESO, published last week, here.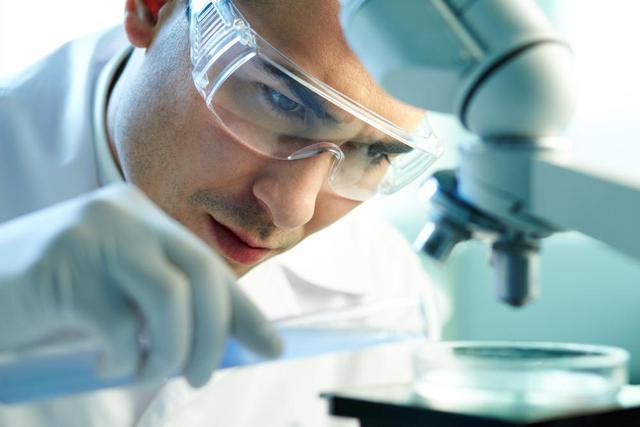 Currently, MESO trades on the Australian Securities Exchange under the symbol "MSB." This week in the United States, Mesoblast will offer 5.7 million shares at an expected price of $12.10.
Mesoblast filed for the IPO on November 2, 2015.
Lead Underwriters: Credit Suisse Securities and JP Morgan Securities
Underwriters: Ladenburg Thalmann and Maxim Group
Business Summary: Pharmaceutical Company Developing Treatments for Cardiac, Vascular and Eye Conditions
Mesoblast develops and markets therapeutic products for the treatment of cardiac, vascular and eye conditions. The company offers protein therapeutics, adult stem cells, small molecule peptides and antibodies, gene silencing, cytokines and antigen-receptor inhibitors, MPC, and DNAzyme products to treat heart attacks, heart failure, peripheral artery disease and wound ulcers.
The company utilizes a proprietary technology platform that is based on specialized cells called mesenchymal lineage adult stem cells (MLCs). Mesoblast believes it has established the most advanced cellular medicine portfolio in the pharmaceutical industry.
Its products are allogeneic, which means the cells from one donor may be used in different recipients without the necessity of matching.
Its lead product candidates are:
· MPC-300-IV for biologic refractory rheumatoid arthritis and diabetic nephropathy
· MPC-150-IM for chronic heart failure
· MSC-100-IV for acute graft versus host disease
· MPC-06-ID for chronic low back pain due to disc degeneration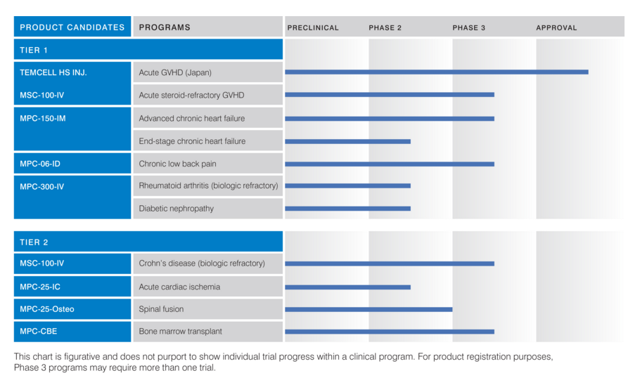 (Source)
Mesoblast intends to use the proceeds of the IPO to fund commercial manufacturing requirements for its Tier 1 and Tier 2 product candidates, funding further clinical trials, general administrative expenses and working capital.
The company has 115 employees and is located in Melbourne, Australia.
Executive Management Overview
Founder, CEO and Managing Director Silviu Itescu has served in his position since 2011. He serves as a Professor of Medicine at the University of Melbourne, and he is on the medical faculties at Columbia University in New York and Melbourne University. He provides consultations for many pharmaceutical companies, and he holds a Medical Degree from Monash University and received his Specialty Training in Internal Medicine and Immunology/Rheumatology from New York University.
CFO Paul Hodgkinson joined the company in 2014. His previous experience includes senior executive positions at Novartis and AstraZeneca. He is a member of the Institute of Chartered Accountants in Australia, a Fellow of the Institute of Chartered Accountants in England and Wales, and he holds a Masters in Engineering from Cambridge University.
Potential Competition: Celgene and Johnson & Johnson
Mesoblast notes in its SEC filings that the company believes it is a leader in the development of regenerative medicine products. Thus, competition tends to be indirect and falls into two categories: biopharmaceutical companies working on their own methods of regenerative medicine, and biopharmaceutical companies that may develop competing products using third-party technology. These may include Celgene (NASDAQ:CELG) and Johnson & Johnson (NYSE:JNJ).
Financial Overview: Early Stage Losses
Mesoblast provided the following figures from its financial documents for the six months ended June 30:
| | | |
| --- | --- | --- |
| | 2015 | 2014 |
| Revenue from continuing operations | $19,761,000 | $23,390,000 |
| Net Income | ($96,244,000) | ($75,530,000) |
As of June 30, 2015:
| | |
| --- | --- |
| Assets | $781,766,000 |
| Total Liabilities | $313,779,000 |
| Stockholders' Equity | $467,987,000 |
Conclusion: Consider Buying In
Of the healthcare IPOs this week, MESO is one of our favorites, Its history of operating losses are typical of an early stage pharma firm, and we are keen that it is so far along in clinical trials. In addition, global partnerships with Teva (NYSE:TEVA) and others are positive signs.
MESO's current public status on the Australian Securities Exchange sets it apart from AAAP this week in particular; AAAP was postponed from February 2015, and its current deal size has been reduced. Powerful lead underwriters Credit Suisse and JP Morgan could successfully bring MESO to the US.
We suggest investors consider obtaining a modest allocation.
Disclosure: I/we have no positions in any stocks mentioned, but may initiate a long position in MBLTY over the next 72 hours. I wrote this article myself, and it expresses my own opinions. I am not receiving compensation for it (other than from Seeking Alpha). I have no business relationship with any company whose stock is mentioned in this article.