In a conversation with a friend on Nov 4th, we Nattered, "Take a look at 5 and 10-year US swap spreads, NEGATIVE in the extreme, not a good sign."
On too many occasions to remember, in past missives, I have Nattered about illiquidity, the dollar squeeze and the havoc it will wreak on commodities and equities markets.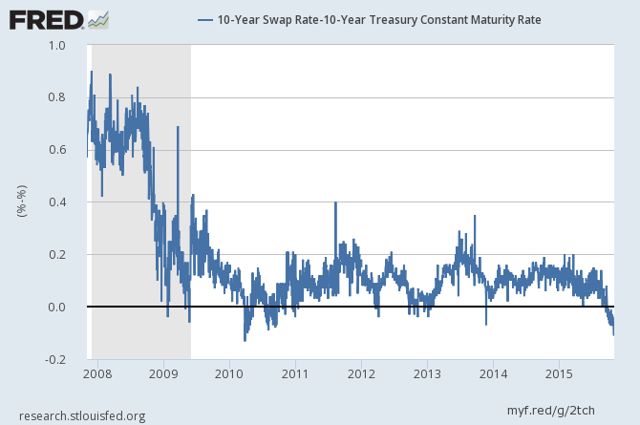 Above note, 10-year swap rate minus 10-year constant treasury rate at -0.17%
Needless to say, ZeroHedge is also hot on the trail of those swaps. "The exact reason for the sharp move is unclear but blame has been placed on high corporate issuance, balance sheet re-pricing into year-end given tighter regulatory pressure and also the poor liquidity." -ZeroHedge
Being a data ferret, we dig deeper and find: "Banks and investors say the moves exemplify constraints on dealers' balance sheets, unable to facilitate the reversal of the dislocation due to hefty capital charges for doing so. Another trader says it is indicative of a bank or hedge fund hitting a limit on a position and having to suddenly liquidate into the market." - FT
Constraints and hitting position limits are symptoms. One of the causes is in the form of Gozer the Destructor who is lurking about, aka King Dollar, which just hit 98-99 and is taking a break before hitting new highs. Just hitting 99 caused a massive surge in credit spreads as position limits were hit and carry trades had to be liquidated into an illiquid market. And there IS ANOTHER cause...
"Volumes in the London afternoon had already reached $12.5bn, compared to recent full-day highs of $25bn, with much of that going through in 30-year swap spreads, according to Clarus Financial Technology, a data provider."
So last week, somebody was loading up on 30-year duration swap spreads? Who? Why?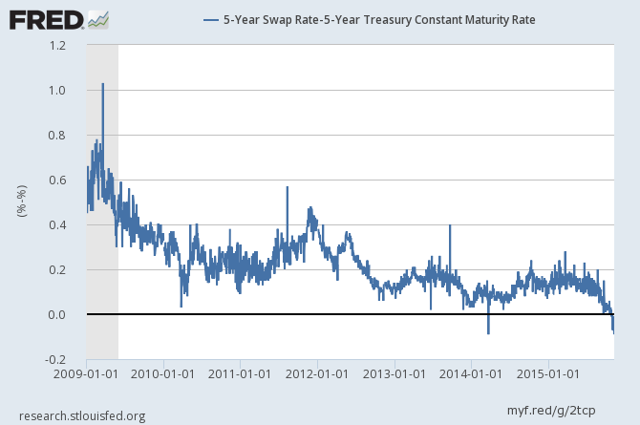 Above note, 5-year swap rate minus 5-year constant treasury rate at -0.09%
In the past, we have also Nattered to our friend about Treasury paydowns putting money into Primary Dealer hands...
On Oct 1st, the Treasury paydown of $62B was used by the primary dealers towards T-bills suppressing rates. Traders then took the equities rally as a signal to take profits on bond trades. In anticipation? The primary dealers had loaded up on long duration throughout Sept. Nice trade, wonder how they saw that coming, as a paydown of that size had not been seen since 2011?
On Nov 2nd and Nov 5th, there were Treasury paydowns of $15B and $41B, totaling $56B. What do you think those paydowns were used for by the primary dealers that are liquidating corporate issuance almost as fast as it can be issued? So there is your "other" cause for the large spikes in swap spreads seen last week. But the flot plickens...
The recent flood of corporate debt seeks to lock in low rates to finance acquisitions and dividends, before either the Fed or market forces raise rates. Primary dealers are dumping corporate issuance like there is no tomorrow for a good reason. There's too much of it and its future value, due to lowered forward guidance, EPS, revenues and global economic recession might be in jeopardy.
Primary dealers and central banks formerly utilized forward swaps for hedges. Of late, these synthetic derivatives are also being utilized with disturbing frequency as a substitute for liquidity. Let's get something straight... The market for dollar-based interest rate swaps is est. at $107T in notional value. Nearly all swap spreads with duration of 5 years or more ended on Friday in negative territory. What does that mean to me?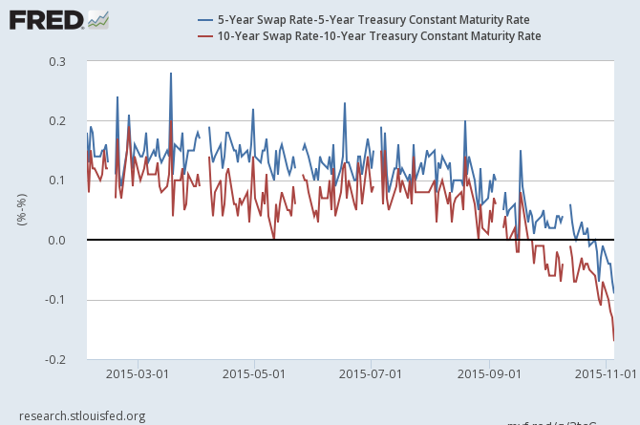 Above note, 5-year spread and 10-year spread, both negative, inversion (5 should be below 10) and the divergence or widening between the two. All signs of liquidity stress.
An interest rate swap spread is the difference in swapping floating rate (variable rate) interest to a fixed rate of interest, and allows one to tailor their exposure to interest rate changes. So if you purchased or issued that corporate bond, you might buy a hedge or insurance in the form of an interest rate swap spread.
Interest swap spreads are similar to CDS (credit default swap spreads). For example, Glencore swap spreads went to 7.57%. Hypothetical, on a $1K Glencore bond paying 12% interest, anyone (including those that DO NOT HOLD THE BOND, can pay a 7.57% premium to buy default insurance. In other words, a $75.70 CDS premium payment hedges if Glencore defaults on the $1K bond that the CDS purchaser will then be paid $1K.
So if let's say, a 5-year Glencore (OTCPK:GLNCY)swap spread is positive, that means investors think that "Glencore" will be solvent in 5 years, good bet. Negative means the opposite, bad bet, as in you are betting that Glencore will be insolvent within 5 years. What does that tell you about US Treasury 5-year and 10-year swap spreads, both going negative? What are they betting on? Not so fast Joe, you might finish outside...
Point not to be forgotten, there are a limitless number of CDS (credit default swap) bets that can be placed on the same corporate or sovereign bond. Again, what are they betting on? Could it be the US government going BK not in 5-10 years but near term, due to a budget issue? The debt ceiling accord was had from Congress on Monday. So why all this negative swap spread action later in the week?
For USTs, an overreaction which is symptomatic of market illiquidity. T-bills compete with government repo. At the moment, banks want to maintain or shrink their balance sheets, as opposed to making loans in the repo market, read limited supply. At the same time, in order to hold more T-bills, dealers are requiring increasing amounts of short term on the run collateral (a liquidity issue we have Nattered about ad nauseum) or wholesale funding in the repo market. As a result, due to the excessive corporate bond issuance or supply, repo rates are rising and swap spreads on 5 and 10-year USTs have gone negative or below that of corporate funding. An overshoot in spreads caused by an inability to absorb supply or illiquidity.
What does that say about the rest of the 5-year plus spread market going negative? BIG RED FLAG. This increased derivative usage is indicative of when markets cannot absorb supply (the recent excess of corporate issuance), or a lack of market making ability or illiquidity. The consequences of illiquidity and increased usage of liquidity substitutes can be described as, you can pay me now, or you can pay me later.
Forward swaps artificially create present "liquidity" for a future price. Delaying the inevitable, as in paying later, always comes at a cost. What happens when the piper must be paid?
Market liquidity will be at a premium, dislocations due to the unwind or necessary liquidation to make the margin or settlement could be severe. The "dollar" will get squeezed further and commodities, equities and perhaps even bonds would suffer.
Another confirmation of our many previous economic contraction observations and we suspect that the year-end seasonal contraction in monetary flows, which this year will be severely pronounced, should take aggregate demand and GDP negative in Q42015 and Q12016.
Potentially resulting in lowered production, further layoffs, less spending, less petrodollars, a higher "dollar," lower commodities, wash, rinse, spin, repeat. IMHO, commodities might not see a bottom until perhaps late Q12016, TBD by the severity of the global recession and central bank policy.
Further, when bond futures or derivatives are more liquid than cash bonds, in my best Keith Jackson, there's trouble afoot. BIG with a capital T and that rhymes with P...
Would like to thank you folks fer kindly droppin in. You're all invited back again to this locality. To have a heapin' helpin' of Nattering hospitality. Naybob that is. Set a spell, take your shoes off. Y'all come back now, y'hear?
Investing is an inherently risky activity, and investors must always be prepared to potentially lose some or all of an investment's value. Past performance is, of course, no guarantee of future results.
Before investing, investors should consider carefully the investment objectives, risks, charges and expenses of an investment vehicle. This and other important information is contained in the prospectus and summary prospectus, which can be obtained from the principal or a financial advisor. Prospective investors should read the prospectus carefully before investing.
Below, recommended reading for those invested in mutual & bond funds, ETFs, REITs, HY, leveraged, EM, oil, energy, bonds and the broader markets. Why? There are many macroeconomic cross sector and market asset correlations involved that affect your investments. Economic conditions, the eurodollar, global dollar debt and monetary policy all influence the valuation of the above and market plays below, via the dollar's value, credit spreads, market making, liquidity, monetary supply and velocity, just to name a few.
Market Warning: Reading not only those listed below, but every installment of these multi-part missives could lead to a better understanding of the market forces in play and how to profit from them.
For a complete missive series listing click here.
These global economic developments could affect numerous markets, sectors, indexes, commodities, forex, bonds, mutual funds, ETFs and stocks.
A List of Market Plays
Disclosure: I/we have no positions in any stocks mentioned, and no plans to initiate any positions within the next 72 hours.
I wrote this article myself, and it expresses my own opinions. I am not receiving compensation for it (other than from Seeking Alpha). I have no business relationship with any company whose stock is mentioned in this article.