The Trans-Pacific Partnership (TPP) is a trade agreement amongst: the United States, Canada, New Zealand, Australia, Peru, Mexico, Brunei, Japan, Malaysia, Vietnam, Singapore, and Chile. Trade between the twelve countries represents 40% of global trade. As an analyst, I wanted to look at the text and see if there are any potential investing opportunities.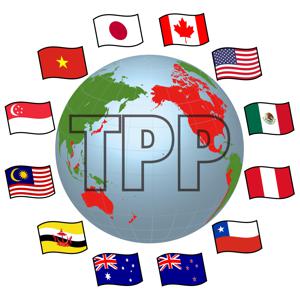 This link will take you to a copy of the text. When you see the text, you will quickly understand that a person must be an expert in matters of trade. I am not such a person. Furthermore, it is evident that in most of the articles that you read by the press and business publications, neither are the authors of these articles. There is just too much to understand. Basically, every country is agreeing to wave tariffs on certain goods and services for each other.
Looking at the Australian Tariff Trade Elimination Schedule will give you an idea of what is covered. The list is 392 pages. It covers everything from livestock (page 1), beverages (page 45), metals and minerals (page 64), fertilizers (page 97), chemicals (page 121), tires (page 132), paper (page 152), yarn (page 183), umbrellas (page 231), glass (page 241), iron ore (page 250), nickel (page 269), tractors (page 349), bicycles (page 359), and pacemakers (page 371). Each country has a tariff trade elimination schedule. They range from 278 pages for the United States to 163 for Chile.
Without doing a lot of research, my guess is that trade amongst the twelve countries eliminates the tariffs. What I don't understand is if everything is apples to apples (figuratively and literally). So if tires and iron ore are part of the deal, does that mean no tariffs for those products amongst the twelve countries. Or does it mean that a manufacturer in Borneo will pay to export tires into the US but not Japan? According to the Office of the United States Trade Representative, it eliminates 18,000 tariffs on US products.
For now, we will just focus on the easy information from the government website. I think most folks can agree that the TPP would be good for agriculture. The U.S. exported $2.7 billion in poultry in 2014 to TPP countries. Vietnam levied a 20% tariff on chicken from the U.S. So what companies would gain? Tyson Foods (NYSE:TSN), Pilgrim's Pride (NASDAQ:PPC), Sanderson Farms (NASDAQ:SAFM), and Canadian based Maple Leaf Foods (OTCPK:MLFNF).
Our largest trade partner in beef is with Japan. Japan bought $1.6 billion in 2014 but charged a 38.5% tariff. This tariff will be lowered to 9%. Japan accounts for 1/3 of our pork exports and tariffs will lowered on that too. According to the web site, dairy tariffs will be lowered going into Canada and Japan. What I wonder is if New Zealand's entry into the partnership will negate the benefits in dairy. That I cannot answer.
On the site, it is noted that dump trucks from Illinois [in other words Caterpillar (NYSE:CAT)] face tariffs as high as 30% in TPP countries. Those fees will be cut to zero. That could be good for CAT and other heavy equipment manufacturers.
As for auto, I will briefly mention that Vietnam places at 70% tax and Malaysia a 30% tax on US exports. This would go to zero. What one would have to know is what the affect would be on Japan and if it would negate any benefits to the US.
This is just a first look at the TPP. There will be more articles to follow. Another question that I have is if there is a benefit to Goodyear Tire (NASDAQ:GT) by being in a TPP country, or is it a detraction to Michelin (OTCPK:MGDDF, OTCPK:MGDDY) which is headquartered in France? Is it a benefit to John Deere (NYSE:DE) but a detraction to Case New Holland (NYSE:CNHI) for being headquartered in Holland? There is so much to think about but I will continue researching.
Disclosure: I am/we are long CNHI.
I wrote this article myself, and it expresses my own opinions. I am not receiving compensation for it (other than from Seeking Alpha). I have no business relationship with any company whose stock is mentioned in this article.
Editor's Note: This article discusses one or more securities that do not trade on a major U.S. exchange. Please be aware of the risks associated with these stocks.