(Editor's Note: Investors should be mindful of the risks of transacting in securities with limited liquidity, such as MYIRF. Myanmar Invest International also trades as MIL on the London Stock Exchange.)
My last trip to Yangon was a little over two years ago. When arriving at the airport nothing has changed since then - just the immigration staff became more efficient - or maybe their computers are newer and thus faster? Last time it took the staff over 5 minutes to handle one person and fortunately this time it was much faster and I was through immigration in less than 10 minutes.
Outside of the airport, however, the progress since my last trip was visible everywhere as soon as I stepped out of the airport terminal building. Instead of the 20+ year old cars, I saw modern cars everywhere. Most of them were Japanese made (mainly Toyota) or Korean and surprisingly almost all of them are right hand driven despite the fact that cars are driven on the right hand side of the road. The reason is that many of the cars are imported from Japan or sometimes from Thailand where cars are driven on the left hand side. Even the number plates of the cars changed in the meantime. Previously the numbers or letters were in Burmese letters which were not readable for foreigners without specific knowledge. It was also a nice and new experience that the taxi driver switched on the aircon without specifically asking when hiring their service and not charging an additional USD 1 like in the past!
Also the skyline of Yangon is rapidly changing: construction work is going on everywhere: new hotels, office or residential towers, shopping centers, and road construction. On my way back to the airport I was stuck for 45 minutes in front of a building site for a new fly over. Also traffic jams are notorious in Yangon today and an interesting observation is that motorbikes are banned in Yangon (the rumor has it that in the past a general was nearly shot by a gunman driving a motorbike). This does not help to reduce the traffic since public transport barely exists, perhaps with the exception of some rundown old buses.
Construction is everywhere in Yangon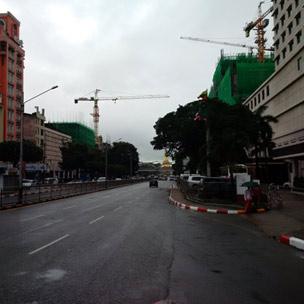 Source: Asia Frontier Capital
The reason for visiting Yangon this time was an investment conference organized by Myanmar Investments Limited (OTC:MYIRF), which is an investment company that listed on the AIM Market in London in June 2013 and which AFC Asia Frontier Fund has had in its portfolio since July this year. It is focused on unlisted securities and has made two investments so far: USD 2.85 million into a microfinance joint venture and USD 30 million into Apollo Towers. Apollo builds and operates the towers for communication purposes, mainly to mobile phone operators. Currently there are 6 tower companies in Myanmar which have built 5,038 towers thus far in addition to the 2,200 operated by the government MNO. It is widely expected that an additional 20,000 towers are needed to achieve Myanmar's mobile penetration target. Apollo has built 1,081 towers so far for Telenor and is executing an order from Telenor to build additional 717 towers. The US government's OPIC has agreed to a USD 250 million loan to Apollo which should be finalized soon and which will help to finance future growth. The microfinance investee company is operating in Yangon and Bago with 5 branches and extends micro loans to groups of lower income people of up to USD 500 per person at an interest rate of up to 30% per annum. The company follows the successful model of Grameen or BRAC from Bangladesh in providing loans to borrowers within a "group" which cross guarantee each other. The focus is on urban areas and diverse businesses (streetside food vendors, basket makers, phone sellers etc.) in order to reduce the impact of adverse weather events (Myanmar experienced this year some of the worst floods ever in its history).
Asia Frontier Capital believes that Myanmar now provides many opportunities after 50 years of hardly any investments due to the sanctions. Myanmar is a large country (677,000 km2 in size), which is comparable to Texas or France. It is densely populated with 52 million people, the 4th highest population in ASEAN while similarly sized Texas has just 28 million inhabitants. The GDP per capita of USD 1,204 is still low but growing fast (8.5% for example in 2015 and 2016). The median age is 28.3 years and 34.1% live in urban areas. However there are 135 ethnic groups and about 89% are Buddhist. Despite 93.1% literacy rate, the average education is only 9 years which will lead in the short term future to a shortage of qualified staff or middle management. Education is one of the very promising sectors in Myanmar. The country is also very resource rich: oil, gas, copper, gold, coal and especially jade (well-liked by the Asians and especially the Chinese) to name a few. Myanmar has huge tourist potential thanks to its great cultural heritage (especially Bagan, Inle Lake and Mandalay among many others) and beautiful beaches (like Ngapali Beach). In 2014 only 3.1 million tourists arrived in Myanmar which is less then Cambodia with 4.5 million or Thailand with 24.8 million. Interestingly, Myanmar also has a ski resort, Hkakabo Razi, in the north of the country but with no infrastructure like chair lifts yet. Hkakabo Razi is at 5,881 meters the highest mountain in Myanmar and the summit borders Tibet and India.
We believe that the most interesting investment opportunities can be found in consumer goods, education, financial services, infrastructure, telecommunication, textiles, and tourism. A sector we would avoid right now is property since the prices for land in certain areas of Yangon can be as high as in Hong Kong. We expect that many land owners are waiting for the election and will try to sell their land which will create some kind of overhang in the short term future. However there is a considerable shortage of low cost housing and good demand for smaller apartments.
The downside of Myanmar currently is the poor education level and the poor state of the infrastructure. Road density for example is only 4km per 100 km2 land area compared with 36 km in neighboring Thailand. Power production in Myanmar was in 2011 (it has not changed a lot since then) about 7,300 GWh compared with 156,000 GWh in Thailand and health expense per capita was USD 14 compared with USD 264 in Thailand. However the use of mobile phones, especially smart phones, is growing exponentially and prices for a SIM card have dropped from USD 300 in 2011 to now USD 1.50. Almost every person I talked to (taxi driver, hotel employees) had a smart phone and everybody was using Facebook which is now the most important and neutral communication tool for independent opinion (the press and news channels are still censored). But despite smart phones, the internet penetration in 2014 was only around 2.1%.
Investing in Myanmar for foreigners is still not easy. Foreigners are currently not allowed to own land or take up mortgages. The only way to own land for foreigners today is either through a JV or a lease. It is also amazing that in some parts of Yangon the price of land is more expensive than in Hong Kong or Manhattan - but the land prices are finally weakening. A new investment law will replace the "Foreign Investment Law" (hopefully) soon. Unfortunately the new investment law was delayed due to bureaucracy (one panel member admitted it was the Asian Development Bank "ADB") and it looks like the new investment law will be passed only after the 8th November 2015 elections. Until then most investments need to be done through a JV with a local partner. Interestingly the current investment law does not allow foreigners to be engaged in "trading of goods".
Foreign and local investors have been waiting for a long time for the Yangon Stock Exchange "YSE" to be opened. The YSE was supposed to start operating in early October 2015 but this was postponed to early December 2015. The YSE will open early December 2015, however that does not mean it will start trading stocks. Most importantly the local company act and the foreign investment act need to be changed in order to allow foreigners to participate in trading. Both acts are currently submitted for approval in the parliament but since the elections are very close these acts will not go through that soon. Additionally, the listing rules, accounting standards and approved auditors among dozens of other rules and regulations need to be confirmed before a regular market can be started. Then the companies can have an IPO or a simple listing. We expect that the first listing will happen at the end of Q1 2016 at the earliest and that by the end of 2016 five to six companies will be listed. Candidates for listing are: FMI - First Myanmar Investment - Serge Pun's holding company of Yoma Corp (OTCPK:YMAIF) which is listed in Singapore and the Japanese backed special economic zone "Thilawa" which had a kind of IPO some months ago. Last but not least the brokers need to be appointed. We have heard that there will be 10 brokers (some of the applicants have received the appointment letter) when the YSE will open its doors having carved out at least USD 10 million each. Until the YSE opens and the two acts are changed, foreign investors can only purchase stocks listed outside of Myanmar which derive most of their business from Myanmar. These are stocks include Yoma (holding company - mainly property) , Mega Life Sciences (generic pharmaceuticals), mysquar (mobile messaging and services), Ko Lao Holdings (car distribution), Super Group (convenience food) (OTCPK:SSGPY), Interra Resources [oil] (OTC:IRRSF), and Daewoo International [gas].
Last but not least I would like to write here briefly about the elections. These elections will be the first after the opening of the country. The last election in 2010 was boycotted by Aung San Suu Kyi's "Suu Kyi" party National League for Democracy "NLD" and some ethnic parties. It is debatable if this year's elections are "free and fair" since 25% of the seats in the parliament belong automatically to the army. Thus Suu Kyi needs 68% of the votes this Sunday in order to gain the majority in the parliament. Despite that according to article 436 of Myanmar's 2008 constitution all amendments can only be made with the approval of more than 75% off all parliamentary representatives which gives the military an effective veto over any constitutional changes. I talked to various people like taxi drivers, hotel staff and the overwhelming response was "I will vote for NLD" or "We (Myanmar people) love Suu Kyi". Another reason for a clear victory of Suu Kyi is that many voters will put in a "protest vote" for the last 30 years of misery under the old regime[s]. Therefore I would not be surprised that despite the very high hurdle Suu Kyi might win more that 68% of the votes on Sunday, 8th November 2015.
Disclosure: I am/we are long MYIRF, IRRSF.
I wrote this article myself, and it expresses my own opinions. I am not receiving compensation for it. I have no business relationship with any company whose stock is mentioned in this article.